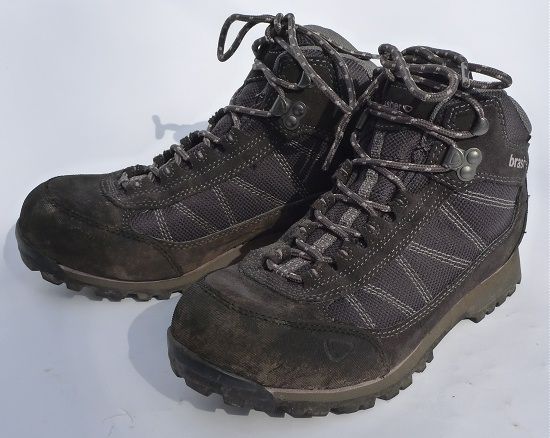 We've had a couple of pairs of  new models of boots from Brasher boots on test for the past few months, I've had the mens Kiso GTX (down below in blue and grey) and Joycee has had the womans Kenai GTX (above in dark grey).
The two models are a matching pair in general design. The low-cut/ mid- height upper is a mix of fabric and suede, put together in simple old-style fashion too, no fancy go-faster aesthetics so there's a minimum of extra stitching.
The laces run through suede/fabric channels over a nicely padded tongue with some metal hooks at the top, the ankle cuff is lined with memory foam too for a little bit of personal fit-tuning. The toe and heel are randed and stiffened for extra protection, there's an EVA shock absorbing midsole and the outsole comes in Brasher's own rubber, the Kenai's sole is right below. Both models are Gore-Tex lined.
Our Kenai's are 468g per boot for a UK5 and the Kiso's are 594g per boot for a UK9.
Joycee's used hers on tracks, trails and woodland walks both at play and at work on site visits for the likes of woodland management and Green Gyms. Joycee says:
These have been comfy out of the box and after four months of regular use they're still fine. The low ankle cuff is good, it adds to the mobility, I can walk rough terrain as well as drive in them so they've been a good choice for all round use, no changing boots going back to the office or heading home. I've had no blisters or rubbing, the flex is good and the seem to work with my feet instead of against them.
I've used them on snow, icy paths, muddy slopes, roots and allsorts, and the grip's good uphill and down. This is due to the decent tread whose only downside is that it squeaks in school halls and community centres when I'm trying look smooth and professional.
I changed the insoles as I like my own ones better and the laces tend to loosen, but a smart-looking, comfy boot that's now become my first choice for trips.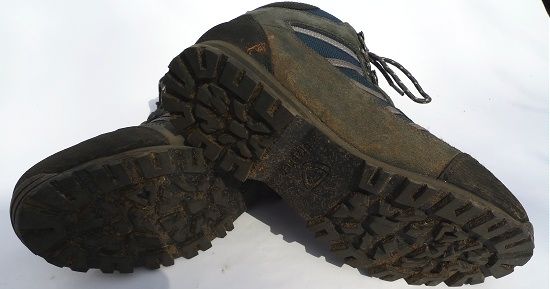 I'm always a little suspicious of boots, but the Kiso's took me a little by surprise. It might have been the old-school KSB looks at first, but slipping them on, the nice fit and low ankle cuff did hoist an eyebrow into the raised position. They feel a little different to other Brasher's I've tested, maybe it's a different last, it could be the easy flex on the sole unit and on the upper, but they felt friendly which isn't the usual opening remark from any boot. Wearable from the off, the uppers have a balance between sturdiness and softness, they really don't feel "booty".
But the real story for me was the sole unit, it's quite low profile, aye there's cushioning in there but it's not totally divorcing you from the ground. I found these quite sensitive with good trail feedback, the very thing that gives you confidence in rough terrain in trail shoes, the full mobility that the low ankle cuff maintains makes a difference here too. Stick the nicely knobbly Brasher outsole onto that notion, an outsole that grips the ground like the filling from a Cadbury's Roses Strawberry Dream grips the material on our couch and you've got a boot that I felt confident enough to sling Holly onto my shoulders and happily stroll off down a slushy trail not long after they came in for test.
The only problem I have with these comes from Brasher themselves, they're damning them with faint praise in their own product description: A lightweight and breathable low cut fabric hiking boot ideal for well defined paths and trails on hills and valleys. It seems like they've come out with a proper bendy lightish do-it-all boot and don't want to admit it. These are made for off the trail mountain adventures.
Bottom line is that we both like these a lot, and we'll still be wearing them long after this review. But they look a little dull, I think Brasher are worried about frightening their core audience. Some colour in there would be nice because the performance is spot on but the boots just don't leap out at you from the shelf introducing themselves like they should.