Spent the the weekend around Loch Lomond, somewhat by accident. Saturday was minging but when the rain stopped I took a quick run up to Luss then beyond with my pal Cat and got some rather nice looking skies just as it was getting dark. It looked particularly nice at the Esso garage at Dumbarton on the way home.
Timing is everything.
The camera was on my desk the whole time too and I have no idea what my phone was doing, I seem to have found some sort of film grain effect in my pocket which disappeared overnight.
Pity, it was nice, the colours were rich with fresh growth in the woodland. It really does feel like spring.
Holly slept late after a busy day on Saturday and it looked like we were going nowhere, but fueled by tattie scones she was suddenly in better form and we hit the road with granny in the back seat. Not in the truck obviously.
That's going to be a proper thing for a couple of weeks very shortly. I need to do the fuel pump and while it's in the shed I'll tackle some other wee jobs on it. Missing it already, a Vauxhall estate just isn't going to be the same.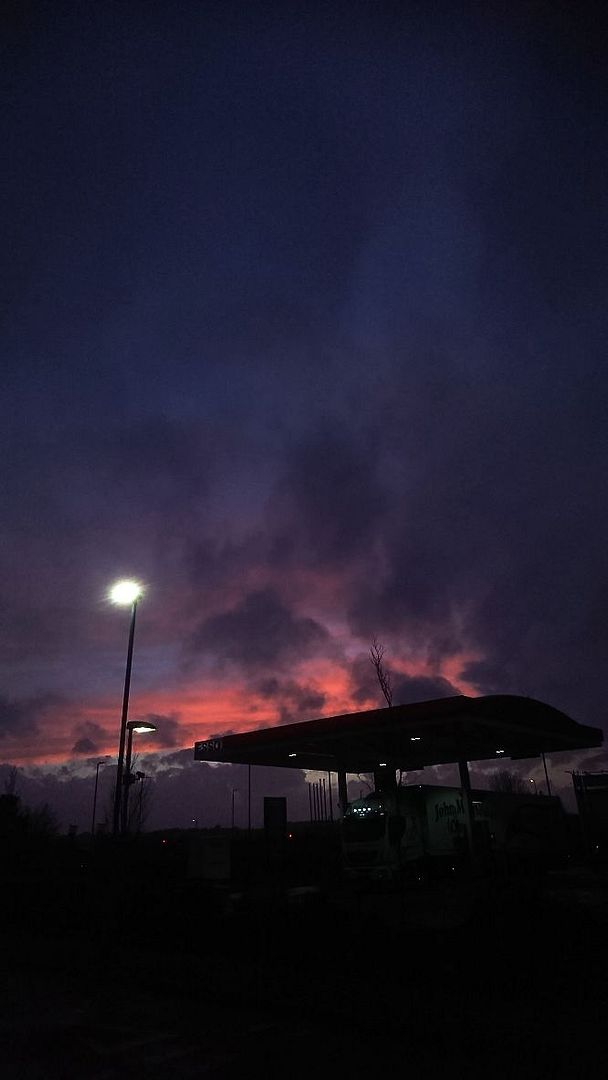 We ended up in Balmaha which was mobbed, and Tom Weir has a new hat on. The sky was clearing, ribbons of cloud streaked across the hillsides and vanished into the ether. By the time we got to Rowardennan  it was glorious but still cool, what a perfect day to be on the hills.
It's started though – the draw of the lochside on a sunny day. Usually we get to enjoy it until easter, but the masses have arrived early with their disposable barbecues, loud sweary voices, poor narrow road driving technique, litter, vape clouds and unnecessary sportswear.
Still, leaving late through these difficult months will give me the hills when I need them.
We ended up in Killearn for a late lunch, macaroni cheese in a bowl with a singed bacon topping. Be still my beating heart.
A really nice wee galvant with the girls. I love living here.