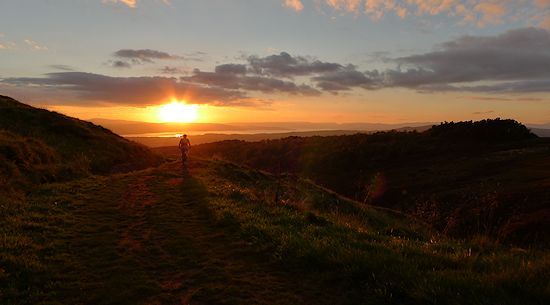 Rangering at the Lang Craigs is the gift that keeps on giving. I filled my pack with chemicals and industrial wipes and pedaled up to the top of the site to try and get the graffiti off of the welcome sign.
Never understood the need to write your name in a public place. I already know my name and people that don't know it probably aren't that fussed by what it is, so writing it on a wall somewhere isn't going to act as reminder for myself and it's just going to give folk the first impression that the bearer of the name is an arsehole. I'm not seeing any of  that as motivation for doing it.
But, it was graffiti that got me out into the hills last night. The scrawl on the sign proved as hard to shift as my feet, or should I say wheels, as I took in the glorious evening. It was silent and cold, the site was empty but for me, even the birds were sleeping.
The trees are growing, the hillside is changing, one day my favourite clump of pines will be swallowed up by sprouting brothers and sisters. I wonder how high they'll grow in my lifetime?
I'd charged by bike and helmet lights which was lucky, by the time I'd reached the bottom gate the trees were a tunnel of blackness and I needed them. My hands were also freezin', I could barely curl my fingers. That's partly because I'd been delayed by stupidity.
I'd taken some tripod shots on the way up, and I decided to keep riding with the tripod across the handlebars as I wanted a bit more height to catch the setting sun again. What actually happened was I put the tripod legs into my back wheel, mangled them and pulled four spokes in my wheel. Christ.
My descent was slowed considerably, but the bike was perfectly rideable. And fixable, but lesson learned I think. It did mean I got my UNIQLO down jacket photie for the competition/review thing, not the one I planned, but at least a genuine one.
I made a few safety stops on the way down, the wheel wasn't deforming, the rear suspension was saving the rim, but being careful from 300m to sea level is just so damned depressing. However, waiting just along the road at my folks house was home made curry and a pair of slippers under the radiator.
On balance, with a full belly and a downloaded memory card, the evening was a win.
Overtoun House looks so creepy at night, I love it.