I was hours out there, so much to see and plenty of time to play, which is really all any of this stuff is, playing. Nothing wrong in that at all.
I love taking photies in the dark, it should be a sleeping landscape, but it's very much alive when the camera stares at it for a while. I love setting up wacky stuff to see what happens and I love lying back and staring at the stars.
This is where the binoculars are a winner again, the bright moon hides so many of the smaller stars, but the binos pull them back again. You just have to watch when you're scanning the sky, the moon blinds you if you find it unexpectedly. But the moon has so much to look at on its surface, time just slips away.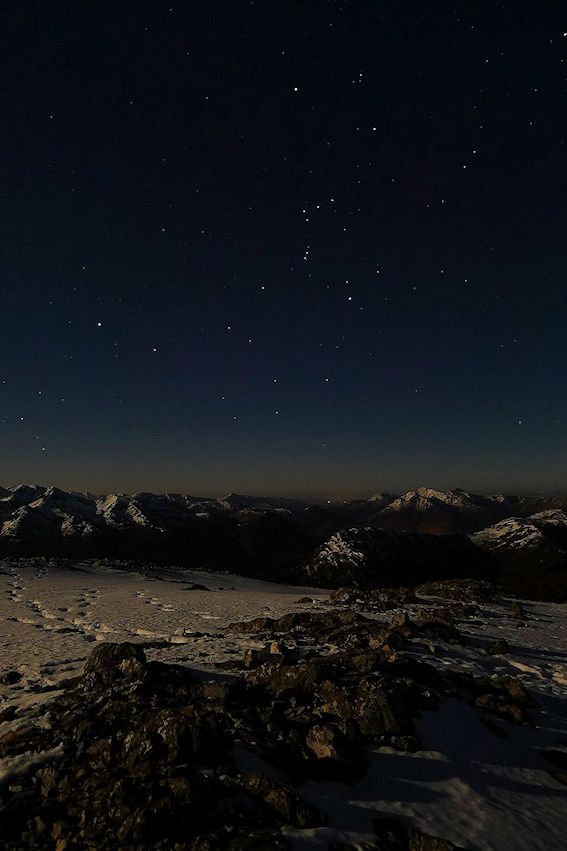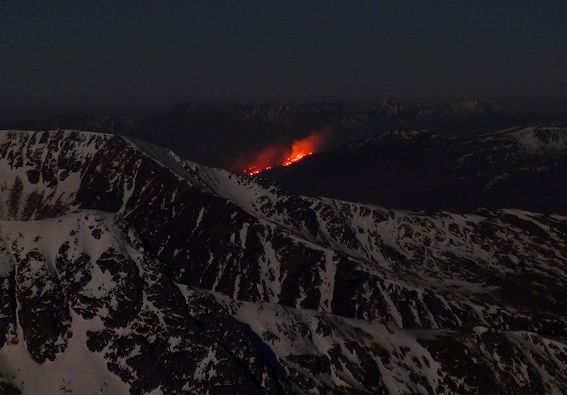 Also seen clearly through the binos was another grass fire to the west, somewhere down the minor road that runs uphill and inland south from Fort William. It was big, it looked like it was hundreds of metres wide and it was raging. It was out by 0700, but I'll bet it was a mess.
My water was nearly done, so I dug some snow chunks for the pot and some extra for breakfast. The extra gas I carry for snow melting in winter is worth the extra joy it brings.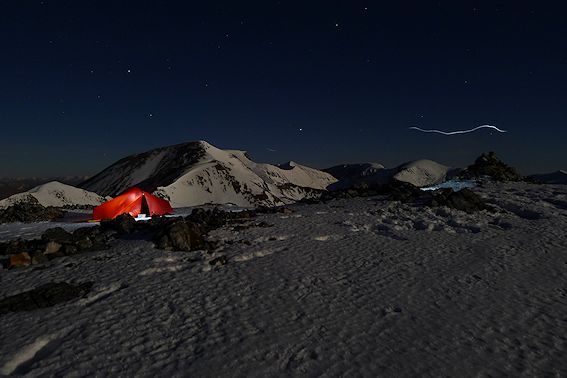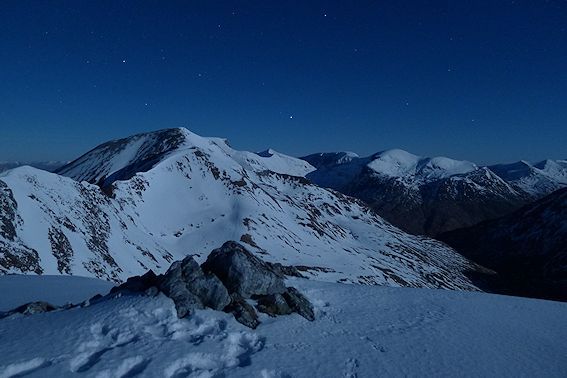 It was late, I was slowing down again and it was time for bed. A hot chocolate and the iPod on shuffle, currently stoner rock, Motown and country tunes from the 50's to the 70's and I got into my sleeping bag and zipped the tent. Boxers and baselayer inside a wall of down and I was just fine. Jaggy eyes had to be closed, thoughts of home, of where I was was, of the bizarre lyrics of some of the country tunes all carried me away.
I woke up at half five and I was cold. I couldn't figure out why at first, there was nothing but warmth as I moved my arms around inside my bag, then with a bit of extra focus I realised I was lying on the rock hard snow beneath me because my sleepmat had lost air. It wasn't flat, but the air in the corners wasn't doing anything useful, so I blew it up in the hope it's didn't have a hole in it. I blew it up while still lying on the mat in my sleeping bag, so I'm pretty sure my lungs are okay.
I got some of my warmth back, but I think I slept lightly until my 0700 alarm went off. I wasn't missing the sunrise for anything.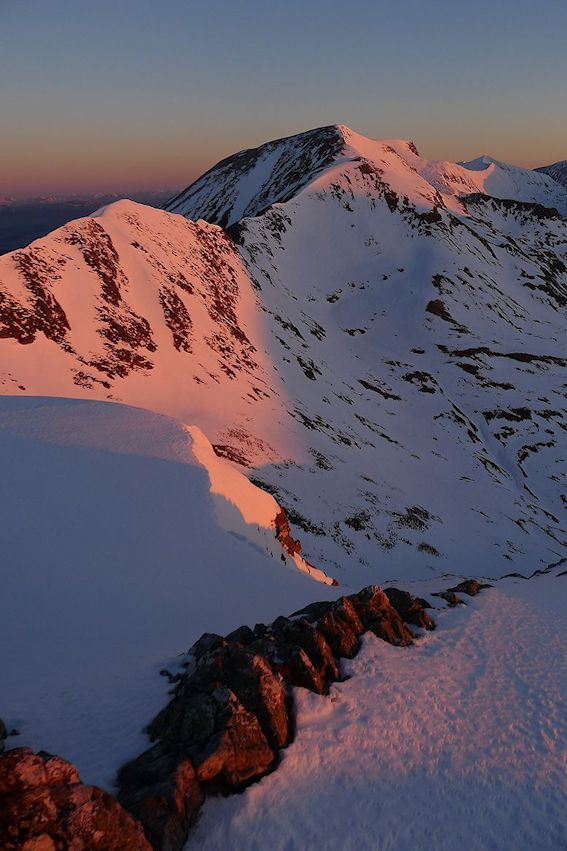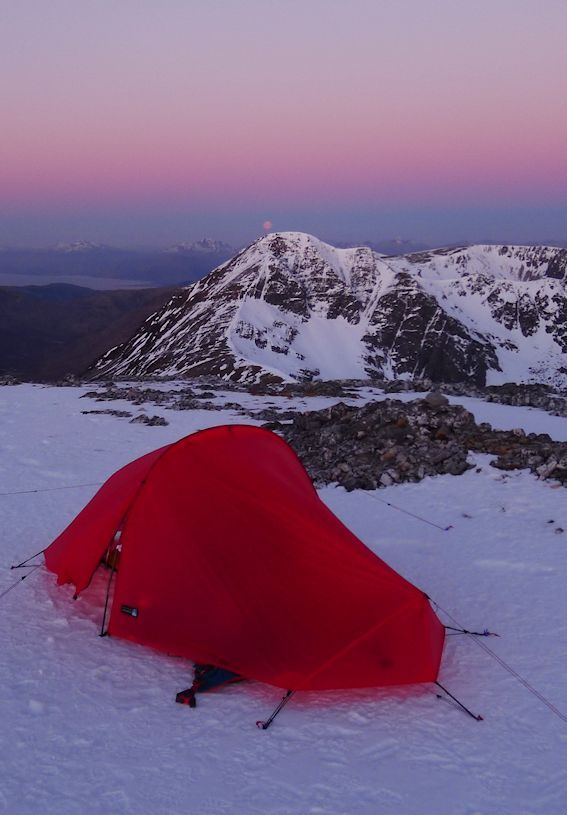 I had a text from Phil, who I had hoped would be along for this, but our schedules continue to be at odds, and it said "Inversion?" No, but there was one back home as it turned out, which I would catch the next day. Hey you can't have it all, but this was bloody close.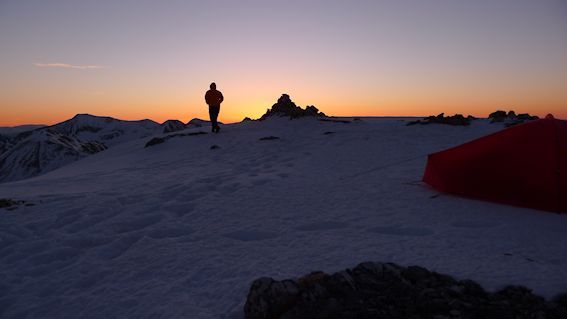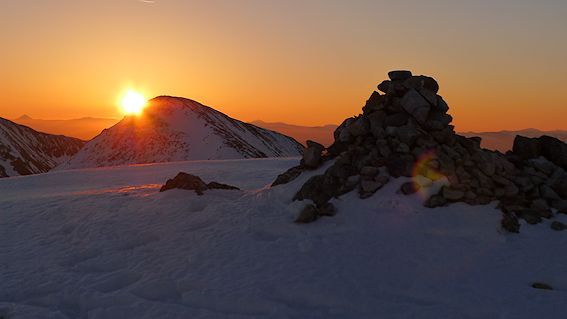 I hat a pot of hot porridge and a coffee and all was well with the world. I had plenty of time and I just watched the sun climb and the colours change from pink and orange to gleaming white over the next hour.
The moon set right through the summit of Stob Ban like a bobble on a beanie hat and as I scanned the skyline I saw walkers creeping up already, by 0900 there was a party of around six descending Aonach Mor towards Aonach Beag.
I did have to go at some point, I had a meeting in Fort William at 1400, but it wasn't all over, I still had some stuff to go and see before I descended. Packing was easy, it was bright and nearly windless with music in my ears, and indeed the air as I had my wee speakers with me.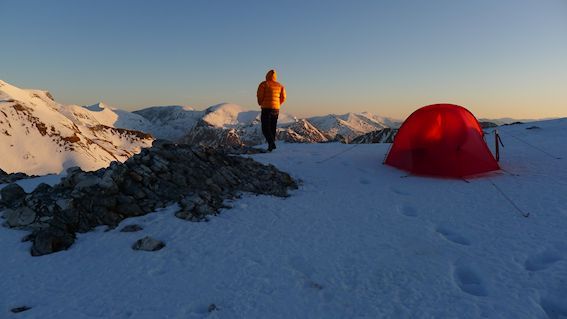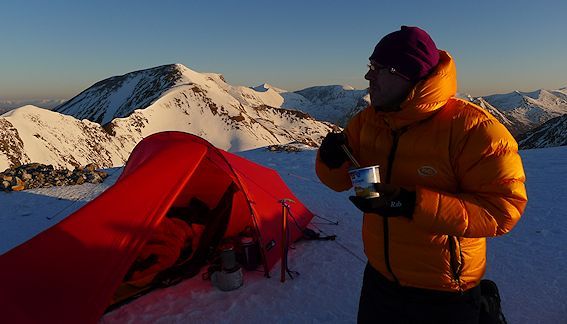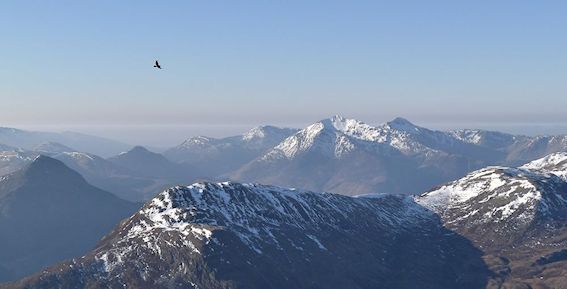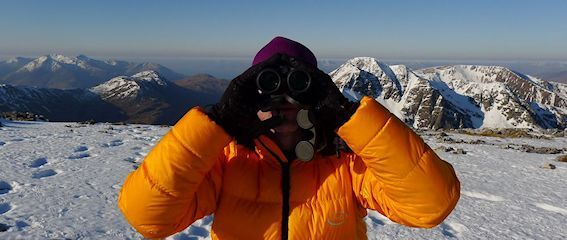 Sgurr an Lubhair is a nobody, a nothing, a crossroads on a ridge and not on a list to tick. Screw those guys who did that to it, it's great place with character of its own, crags, cornices, ridges all present and impressive to the visitor not looking at the next top along the route. Which I was now doing, but we'd already spent the night together, it knew what I thought of it.
It's a lovely descent, rocky with some big drops to the north and views down Glen Nevis and onto to maybe the finest Mamore, Stob Ban.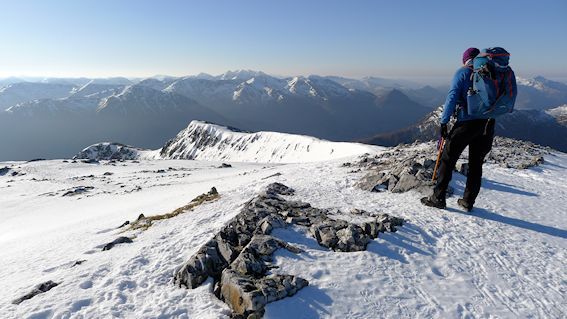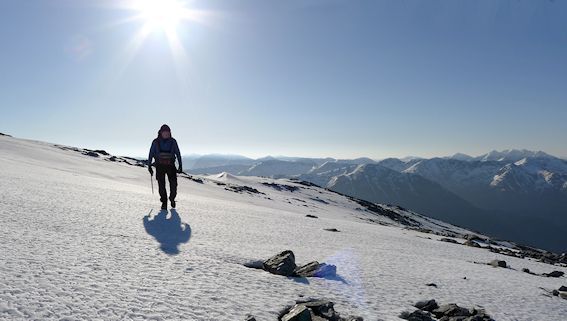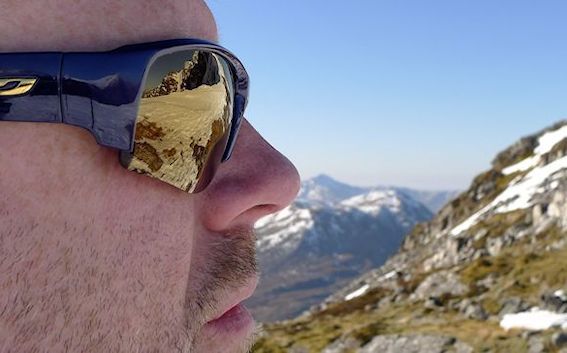 Except I had now less than three hours to get to the meeting. No way I was getting to the top of Stob Ban and back in time. It gleamed black and white even through my fully darkened shades, it was just glorious. It was enough to be right here right now, I can come back another time, walk another route, pick a different descent. In maybe twenty odd years of visiting the Mamores I've never completely repeated a route and that's the joy of these hills, so many lines to follow or create. All you need is a map and imagination. And a tent.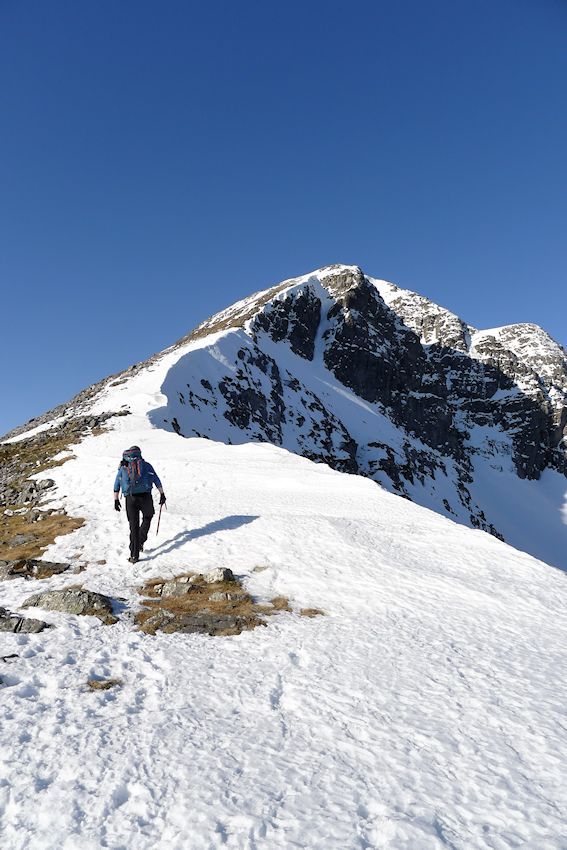 Steep heather and flitting deer lay between me and the Way far below. I took my time, I didn't want to end up on my arse or whack my knee out again. Anyway, it was hot, the light breeze had gone in the coire and I still had my jumper on. I passed the last scraps of snow and then I was sitting on a rock by the Way eating Austrian smoked cheese and an oatcake.
I met four older girls walking the Way to Fort William, they were keen and light on their feet and enjoying the day. Stopping to chat is something that not everyone has mastered, why folk go into the hills to display the fact that they're miserable bastards I'll never know. If you want to be alone and "find yourself" stay at home and lock yourself in the bathroom with the light out, don't inflict yourself on the rest of us.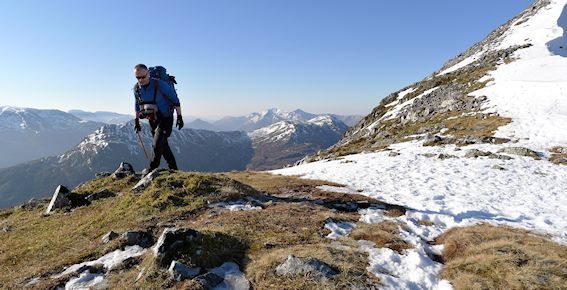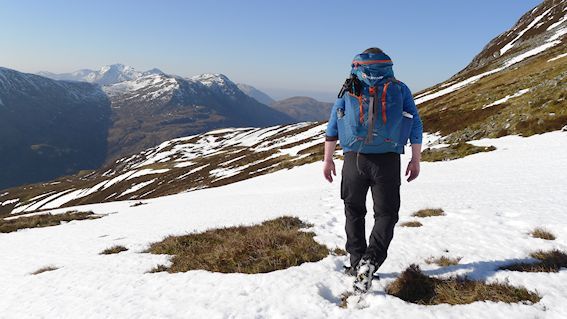 I wasn't looking at my watch. I couldn't as it was in the lid of my pack, but I couldn't go any faster with the big pack on, I couldn't run in these boots, I would either be on time or not at the pace I was going.
I could see the motor was where I had left it, which as it was so close to the main road was a relief, I passed the site of the previous days fire which still smelled a weebit burny and in a few minutes I was drying myself off and changing into a clean t-shirt with a bottle of Irn Bru at the open tailgate.
The keys went into the ignition and the clock lit up, 50 minutes to go. No problem. Until by Loch Linnhe, foresty works had shut the road for long enough that we all turned off our engines. Still, made it to the meeting by three minutes. Plenty.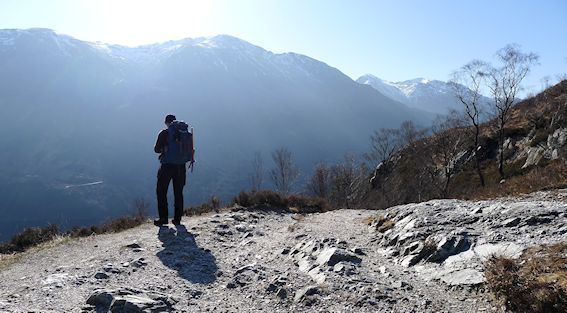 I had time to kill later, so I had a wander around Fort William and had a look in the new Cotswolds, filled a poly bag with goodies from the Nevis Bakery and had a cuppa in Nevisport before heading down the road.
It was an uneventful run which I broke to watch the sun dip behind the Black Mount. I love this spot, but when I stop here on the way home from hill days it's different, it's like a mint from the jar on the counter as you leave the restaurant, grabbing the hand written setlist from the stage as you leave the venue, getting a genuine phone number from the pretty girl in the rock club in 1987 who you think is way out of your league because you're just a skinny boy and she's a proper woman. Maybe that last one will just apply to me, but whatever, it's a little gift before the last few miles home and it's something I always look forward to on my way south on the A82.
To my amazement I got home just in time to pick up Holly from her group. Joycee brought her out of the hall and I drove away while we chatted happily. After five minutes Holly sat bolt upright and shouted "Dad, you're back!" I couldn't deny it it, I was indeed. She followed through with an uppercut "Have you got a surprise for me?"
Of course, and the magical sparkly rocks from the mountains are now in the fireplace among the many more from here, there and then as well.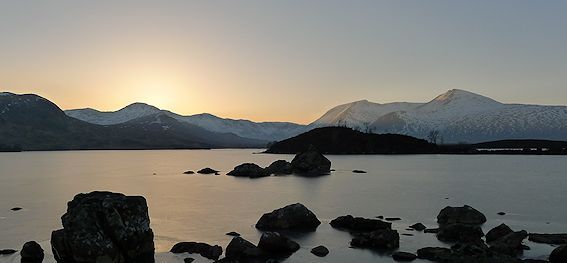 It's been a while, circumstances made it so. I had luck on this trip, but I think I've earned it, I've spend too much time in cloud in the past year for me to think otherwise.
It's good to be back, in fact, spinning down the pages this place looks just like it did in the old days, short sharp sprints into the mountains and coming back with a head full of joy and colours. I just need to get some gear done to complete the picture.
It's what happens next is the thing I suppose, I've got plans, I've got time and I've got the desire. We'll see.