The painting of the Trossachs in the post below brought to mind another couple of classics.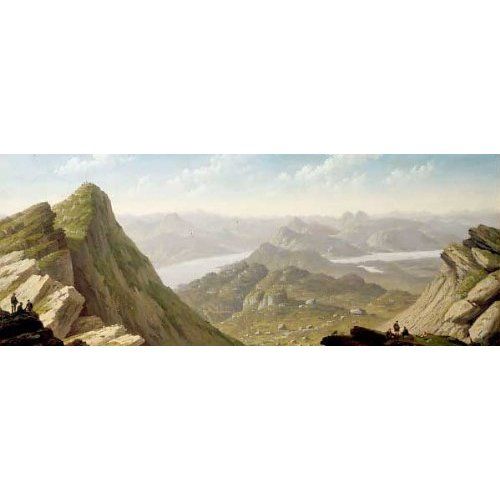 Above is an imaginitve study of the summit of Ben Lomond by John Knox from 1834. The shapes of the summit ridge are recognisable if a little exaggerated, the views beyond are a mix of fiction, reference to hastily made sketches on the day and the memory of an artist whose visit to the summit had so clearly inspired him.
There's a matching painting with a view to the south, also a joy to look at. Both currently hang in The Macfarlane Gallery in Kelvingrove Museum and Art Gallery in Glasgow.
On the same wall in Kelvingrove is the wonderful Glencoe by Horatio McCulloch from 1864. This dark and atmospheric painting feels just like the real glen to me, Bidean Nam Bian's blunt ridges loom over the A82 today just as they loomed over the old military road that took the artist to his fine viewpoint all those years ago.
It's a big painting this one, one to linger at, trace familiar lines and I swear feel that damp breeze on your face.
You can find prints of these online if you search and the artists have other Highland works. Lomond and The Trossachs in particular are well represented on canvas through the Victorian years as the Highlands opened up and became a tourist destination.
Imagine the hills before tracks and trails, Ordnance Survey or access rights, these treasures are a little window to that far away place.