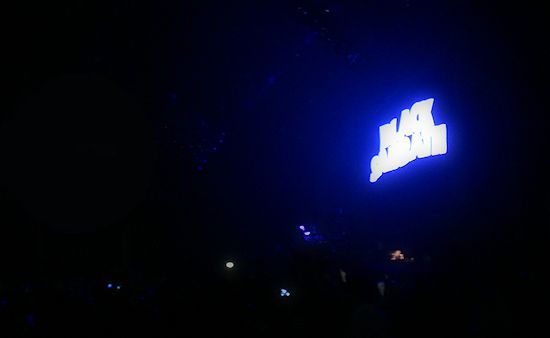 It turns out it doesn't matter how many years have passed since I sat in my bedroom, gripped by Greatest Hits spinning on the turntable, that skinny pale faced boy's heroes are still heroes and when War Pigs broke through the darkness and quiet Black Sabbath were watched through misty eyes. Silly auld fool.
Holly was sitting on my hip so she could see, she had a hand in the air and plugs in her ears. It sounded glorious, the guitar was just right, the flavour was of Iommi's 70's tones with the fatness of his modern setup which was as perfect as the playing itself. Ozzy was right on the money, note-for-note, Geezer rumbled away, head bobbing and if you didn't look or listen too close, the bearded figure on the drums, well, if Bill couldn't be there, Tommy Clufetos worked his hardest to fill the gap and didn't disappoint.
The venue is okay, the Hydro does have a boomy element to its acoustics even when full of bodies, but I like it. The standing area isn't too big and they're not overselling it so there's room for everyone, handy when your six year old needs a wee break at the side for juice and a sweetie. The concourse is a bit tight with lots of columns, but there's plenty of food, drink and t-shirt stalls so queuing is minimal. Talking of t-shirts, some of them were pretty good, me in a union flag? Yes please.
Holly didn't make it through all of Uncle Acid and the Deadbeats who I thought sounded great but struggled to fill the stage and project themselves, a little bit of rabbits in the headlights going on there which is understandable. They'll be brilliant in a club or as a support in a regular hall, looking forward to that.
Holly made it half way into Sabbath's set, in fact it was when Ozzy's voice crashed and burned during NIB that she put her face in my shoulder and started to crack. But, Joycee was at the door, McDonalds was around the corner and dad had the last four songs on his own. Ozzy pulled it back towards the end, some stuff he just can't sing, some stuff he seems effortless, but he seems fragile. My heroes are getting old.
It was a joy. Holly attracted all sorts of attention, from other dads patting me on the shoulder with a knowing grin to rock chicks that loved her outfit and she did very well in a situation that was new and I'd imagine a bit scary. She did it all on her own terms and at her own pace and hopefully she'll have good memories of the night, that and her Sabbath baseball cap.
We met Allan which was brilliant, especially as Holly got to meet my best pal from the days we were at the same school as she's at now. It ties lots of stories from the old days together which she likes. It added to the 70's vibe of the night as well. Nice.