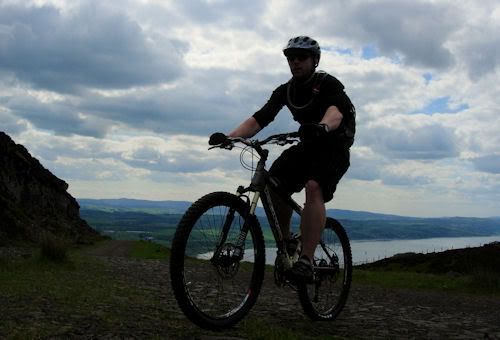 Craig's bike was finally finished, so a run round the Kilpatricks was in order this Sunday afternoon, and evening as it turned out. There's miles of trails, some easy farm tracks, some technical, some now unrideable after winter, some fast and grin inducing. Some hike-a-bike as well which is always fun. Stumbling across country, bike on your shoulder and helmet straps swinging loose like an extra from a bad 'Nam movie.
Craig is the fittest man in Europe, and now with paper to prove it after to spending time in the US doing his Crossfit certification, so it's never an easy task keeping him in sight. But he was kind on the ascents and on the descents my weight advantage saved the day, well that and the bike bless it. There's nothing quite like losing altitude with the air rushing past your ears, your arse low over the back wheel and the scenery passing your bare knees at bone snapping speed. Fantastic.
To get to that there's the ascents, hundreds of metres of it. I was tired and emotional by the time we got the the fence at the loch. I was wanting to lift the bike over and then hop over the metal steps which are deadly with shaky knees and cleated shoes. Instead I ended up with a Great Escape moment and scraped some of my magnolia paint.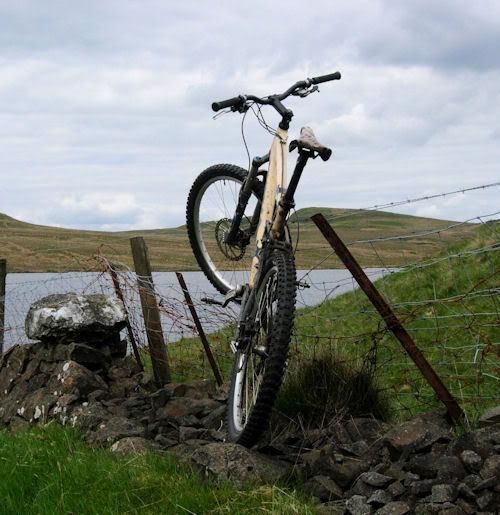 Craig mocked me by successfully taking the right way, I bear no grudge.
Anyway, as we're scooting about we came across a man with a big pack, camera around his neck and carrying a tripod. His name was Alan Forbes and he was researching for his update to his book 25 Walks: In and Around Glasgow. Which as it turns out, I have. He seemed like a good lad, it'll be nice to see the new version later in the year.
After that we worked our way around the top on the Lang Craigs to the last down hill ride to Overtoun House and then the A82. This is wonderful stuff right here, twisty, hardpacked and very fast. We've all had incidents up here and elsewhere, but on this very trail Helen won a fine selection of X-rays and fetching flesh coloured wrist support to be worn way past the end of it's initial novelty. Only grins in evidence this time.
My bike legs are still in winter mode though and my arse is all wrong as I sit here, regardless of my SDG Bel-Air Snow Leopard print saddle. All these things will be right given the miles, summer is bike time for sure.