This fine brace of items were in the running for coming with me on the West Highland Way back in April, but as welcome as the warmth and comfort would have been, they stayed at home due to their pack size and weight. This is proper kit for the cold months in the mountains. As the seasons are changing again they're coming back into the "ready to grab" kit pile. Camping in the hills is getting noticably cooler at night.
This sexy green and black Zirkel is an update to the one I had on test over last winter, it's also a regular size wheeras the last one was a long. I can get away with using both, although the regular is on the limit for a six footer. But it's lighter by nearly 100g, and it packs smaller. So worth a shot. 
It's rated to -7°C, and weighs in at 900g. It's got a neck baffle and a great hood as you can see cinched around pinkabear's head there above. The regular is a slimmer fit than the long, but I've got enough room and those used to slim bags will have no problems.
The Toray outer fabric feels like it's an equivalent to Pertex Quantum, I certainly don't lose any sleep in it worrying about the lack of a wee silver logo with the big "Q" that we've all come to expect on down bags. 
Below you can see why I like top bags, it's like a little coccoon, but it has a flat sutface to move on like your own bed at home. You can also see the zip baffle and internal pouch which you stuff with the current competition prize to make a pillow that you can't lose in the night.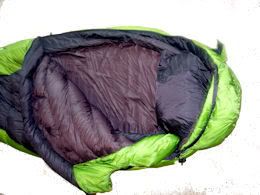 The loft is good as you can see and it's warm bag. It's been too warm to use most of the summer, but it's coming back into the right sort of evening on the summit for a bigger bag. The the nights are fair drawin' in.
The Two Track pad is what you see sticking out there like the tongue of a frog who was chewing it's blue biro absent mindedly while it was pondering exactly what its relationship was to a toad.
It's pretty much a badass Thermarest foam/air sleep mat. Tougher built and I think more comfortable as it's 40mm thick and when it's inflated it's pretty good at flattening out reasonably rough ground. It's rated down to -18°C, and the weight is 850g. That makes it a good thing to lie on in winter and feel very smug indeed.
Autumn leaves and then snow. Getting all this gear out is putting my heart rate up.