Big Agnes tents are like a lucky charm for me, every time I want to get one out and properly test it in some foul weather, blue skies break out all over. However the Copper Spur UL1 got taken by surprise and after a few local adventures, I pitched it at 1000m on the top of Beinn an Dothaidh so see how it coped with Highland life with just its two guys line for protection…
It's dead easy to pitch this wee bugger. One main pole with a hub at either end where it splits up and picks up the four corners, one wee cross pole at the top centre to tie-in and give the outer its shape, some plastic clips and you're there. As you can see abov, the pole attaches to the inner and makes for a self supporting structure that you can pick up place wherever looks the best. I've really grown to like this idea as it's simple to work with, in fact it's almost impossible to pitch this kind of tent badly.
There's a fair amount of mesh on show for ventilation and of course for losing heat, but although these things are oft debated, it's unlikely to be a surprise when the purchaser pitches it in the field for the first time, so one will hopefully have accounted for its affects?
Also seen above is the large door on the far side and the wee door to the rear. You can get great through-ventilation here, as well as access to extra storage space between the inner and fly, and I won't beat about the bush, that wee door is an ideal pee flap.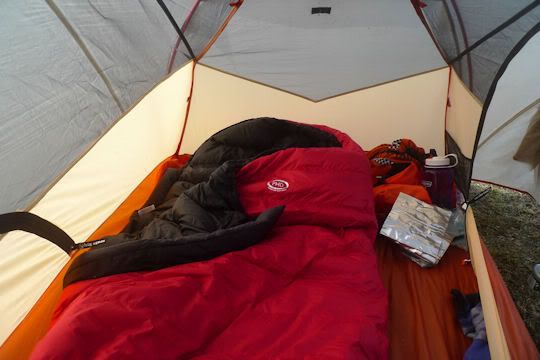 The flysheet gets thrown over the top and clips into the short cross-pole at the top and buckles into the four corners where there's tension adjustment via webbing through the buckles. They're colour coded as well, so it's very difficult to get it wrong. The porch is pegged out and can be left in place where you use one half as a door, or you can fold both halves back for hot windless nights. There's pegging points at the corners and two short guys at the bottom edge of the flysheet at each end. There's two regular guys at the "head" end where there's also a vent which can be propped open with a stiffener.
Other features include a mesh pocket and the ability to use fancy Big Agnes custom options like gear lofts and fast-fly pitching with a footprint. The pegs even have a hole drilled in them to attach a cord, that's a step further than most manufacturers will go.
But, living in it is the only thing that really matters. Internal floor space is very good indeed, with space enough to store gear without piling it up. Headroom is okay for me sitting cross-legged on a fat sleep mat, but I do jam my head into the roof if I straighten bolt upright on the mat. But, I had to try to find out rather than natice it in the passing. The single door is fine and I can get in and out without kicking my cup over, but it is on the limit for me not having to crawl out, so if you're a big fat bloke, have a bad back or are exceptionally tall you're getting muddy knees. The porch is a good size for storage, which whn when full still leaves enough space for a clear exit.
The door has a double zip which was handy for peeking out to check the weather (and for letting out steam from cooking and socks), and the storm-flap over the outside of it has velcro tabs which is great, most folk with a similar feature don't bother their arse with such detailing and consequently compromise the waterproofing.
Wind and rain are what we have to live with in our hills and the idea that US gear is only designed for backyard use is hopefully disappearing these days. The fabrics have a hydrostatic head of 1200mm which means it's officialy waterproof in UK terms, and they are indeed, having lain on wet ground and watched rain run down the fly from the inside (it's a very see-through tent, and bright inside for sitting through raining days) I'm already happy enough to not worry about it. I tried to get it in strong winds, but like I said, Big Agnes is a lucky charm. I can say that in what wind I've found for it, it's quite quiet as the outer is tight and the inner flexes with it. The two guylines hold the "wide" end firm enough, but how the whole thing will fare in a hoolie I don't know. But I feel comfortable enough in it to give it a go anyway.
That comfortable comment is important here, it is a comfortable tent to spend time in. The dimensions, the features, the weight at 1300g packed, and the simplicity of pitching and striking all add up to make it a good experience. I like it.