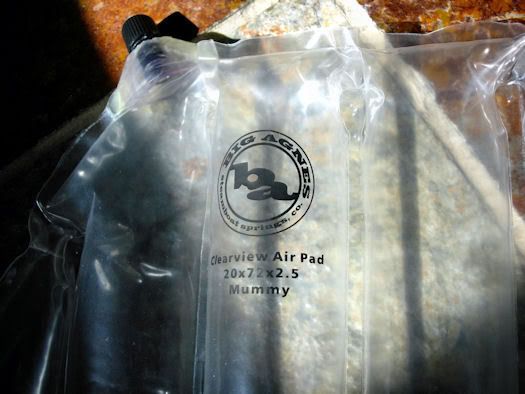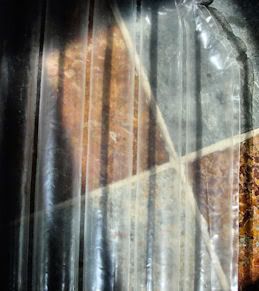 Now this rather organic looking thing is the new Clearview Air Pad. It's dimensions are rather handily printed on it in Imperial (a man's measurement as you know). the mummy shape slips into a regular sized Big Agnes but also fits under other folks bags rather neatly. This is a good point here, a lot of folk don't take to the top bag system but the Big Agnes sleep pads are good stand alone kit. I've been using them with other bags and they're great. The pronouced mummy shape is a packed bulk saver as well.
It's lighter than listed at 360g and is made of Polyurethane. It's soft and a little rubbery to the touch, but thankfully doesn't smell like a ballon like I was expecting. It packs down to nothing which is where it's the big winner. It's not an expedition pad this one, it is too fragile. This is a fastpacking, weekend dash, proper fast and light bit of kit.
Plus you can see through it. That's worth the price of admission on it's own.
The collection of green squares below is the new Pitchpine SL top bag. This is defintely the whackiest bit of kit I've seen for a while. It's a good match for the Clearview pad above as it's as light as they can make it, and again ideal for dashes into the mountains for a couple of nights.
It's got a ¾ length zip, no hood and an intergral pillow pocket. The construction is quilted, and properly so as well. No baffles, it's stitched through into squares. This made me think of cold spots, but the down is very evenly distributed with this construction, so I don't think it will be an issue.
The bugger is I'm too tall for the regular, so there will be an update coming later from Craig who is regular apparently. I would dispute than on many levels. It's again lighter than listed at 485g, and pack size is small. I've noticed that the construction of Big Agnes bags is similar to Marmot bags, same factory maybe. This is a good thing though as it's another quality range.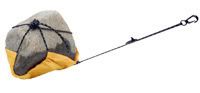 One more thing I have is a set of Blowdown Tent Anchors. They'll let me pitch the tent on places where I shouldn't be able to pitch, flat rocky plateaux and the like. There's a few places immediately sprang to mind, so there should be something to report soon enough.
The period of money making exile from the hills will be over next week. It'll all be happening then.
Also, our Big Agnes Competition winner has some experiences to share. It didn't go well, looks like he needs a Pitchpine…