Berghaus won an innovation award for their Vapour Storm Jacket which will be out next year, but innovation doesn't have to be all new ideas, the Vapour Storm mixes the old in with new. Innovation is just putting good ieas together and making them useful.
I've got one on test, and I'll have a quick look at the features and my first impressions.
It looks like a regular minimalist shell from a distance, but it's got all sorts of stuff going on. Slim cut, proper hood, great articulation and it's full of holes.
I should say vents really and this is the big difference to most current shells. Open venting is a long established method of letting out heat and moisture from a shell jacket, you see it on running and bike jackets, Gore-Tex had vents on their very first Active Shell test jackets, but these days you don't see the feature on mountain flavoured kit so much.
Wind driven rain getting blown into a vent is not on, so Berghaus have thought about it and have a way to make it work I think. The vents, which are on the chest, the back and down the sides, all have fold-back hems in them, walk into rain horizontal rain and the water being forced upwards on the face fabric should be caught in these folds. Hopefully you can see what I mean to the right of the shot below.
The Active fabric I already know to be good so I did wonder about the need for vents, but on my first use in cold winds where a lot of effort was getting my temperature up, I think the vents at the sides at least do work, body movement seems to makes them pump air like a set of gills. It's early days, and if you're wearing a pack some of the vents will be restricted, but it's definitely interesting.
There's much more though, above you'll see the low profile zip for the handy chest pocket and below is the proper hood. The hood has a neat volume adjustment which pulls in the crown and the face at the same time, I've seen this done very badly elsewhere, but here it works the hood cinches in just nice.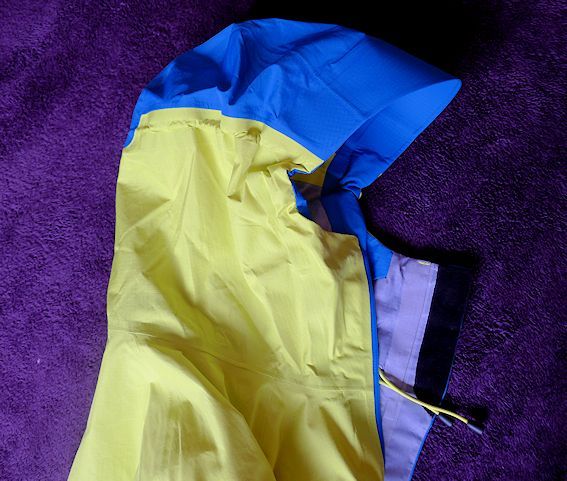 The long arms work for biking and the cuffs has some nice detailing with a smooth curve over the back of your hand and an elastic wrist section to pull it in and let you pull the sleevs up a bit too. There's an elastic loop for your thumb which helps to really seal the wrist up without the extra construction needed for a thumbloop cuff.

I'll know more when it's been out and about more, so I'll have updates. The good news is the fit is excellent, trim and fully articulated, the MtnHaus team do a good job. It's light at 336g for my sample large and it's a cheery looking bugger as well.