I've had this on test for a few months now, regular listeners will have seen it in photies now and again. It's high time we saw how it's been doing, the Berghaus Octans 40 (link takes you to the new MtnHaus site, all tech kit, no filler).
The basics are that the Octans 40 is an adventure racing pack designed by the MtnHaus team in conjunction with the Orion Health race team. This means that some features and design markers from classic race packs that the team have used before have been brought to the Octans and have given the MtnHaus treatment, but it's by no means a patchwork built from a race team's wants-list, the Octans knows its own mind and is ready to mix it up with the established racing models.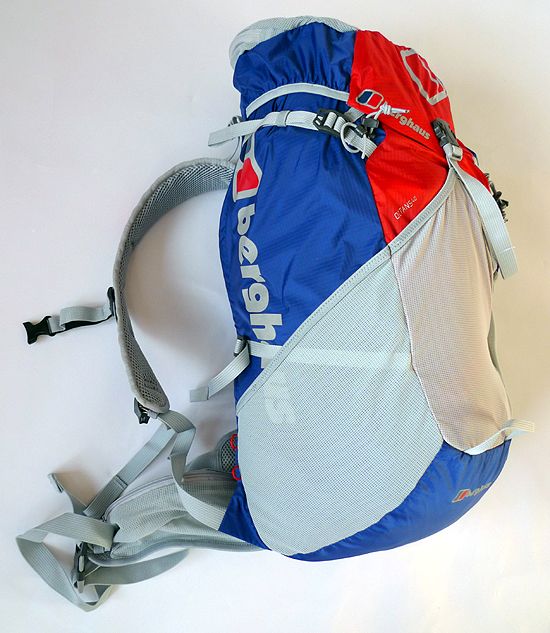 672g for a 40 litre capacity is a good exchange rate I think, and while I'm hardly a racer (although I appear to have been signed up for something, but more of that later), race packs often offer great features for the light minded outdoors him or her.
Simplicity is the first thing, the Octans is a very clean pack. The main body is plain, inside there's a hydration sleeve (with hose exits) and a velcro-secured sleeve for the light perforated foam pad that acts as your back system, and your sleepmat if you're into sleeping with a Clint Eastwood stare and gritted teeth. With careful packing this foam is fine, careful packing is a good policy anyway.
The closure is a single drawcord with suits me fine, but oddly it's at the top of a psuedo snow-lock collar in a light grey fabric. I'd ditch that and keep the red and blue of the main body all the way up, it would look neater when fully packed and it's a whole bunch of stitching dumped. Not a performance issue in any way though.
On the outside of the main compartment we have some old-school mesh pockets. Split into three, there's good capacity here and the central one is very secure as well, being deep and having the single buckle for the lid attached to it. The side ones are fine for stuffing bits and pieces into, but aren't working so well as bottle pockets, even 750/800ml bottle get fired into the scenery unless pushed right back to the deepest part of the pocket where you can't get to them easy when wearing the pack, but it's set up very much as a hydration system compatible pack, confirmed bottle users like myself will just have to make the best of it.
There's four compression straps which pull the pack in well, the lower two run through the mesh pockets but don't interfere with them. There's two bungees for "stuff", I'm not saying ice axes here necessarily, but poles have been okay. I couldn't get my axes on here in a way I was entirely appy with, the tow-loop serves as an anchor for the axe head of sorts, but it wasn't quite right. many race packs are winter compatible, many aren't. The capacity, and the rather "alpine" shape of the Octans lends itself to fast and lighter winter use, so I'd love to see basic axe loops at the bottom corners.
The chest pouch (see bottom photie) doubles up as a front panel compression patch for your crampons, so the lid doesn't need any extra attachment points. The lid has inner and outer mesh pockets which take a rake of stuff, both very handy sizes, and the the fact that the whole thing is secured by a single buckle makes me very glad as always.
The shoulder harness is low profile, and the inner foam padding has some huge holes in it for weight saving, ventilation and as it turns out almost instant moulding to your shape. There's a chest strap with a whistle buckle and elastic section for stretch and unusually for this style of pack, top-tensioning straps. The pack is quite tall so these straps do pull the pack in to steady the load if needs be, but I do wonder if it would be better to lose an inch in height and make the pack a little fatter in the body (it already has excellent compression) to maintain the capacity and remove the need for these straps? Macpac do the same on the Amp Race packs, and I wonder if the inclusion there as well as on the Octans is as much down to the brands backpacking and mountaineering design heritage as anything?
The hipbelt is a very flexible affair, two large V shaped fins with zipped mesh pockets outside. These are very comfortable indeed and take a backpacking load without an issue. The V does tend to close up a little over time, especially with a heavier load, which has the effect of bulging the pocket out a little, but all this seems to do is make the zip easier to work with one hand, a happy accident perhaps, but it's a good result whatever.
The chest pouch works, but it's better on the pack as a compression patch/extra storage. On the front its a little tight and also pretty tricky to get on and off, I can see racers panicing at transitions as they can't get it undone. I hope they develop the chest pouch further, I love front-carrying options and this current one is a little token feeling when you see what's possible from using models from other brands. The MtnHaus design ethic could rule here quite easily I think.
It's a very usuable pack, comfortable and properly light for the capacity and performance. Folk used to fancy back systems might find the close-contact hot spot on their backs an issue, but that's why we wear technical fabrics isn't it, to deal with that stuff? Give me stability over a dry back every time, we'll be seeing the Octans on these pages all summer.
Like with all the MtnHaus range, Berghaus are really trying here, and I hope the range is adopted by enough of us users so that they have the confidence to evolve and perfect and the models over the coming seasons.