I caught up with Berghaus recently and it turns out there's lots going on. I'll be looking at some stuff over the next wee while and first up is the new Ilam lightweight down jacket.
It came in just in time for the Bivy trip, so I've got a some first impressions and a quick look at the features.
The big talking point is the down fill and I'm going to quote the blurb here, now there's a first;
Hydrophobic down offers the natural benefits of down, such as superior warmth to weight ratio, compressibility and resilience, enhanced by an innovative water resistant treatment applied directly to the down.  This down maintains more of its loft in damp conditions, takes up less water, and dries and recovers loft more quickly, leading to notably enhanced performance in damp conditions.
This all sounds good to me, and others have done similar, but I know the natural reaction has been to naysay it which is stupid without using it. My only worry is that any treatment on the down will limit its natural spring-back ability over the long term, that's something we'll have to just wait and see about, right now those little baffles are lofting away just fine after being compressed to death for several days. I er, forgot to unpack it when we came back…
It's a MtnHaus design team jacket and is part of the revamped Extrem range (including nice new logo), Berghaus' top-end tech kit collection. As such it's got a slim cut, only the features you actually need and jazz colour schemes.
The fit is brilliant, over a base or a base and light midlayer the Ilam size large sits just right on me, close but not tight so the mini down baffles are allowed to loft and don't get squashed flat. The baffles use a simplified version of the body mapping from the Ramche, it's beefier sibling, you can see below the square baffles on the front and the smaller chevron-ed baffle under the arms and down the body side. It's to maximise heat in some areas without cooking you in an active situation. As a concept it sits right with me, A light insulated jacket and a down vest have been a long term favourite for me, so going in that direction in a single jacket is fine.
It's a light jacket, 336g for my sample large, great for packing away (if you check out the bivy trip a few posts below you'lll see the mountain man bag I'm carrying, the Ilam is in it!) and it does seem warm when you pull it on, it was cold enough at the bivy for it to be appreciated fully and its low bulk means a down vest slips over it for a winter boost.
There's two handwarmer pockets with hidden zips which put your hands behind the down, the pullers are tiny and gloss finished, a nightmare with gloves, I'm putting some cord on there. The pockets sit at a nice height, not too low or too high and there's another internal chest pocket as well.
The hood and cuffs are lycra bound with the hood having no extra adjustment. I've had hoods like this before, but Berghaus have made a better job of it. On my head at least, the hood does move with the head when the jacket's zipped up, not all the way, but I have to be looking directly over my shoulder before I'm looking at the inside of the hood as well. Even better with a hat or a Buff as the hood clings a bit more.
The hem has a simple cordlock adjuster which runs through the nicely dropped tail, the main zip has a fleece lined garage and a stiffened storm flap to keep the draughts out and stop any snagging.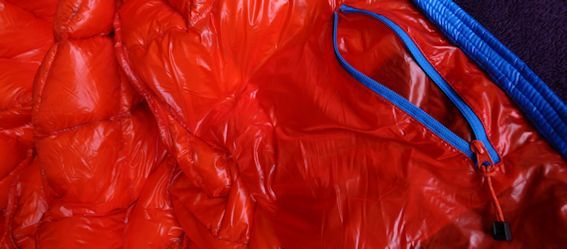 The fabric is Pertex Quantum GL which is light and silky soft. It takes the bright colours very well and it's shiny too which gives the Ilam a wonderful retro look, but more importantly it's a brilliant fabric, drying time and compressibility are excellent and its abrasion resistance is better than you'd expect.
It's early days yet, but the Ilam has certainly impressed at camp and elsewhere so far. It's pretty, but mine's already got some dirt on it and it didn't cry, so we're good to go.
Wee baffles I already know are fine, lightweight down is great, add water resistance and are we threatening synthetics?
 Updates on the Ilam as we go.