Where do I begin… ? Regular listeners will know that I often rant about timid design, dog-walker specific models, everything-in-black, the big-box-brand stranglehold on the market ruining the choice for everyone and spoiling our fun.
We all know the brands that come to mind, the ones we see in Blacks, aye, I widnae be wearing that stuff.
But…
Cast your mind back to the Berghaus Big Wall range. A comprehensive and detailed range of kit for folk climbing vertical granite and sleeping on portaledges. I said many derogatory things about it, but someone said to me a while back that it was Berghaus showcasing that they're not a High Street brand, that they have a superb technical heritage and that they still produce top-end cutting edge kit.
Had I missed the point? And, an opinion is only as good the experience it's based on, and given that the outdoor trade updates itself twice a year, anything I had to say about Berghaus was out of date.
So, it was with interest, anticipation, apprehension and even a little excitement that I unwrapped the package of Berghaus test kit. It was a good cross-section of gear, and as I tried it all on for size, it felt familiar, the features were where my hands were looking for them, the waterproof was slim fitting and light…
Aye, that's where the grin started.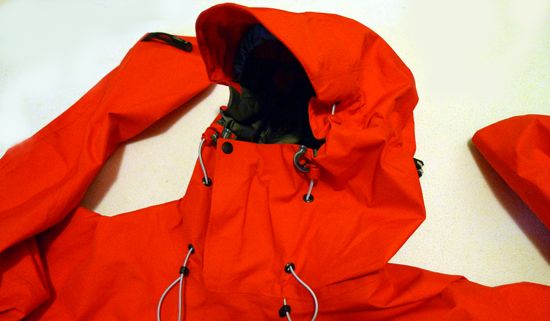 Above we have the Temperance Jacket, a Gore-Tex Pro Shell, alpine-style waterproof from the top-end Extrem range. It has the multi-adjustable Raptor Hood System, two venting chest pockets, full length front zip, non-elasticated velcro adjustable cuffs and a Rentex collar section at the back of the neck which is a bit "felty" and nice against the skin, and it adds a little stiffness to the rear neck area of the hood, acting as a collar of sorts. All the zips are water resistant, but have storm-flaps, with the main front zip having velcro patches on there too. The rear hood and hem drawcords are split into halves, so you can fine tune the tension front/back or left/right or just pull them together if that's what you like. The only other jacket I've got with this arrangement is the Claw 2 from Furtech.
The Raptor hood allows tension to be adjusted separately across your forehead and the sides of your face, so you can close up the front and not squeeze your hat into your forehead for example.
But more importantly the hood, which is huge for helmet wearing, closes up very neatly around a bare head without any real fabric bunching and moves well with your head too. The peak is big, stable and wired.
I have to say that this hood is superb, I've instantly taken to the shape and the level of protection it gives. The adjusters are even chunky types so you can work them with gloves on.
That theme carries through the whole jacket, simple and functional, even the rubber adjusters on the cuffs that I usually hate have enough of a non-velcroed surface at the ends for me to get a hold of them easily.
The arms are nice and long, and the hem doesn't move when I swing my arms around in circles. The body is slim, a good fit over a light midlayer, and will take a light synthetic insulation layer as well if needs be.
It's a very "British" mountain jacket with the storm-flaps and the big hood, but it's also very modern in the clean design and the light weight. It's short as it's a climbing jacket (it does have a scooped rear though), but that's an acceptable trade-off to get the benefits of the rest of it.
I really like the feel and the look of the Temperance.
The Spectrum Micro Half Zipis a simple pullover. It's cut from AWL 100 weight fleece which feels a bit like the Tecnopile Micro that Jack Wolkskin use on their Gecko, or a maybe finer version of that golden oldie, Karisma. Whatever, it seems to have a little more wind resistance than the usual suspects from Polartec, but we'll see about all that stuff when it's been oot and aboot.
It's got a decent length front zip, a single wee pocket, long arms and body and neat cut. It's not slim, but not casual either. Comfy, good arm movement too. Looks like a nice all-round piece.
The Arete 35pack is also from the Extrem range. It's an uncluttered climbing/daypack with a low profile harness, elasticated wand/bottle pockets, elasticated chest strap with whistle buckle, ice axe/pole carrying fittings, hydration compatibility, a flexible back system that will still stop stuff sticking into your back and the brilliant reverse-style waist belt (you pull it tight from the hip fins towards the front). The buckle is even a push-through type that I loved on the old Karrimor packs.
I've loaded it up and the back length is good on me, if feels stable and I can reach back to the pockets too.
It's got top-tensioning straps which seems odd on a 35L pack these days, but it might be that the pack shape means a different load position than I've been used to recently, and I'll feel the need to pull a fully loaded pack in on a steep descent or something. We'll see what happens there, they might just be there due to force of habit?!
It's neat, light and has nice wee ice-axe clips. I've been asked many times to compare this pack to the OMM Jirishanca, and like I said to Berghaus, I feel duty-bound to try one. So we shall see.
Last up is the Chulu Vest. A nice little insulation piece filled with Primaloft ONE Eco and with an AF Nylon shell.
It's got two zipped hand warmer pockets, a high chest pocket and another internal pocket. The hem is adjustable and the arms holes have lycra binding to seal in the heat.
This is one of those bits of kit that ends up getting used for everything as it's so handy, great on the hill at rest stops or on the move in the cold, great at camp, great for just cutting about on cold days because you can carry stuff in it and it's not a big fat down vest which can sometimes make you look a bit conspicuous.
We'll see a lot more of the Berghaus kit in the near future, and I'll tell you it's going to be no hardship using this gear.
The fit, the features, the weight, the fabrics, it looks like all the components are in place. We'll see.
Hmm, am I eating my metaphorical hat here? More soon.