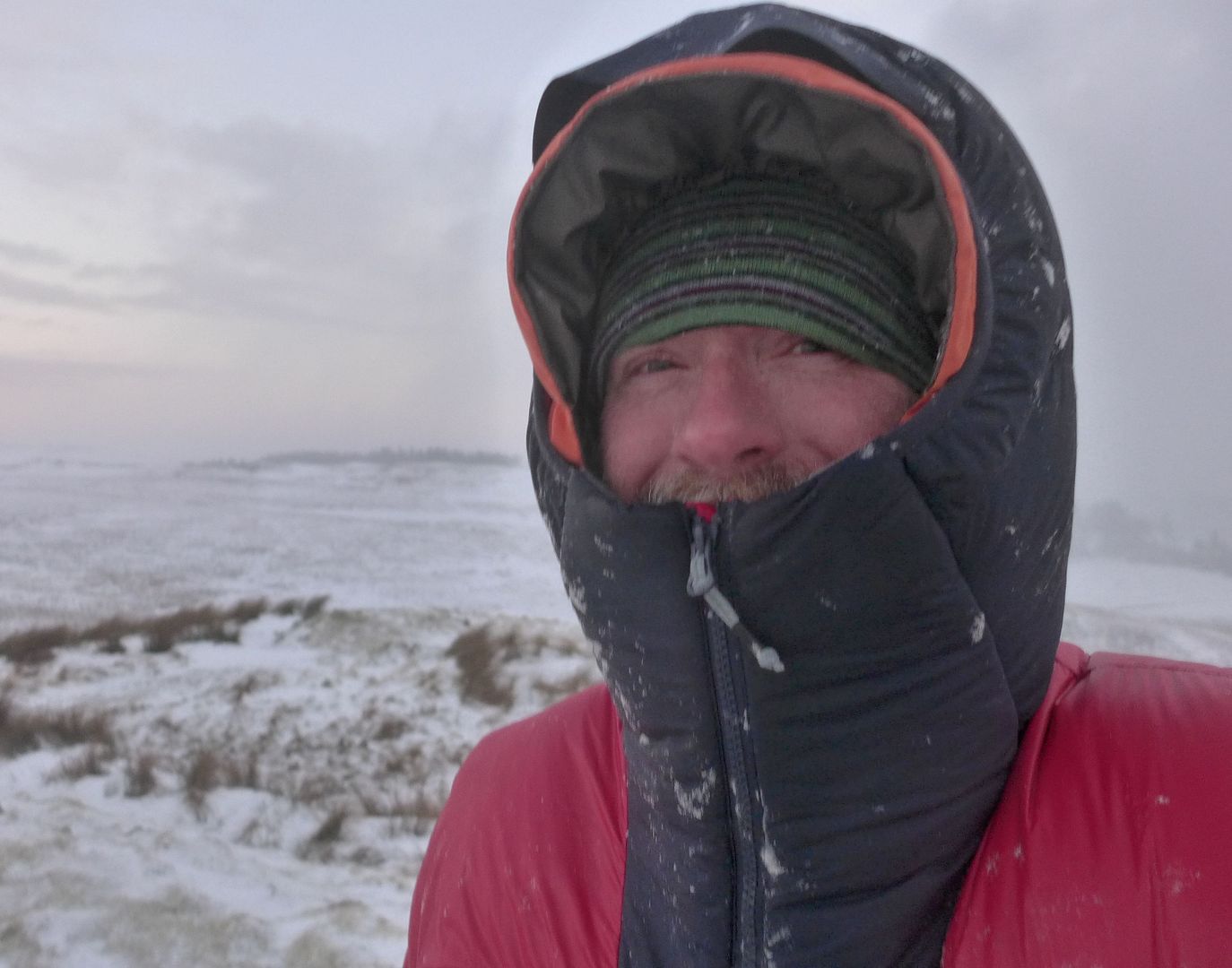 The Berghaus Arkos Reflect Down Jacket has been in my pack and in the motor ready to be pulled on the for the past few months. I've been swapping around with some favourites to try and get a feel for it too, insulation is very hard to get consistent feedback from, there's so many personal and environmental variable. But, use something enough and you reach for it without thinking when you're packing to go, so am I reaching for it?
The Arkos has a lot going on but luckily you can't really see any of it so I haven't been distracted by any thoughts of inner tech. But it is useful to know, so…
We have a mostly down jacket with 700 fill of water resistant ethical duck down around the torso and upper arms with synthetic Hydroloft in the hood, the lower arms and around the tail. All good choices for the synthetic, it's where gets wet.
There's no sense of zoning here in general feel, the Arkos feels like a single jacket. The Hydroloft is soft and compressible, I had to check carefully with the jacket inside out to see what the extent of the zones was.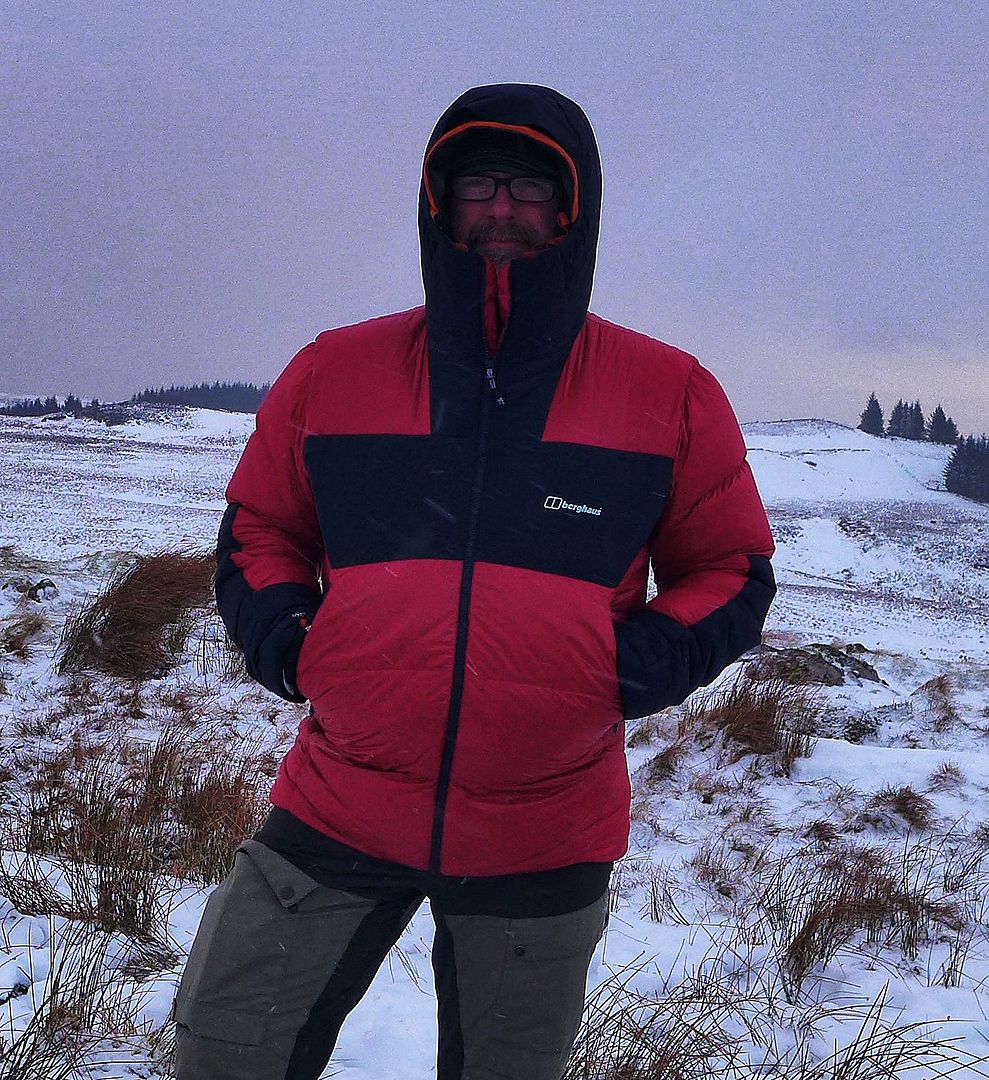 The lovely shiny red fabric hides another bit of fanciness, the reflect technology (which I will come back to later on another Berghaus test jacket, we are far from done with this) which is an inner mesh which is meant to trap and er, reflect the heat back onto the wearer. The principle of this sound and it's a concept that's been implemented by various outdoor brands as well as across many other apploications. Does it work? I have no idea, at 720g for a size large the Arkos feels warm, and quickly warm which I would expect from what is a proper mountain down jacket. So is the reflect picking up some slack from using the duck down fill rather than goose down which is traditionally lighter and warmer? I have no idea, it's warm and light, that's all I can say. Warm enough where I'd be happy on any winter overnighter with the Arkos in my pack.
That same shiny red fabric shed water pretty well, I've been in rain and sleet a few times and it does give in eventually but I've only had it wet out once. In fact it got so bad that the arms were soaked, although the body stood up well. it dries fast though, the down fill too, I had the arms like a mushy pulp they were so wet and they came back like new to full loft very fast. Hydrodown or my big cast iron hall radiator? Again, no idea, it works that's all I need to know.
The black fabric is there too, it's not shiny but it's resisting the damp just nice. I think it's main job is to make the red look shinier, so I'm good with it.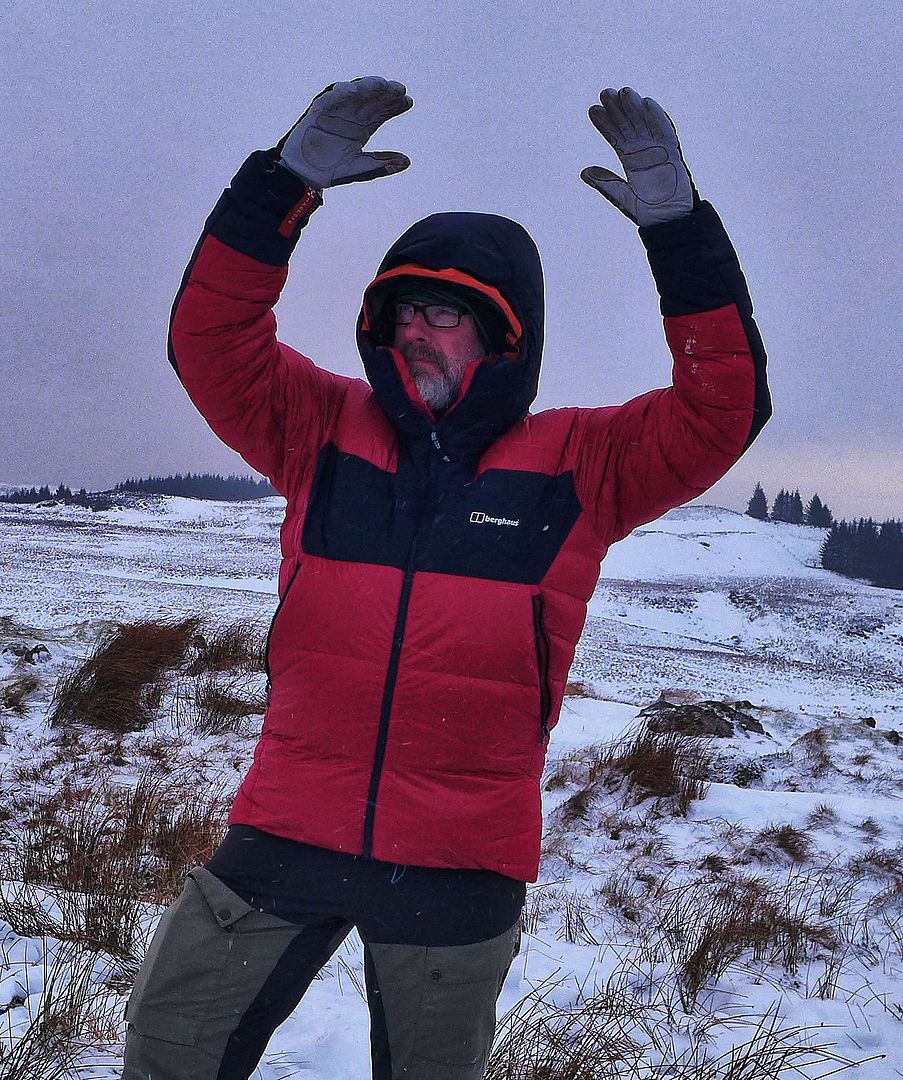 Features are all sensible and as you'd want probably. Fixed adjustable hood, two chest pockets, inner pocket (all zipped), adjustable hem and zip pulls you can find with gloves on.
The chest pockets are brilliant, set a little lower than some they're clear of a hipbelt but not too high either. They're fleece lined and the pocket bags are behind the insulation, they are born to warm my hands.
The cut is slim, I could probably get away with a size up for over multiple layers but over base and 100 weight fleece it's more relaxed. The body is nice and long too with decent arse coverage. This is where the synthetic insulation strip at the back comes in, sit down in the snow all you want, your down won't get wet.
The arm movement is exceptional with complete freedom to swing my arms up and around without the hem moving. Berghaus managed this on a down jacket and I have base layers that can't do the same.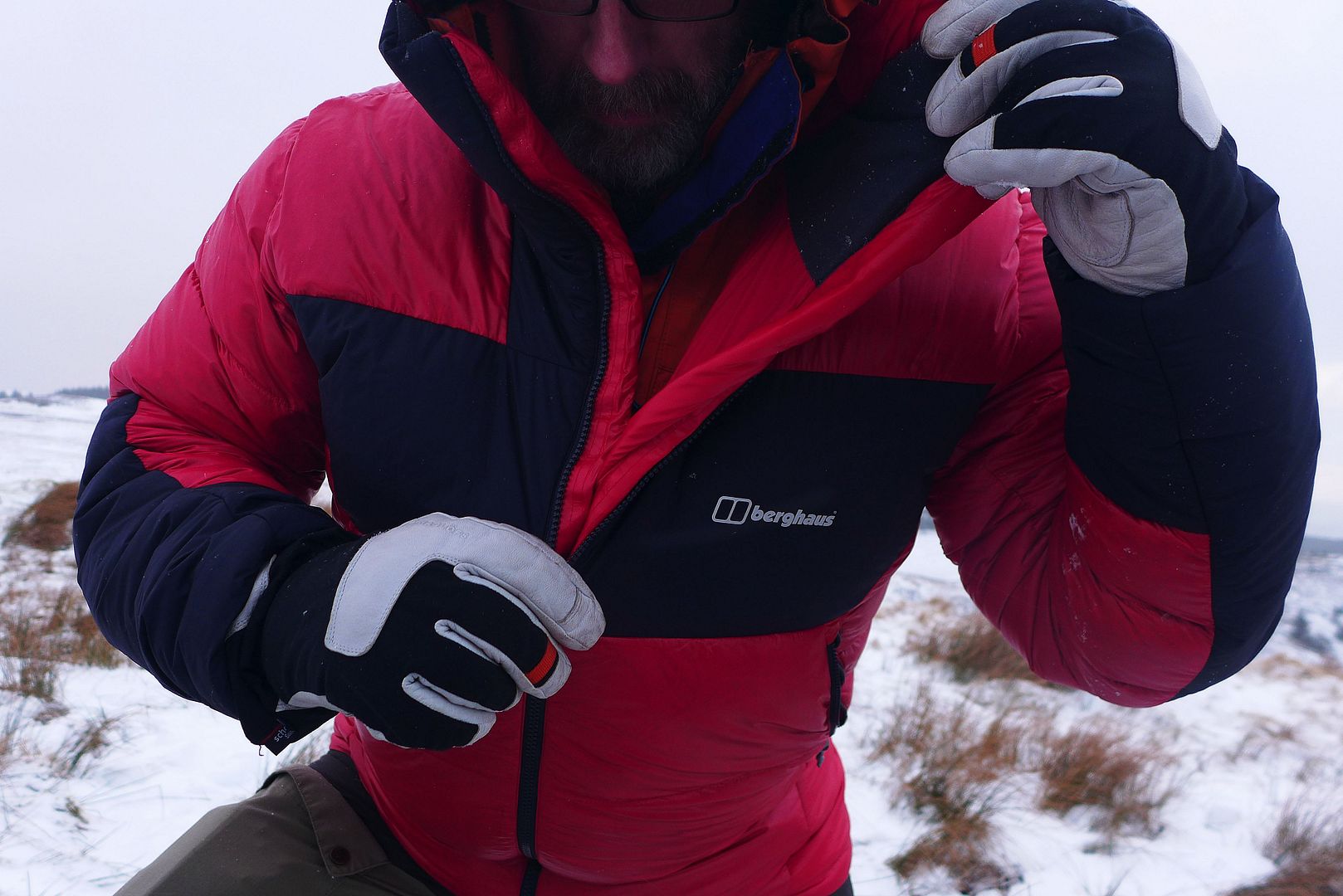 The chunky main zip has a lovely baffle arrangement that I've seen on sleeping bags but not a jacket. AS you pull the zip up insulated tubes on either side are pressed together to seal the zip. It's a brillaint we touch and works well with not one snagging incident so far.
The top of the zip is covered inside by this baffle too so no beard plucking and there's fleecy patches for cozy face time fun when your all battened down.
The hood is a good size, not sure if it's helmet sized, I don't have one anymore, with good face coverage and a stiffened skip to keep the snow off my glasses.
The adjustment come from a double bungee drawcord at the back which is easy to use, even with gloves.
The trouble is what this does though. The drawcord channel runs from the back of my head to around my ear, so when you pull the cords in as well as reducing the hood volume for a better fit it also raises it upwards. On a bare head this can leave a gap above my forehead for the wind to get in and I have had the hood pulled off my head in strong winds.
With a beanie on, this effect is much improved, with a midlayer or shell hood on too the situation is largely resolved and even in staggering winds, the hood will stay put.
It needs a look at I think, it's quite literally the only niggle I found.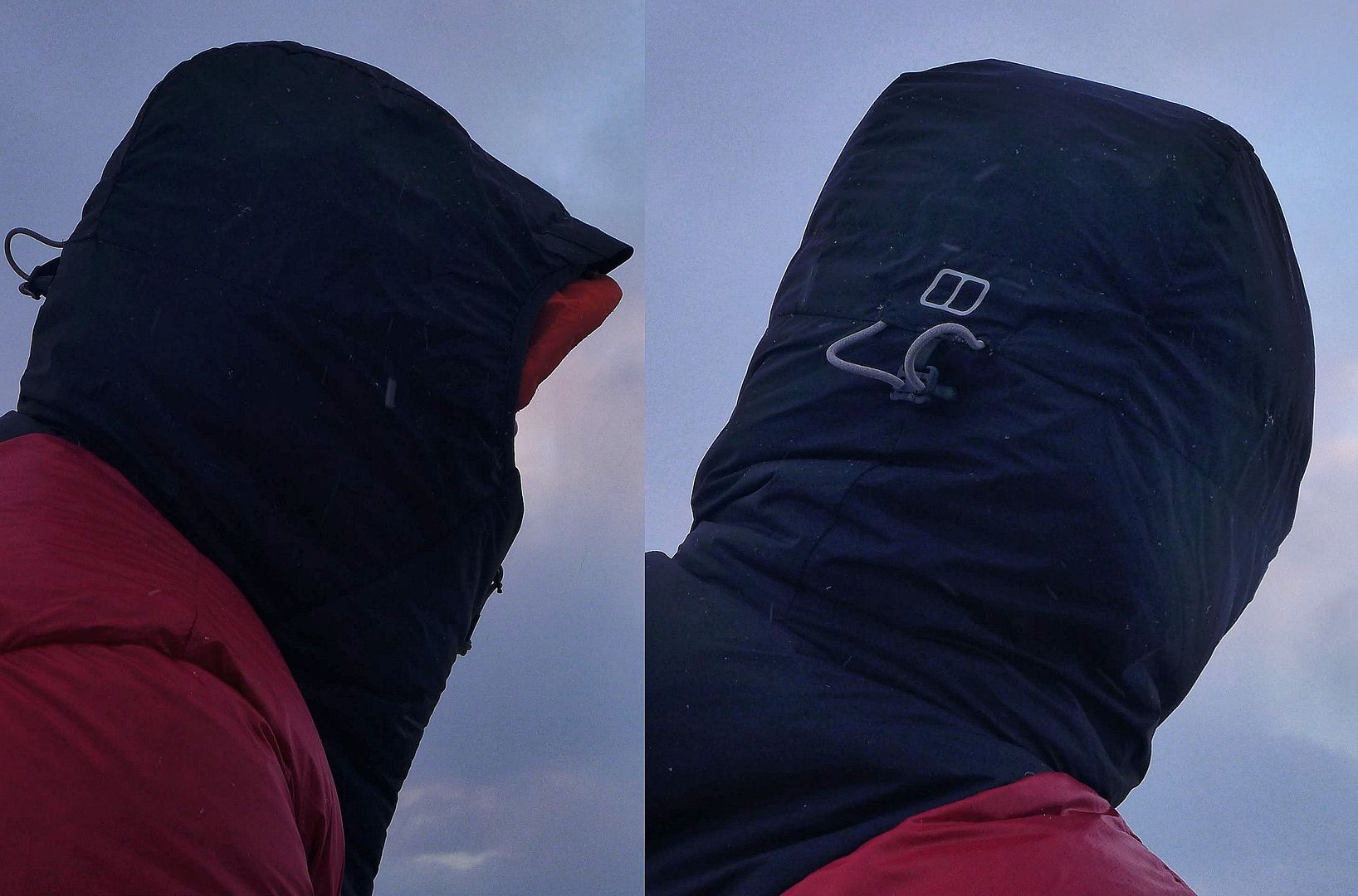 The Arkos is a great jacket. It's warm, compressible and light and it looks neat too. The arm movement is amazing, it's a proper activist jacket this, not a town cruiser.
The hood I've learned to work around, I like the jacket to much to spit the dummy out just for that.
Sensible use of fabrics and fill for our damp climate, thoughtfully positioned pockets and little touches like the zip baffle that come from experience of use rather than aesthethic considerations.
Nice bit of kit, Berghaus always surprise me.
More soon.