A much maligned hill. And yet some of my finest hill days have been spent on it. Like Ben Nevis it has a tourist track and also another way, a rougher, steeper way. Ptarmigan ridge is no CMD Arete, but on a clear midweek winters day, making the first set of footprints up the steep clamber from Ptarmigan to the summit brings joy to match that of any other ascent of a "grander" hill.

The summit ridge is a fine view point, the horizon to the south lies far in the distance. Look to the other points of the compass and your eye is pulled in all directions by the tumbling rocky waves of the Highlands.
The northern coire of Ben Lomond is another hidden gem. A dark and lonely place, holding late snow and summer shadows, any approach from this side is a labour of love and a test of resolve.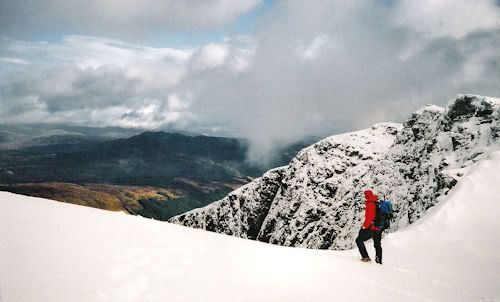 So decry this fine hill if you will. It suffers only from accessability and good looks, a popularity that makes it simple to dismiss it as a tourist trap. State your misgivings all you want, but rather I think you might look to yourself for the reasons that you can find no place in your heart for this beautiful Ben.