It was a bit of a last minute decision, but the sky was clear, the gear was already packed, so I was off. I was meant to be away up north, but tiredness and a lack of enthusiasm for driving meant a visit to home ground and to my favourite hill, Beinn Narnain.
I took the new twisty path they've built up to the sluice gates at the foot of Beinn Narnain and the Cobbler, just for a change as I always go the old concrete block route. It's actually okay although stupids are cutting the corners creating water channels and the whole hillside will get trashed if they don't sort it somehow. It was really warm all the way. Nuun be praised.
I got to the sluice gates and had to make a decision on direction. I could see cloud billowing behind the Cobbler and my heart sank a little. Camping in cloud doesn't overly thrill me, day trips in pissing rain I like, a wander on the summit at night, clear skies and a cuppa in hand I like better. I also saw my only person at this point. A fell runner who eyed me suspisciuosly, and rightly so.
The quickest way up is to get to the Narnain Boulders and hang a right. This is a fantastic route up an incredibly rough coire, huge boulders all over. Trail had this route in their Best Routes a while back which worried me a bit as it's a debris chute at the top left, but a rock to the head can happen anywhere and the increasingly obvious path goes the other way, so wire in I say. You do miss the "Ooh look!" you get when you go the other way and climb over Cruach nam Miseag and see all the summit rocks for the first time, but you can't have it all. The final scrambly bit is getting helluva eroded. I started looking for new lines just to avoid making it worse and would advise everybody else to do the same. There's a million ways up through those crags, all of them better than that poxy mudslide.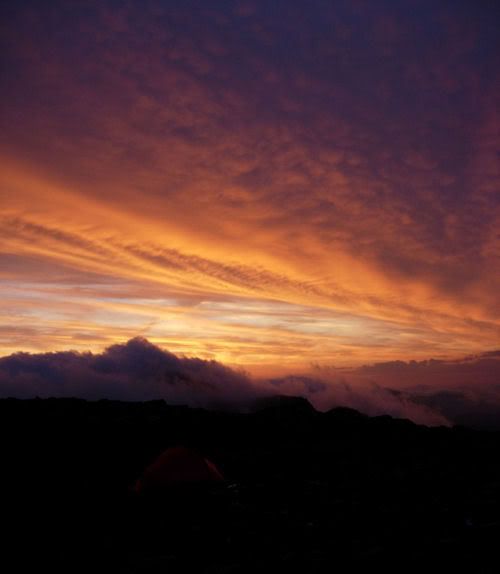 A clear summit is what I found, and a golden sun sinking behind Ben Ime who was wrestling with the cloud on its back in an unconvincing fashion. Photies were took and nice pitch for the tent identified, close to trig point on a flat bit of grass.
I emptied the pack and looked at the contents. Something wasn't quite right. It's like that game where they show you a group of objects, put a bag on your head and change one of them. They take the bag off before you asphyxiate, then you have to guess what's different if you want to live. My primary school was tougher that most.
I'm looking…Ajungilak Compact Pillow? What…am…wait, where's my sleepmat? In the hoose that's where. How I lifted an inflatable yellow pillow instead of a blue inflatable mat is a mystery to me even now. It was getting dark, I wasn't going back down obviously so I'd have to think of something else. I didn't have anything else though. I emptied the pack completely and lay on it. The aluminium stay and bendy back of the Z35 relegated it to under my feet. All that was left were my waterproofs, oh wait what's this…I took out Landranger 56 and unfolded it, a fine piece of insulation when left folded in half. With all the stuffsacks, my Oz Pullover and Kamleika pants as well I had a mattress fit for not quite a king, but someone quite important. Maybe even a king of a small country like Monaco or Luxembourg. There could have been panic here you know, I was sleeping in the PHD Minim Ultra and Ultra Vest.
The sky was the backdrop to this mere trifle of a kit misplacement. Streaks of orange, yellow, pink, red and purple filled the whole view to the West. The cloud surging against Ben Ime eventually gave up and sank into the glen to join the forming inversion that was stretching out to the horizon. The cloud that had been pouring betwen the peaks of the cobbler looking like an overflowing bubble bath with satan sleeping in it also slowling faded away. It was all suddenly calm and silent, The sky darkened, Ben Ime became jet black and I decided it was dinner time. Chicken Tikka with Farley's Rusks, a cuppa and a chocolate muffin soothed me greatly. I wandered about until it was really dark and then went to bed. Apprehensively. Until I put my head on the inflatable pillow. Sigh
My hip got a bit cold where I was lying on it. That was it. I could see my breath so the temperature was heading downwards, but I had no issues. The vest and bag combo saved the day. Hypothermia stays at home and waits for the phone to ring once again.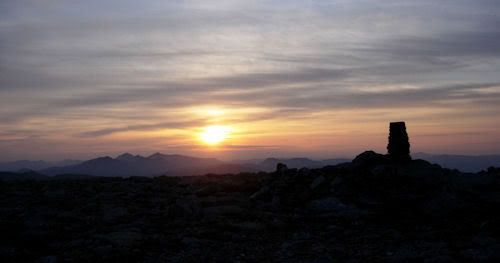 However the sun came back up about ten minutes later and I was back out taking photies and having breakfast. A beautiful morning. I lingered, I wandered, I took it all in. This is what hills are to me, these moments. I'll pay for that with as many driech days as you want.
It was getting warmer again, so after lying in the rising sun on my sleeping bag for half an hour, eyes closed, with a cuppa and Motörhead in my ears I packed up and left about 0730. I picked another anti erosion line down the crags and down to the Narnain Boulders, then I ran. I cinched the sack straps in, opened up and it was great. I stopped to say hello to a few folk, was ignored by others and I was by Loch Long too soon. The wee snack hut next to the Esso garage was my goal. I met my Dad who was running me home and we had breakfast by the lochside.
The whole thing took about 13 hours, but it's taking up way more memory space that the 13 hours before it. Cram that good stuff in I say.