Beinn na Lap is a poor wee soul. It's hard to get to for list tickers, the usual innocculation against a possible dose of extra unwanted miles is a run up and down its SW ridge from Corrour Station. That is of course rubbish doing it that way. Much better to make it pointlessly awkward and spend the night in a tent. 28km instead of 7km? Yes please.
Parking at Fersit is well off the beaten track, and indeed at the end of that track, which is less well beaten. So it's a good place to abandon the motor. It's a nice drive in from the A82, over the metal bridge with the River Spean finding its way through the rocks far below and by the picturesque An Dubh Lochan. Feels suddenly away from it all. It's a popular spot for parking for the Munros around Loch Trieg, all of which are very fine and should be explored. There's a railway bridge to nowhere, just tracks suspended in space that's worth finding behind Creag Fhiaclach.
The track heads east through the farm and into a slightly spooky area of bare flat rocks, grass and lochans with bleached white pine stumps sticking up everywhere. It's just beyond where most folk leave the track to climb towards Stob Coire Sgriodain, it'll be oft missed I fear. You're into the forest soon and in the sunshine with dragonflies darting about and the smells of fresh greenery it was all very idyllic and I skipped carefree through the shrubbery. I left the forest at around 500m on the Eastern slopes of Chno Dearg, and the rain started. There's a lot of hills in view here, all Munros, all dark, all grainy through the misty rain. I stopped and put on my waterproofs, head to toe in Karrimor's finest Paclite creations, imagine my excitment. On solo trips these are the moments it's easy to let your head drop. No banter, the realisation about of the fulility of what you're doing. Something sugary usually diverts the mind. The track flows around and then down to meet the estate road which you have to endure for a kilometre or so. It's so incongruous, after miles of lovely naturally winding track, in places smooth in others a trough of boulders you're on a road. These estate roads are always shite, badly made, visually intrusive and littered with rusty detritus. When you see the remains of the old military roads and compare the two styles you can easily detect what the advance in materials, construction methods and technology has brought us.
You're up and away from the bridge above Strathossian House. I followed the burn up to Lochan na Lap, it sits in a high sheltered plateau, open only to the South. It's a lovely spot, but the tops were now being shrouded in cloud, the rain was sleet and I was getting cold and hungry.
As I reached the summit, chilled and with a snotter swinging from the end of my blueing nose, the sky was thankfully clearing. The cloud was breaking and lifting and the air was fresh. The kind of atmosphere that you just have to breathe in deeply and exhale with an overly theatrical "Ahhh…" (Sideways outstretched hands are an optional accessory).
It's not the driest of tops, so I pitched as best I could, slightly on the slant and once the stove was on all worries were alleviated. Dinner and a cuppa are all I need to pull all the accumulated fluff of badness out of my filter.
It got brighter as it got later, and the air was crystal clear. I could see the hills of Glen Coe above, and below where I would end up camping later on. The top with a little snow on it there is Carn Dearg where I spent a wonderful night in '07.
There was no fancy sunset, just a dimming of the sky and then darkness. I could see the lights of Corrour Shooting Lodge on my midnight wanderings and nothing else. Silence and stillness. I went to bed and went out like a light.
I woke up once, when the blanket of snow slipped off the tent about 0400. A single shower and it was gone. The sun woke me again and I stuck my head out into a fine morning, the shadows from the broken clouds painting Glen Nevis a nice North African Panzer Division Camo.
The water was all but gone, so I had to break camp and get. I took a different line, down the ridge in a Northish fashion. Looking back to the summit it's kinda obvious this is the side to climb it from, no? 
I got down to the Allt Feith Thuill and had breakfast on the fast-warming rocks. The water was cold and sweet, snowmelt flavour. The Reiter Apple and Rice Pudding is a tasty breakfast, don't let labeling or convention govern your meal choices, oh no.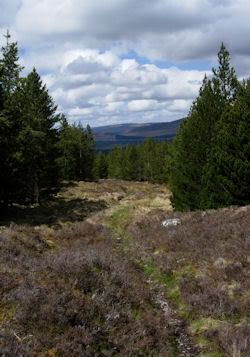 The track is a different prospect in sunshine. The hills look warm toned and benign. The distance back seemed shorter, progress was quick. I was over the high pass and into the forest too quickly, and all the time wondering what it would be like to mountain bike this route. Fun I think.
There's habitation hidden in there, old farm buidings, estate workers cottages and the like. One collapsed roof hid a Triumph crankcase on an oil drum.
There wasn't enough for a whole bike, I checked. Still whoever rode it in there had a big grin on ther face until whatever broke, broke.
I passed the dead trees on the way out and took a photie or two. That's Beinn a Choarainn and Beinn Teallach on the other side of Glen Spean below. 
A happy boy. A wander back to the unmolested motor to the sound of barking dogs and flies buzzing excitedly around me couldn't upset me now. I like going, I like being up there, but I like coming home as well.
I met some friends for lunch in Ft Bill on the way back. They were route finding for the 2006 WARC which would be taking place in a few weeks, and taking a breather. They asked if I wanted to run with them from the Nevisport Cafe over Sgurr a Mhaim down to Kinlochleven. I made my excuses as I choked on my cake and left them to it.
No matter what you do and how pleased you are with yourself, someone else will always be doing something that makes what you've done look a bit pish. Just enjoy, never try to impress. That stuff will give you a complex.