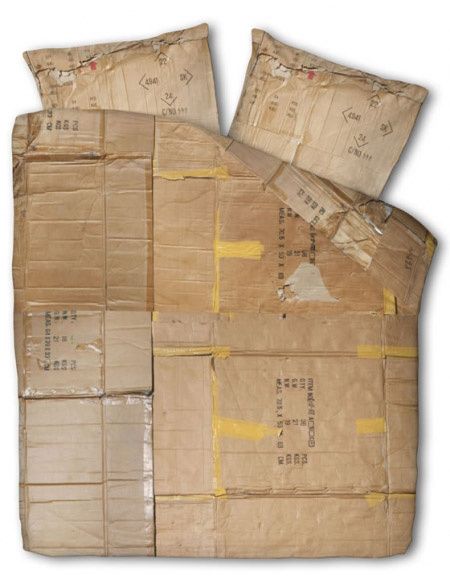 Soft furnishings, haberdashery? Or is bed stuff linen, I see a lot of bath towels in linen cupboards? Whatever, it's all a bit dull, and "I like the purple one" isn't helpful apparently, so I turned my attention to the more interesting designs of duvet cover. The cardboard box look made me smile as it's a rather realistic print, but as a concept perhaps it's just a little worrying in the current economic climate. The nudie people one is the classiest thing I've even seen, possibly only surpassed in the style wars by folk putting screws through their car number plate in the wrong place so it's position unconvincingly makes a number look a bit more like a letter to badly spell something really pointless.
The day (night?) has been saved though, I've got some unusual new test kit in, duvet covers are out, down quilts are in.
PHD have just launched two new models, early samples of which we saw last year at the factory, and these are the Double Ultra Quilt and the Single Ultra Quilt. The Double is just what you'd expect, a double-bed sized quilt, but full of 900 down and shelled with MX fabric. We're going to be sleeping under this at home as a first test, it weighs nothing and I've got a good idea how warm its going to be. Camping at home, magic.
The Single is a slimmed-down version, but here I've got a footbag sewn on. This will indeed take your feet, but it'll also locate the end of a slimmer sleepmat for a good seal at camp.
There's tie loops down the edges for bungees or cord and both models pack away incredibly small.
I'll be featuring these in proper detail as I use them. It's great having something so different it, sitting at camp with a quilt wrapped around me with a cuppa? Alright!
Interesting times ahead.