You know what, I've had it with techno headwear. Skipped, featured, flapped, drawcorded, shelled, whatevered, I don't need it and I don't uses it. What I like is simple, I like a regular Buff, sometimes a baseball cap, sometimes a brimmed hat and always a beanie.
There's no situation you can't cope with packing these items and you don't look ridiculous standing in the queue in the Ft Bill McDonalds on the way home wearing it either. Here's three I've been wearing the past few months.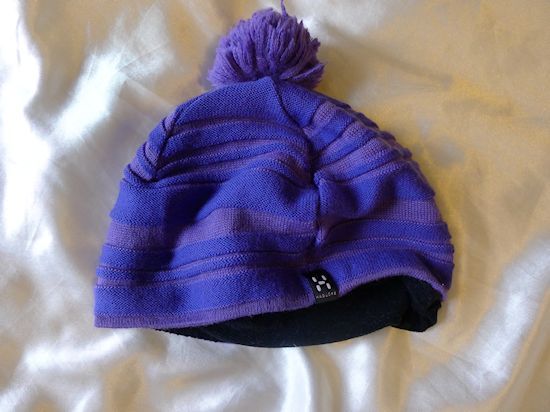 The Hebbe is the fanciest of the group with a mix of fabrics and a more complicated construction. It also has a bobble on it.
The outer is a mix of merino and acrylic with quite an open weave (knit?) which gives it a lot of stretch. This means that it has a nice neat fit without any compression being applied to your napper and the fabric should be trapping a bit of extra air in there for some extra heat retention as well. It is a warm beanie as it has a double skin, the black inner you can see in the photie is a light microfleece lining, described as Schoeller Polycolon on the Haglöfs, something got lost in the translation there I think.
It's warm, very comfy and stays put on your head. It also dries very quickly whether it's getting sweated up from my forehead of dealing with a shower from above. At 74g it goes unnoticed in my pack and it squashes down into any pocket.
You could say that the merino should be on the inside, but as the fabric draws sweat from the inside where it evaporates in the merino layer leaving it's stinky residue, maybe the merino is better placed there with it's stink destroying qualities? I whined about Helly Hansen's Lifa tops with the merino on the outside, but maybe I did get that all wrong after all. Must go and rummage for it in the attic…
If you were wondering about the colour, sorry it's not coming out until next winter, but the ones in the shops right now are just the same otherwise.
I've had a Jacaranda Fleece Ski Hat on here before and the Beanie is very similar, the headband is just trimmed back to give you a regular beanie shape.
The beanie has a four-panel top with a double-fabric cuff and is cut from a fleece fabric that is wonderfully old-school. It's a bit like Polartec 200 crossed with Karisma, the wind resistant stuff used by Mountain Equipment if their excellent  hooded fleece back in the day. The construction is neat and simple and most importantly, done here in the UK.
The fit is good on my big head, just right with no squashing of ears at all despite the double fabric. There's a good bit of stretch in the fabric and stitching too, so even after it was accidentally tumble-dried (not guilty) the beanie bounced back to normal pretty quick.
It's a properly warm beanie and pulls down over my ears and the back of my neck if I feel the need, it makes it a great choice for camp as cozy is its middle name. The fabric isn't cutting edge but it still deals with moisture well enough and at 50g the beanie just disappears into a pack lid or pocket until you need it.
There's a huge colour choice available too as well as size options, so you don't have to have purple if you want one to wear around town too.
I had Wild Stripes on here last year and testing the baselayers (kids baselayer review coming next week) really helped bring me around the the view that synthetic had caught back up with merino when it came to baselayer performance. When the matching beanie turned up last summer it instantly became my go-to beanie, relegating my grey Smartwool training beanie which had been on every trip since I'd got it. The two are very similar in that the construction is a double thickness baselayer-weight fabric, Wild Stripes using a soft and stretchy polypropylene. The fit is semi-slouch, it's neat enough to be fine on the hills but loose enough to look crumpled on a students head if needs be. The fabric is soft and comfortable and the moisture management is second to none which, along with it's lighter fabric weight, makes the beanie a perfect choice for wearing on the move as you don't overheat to easily with less insulation and sweat gets dealt with efficiently. As much as I hate these daft labels on things, it's an "active" beanie. But, because of the fit and the looks of it, it's also a good general use beanie too. Neat construction, an unnoticable 40g and you can wash it at 90°C.
Conclusion
And the winner is… Don't be daft, despite sporting the name of beanie these are all very different bits of kit.
The Haglöfs Hebbe is warm, neat fitting and very comfy, the bobble makes me smile but it's some quick scissor work away from being a memory if you chose. It has great fabrics and funky looks. I fear it's destined for aprés ski and winter high street wear due to its cost and those good looks which is a shame as it's a proper mountain beanie at its core and works brilliantly.
The Jacaranda Beanie is just what I'd expected after using the ski hats, all the warmth I need on a winter camp or hillwalk and no nonsense performance through numerous wash and wear cycles. Made in the UK, more colours than you can count and it's what I'm wearing when I'm sleeping on frozen ground.
The Wild Stripes Beanie is an all-rounder in a fantastic fabric. The lighter weight makes it a summer winner at camp and great for winter on-the -move. I don't feel at all conspicuous wearing it either, sometimes that's a good thing,even for me .
I can recommend all three of these and numerous others, Powerstretch beanies are brilliant for example. Beanies are the winners, add a Buff or a hood and you've got a system that's adapatable to anything.
Techno mountain hats? Pah!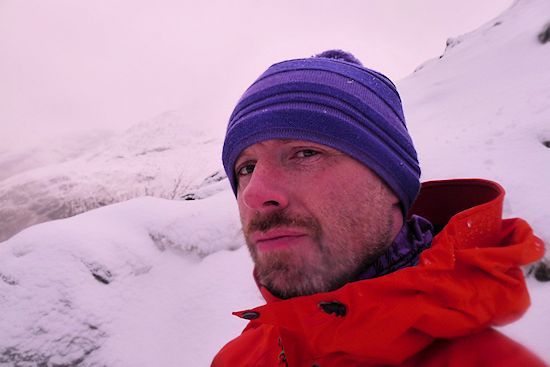 PS, that pink sky isn't a fault in the photie, that's the closest I got to a sunset last Monday when the cloud went pink for five minutes before dark. Harrumph.