Half nine came and went as Phil and I blethered to my folks and I finished a cuppa.
The road wasn't so much hit as nudged a little when we left and we were away into patchy rain and patches of bright floating around in it. The pace was relaxed, mostly inflicted by traffic, but we're never in much of a rush anyway and it was pretty local today.
As we wandered around Killin after a visit to the nice wee outdoor shop we did talk about the lack of commitment to actually to getting to summits we have as the clouds dribbled a little. But, as we left the bakers at the other end of the village armed with hot pies and misc. items for the rucksack the sky was clearing. It looked like excuses would evaporate with the clouds. A stop at the Co-op for supplies saw me buy a tray of chicken satay and a packet of edam slices, not much in the way on mini-snacks at this branch today, but when I opened up the deli counter later on I was as smug as could be.
It's been at least ten years since I last crossed the bridge into Glen Lyon and turned left. It's a quiet corner, a dead-end road, a Munro and a Corbett or two and glens that go nowhere. It's magic, and I enjoyed the drive and the views so much that I missed the turn off to Loch an Daimh and we had to backtrack from Loch Lyon.
Giorra Dam is a bit different in my eyes, it looks forgotten. It's covered in moss, streaks of calcification run down from ever crack in the concrete, it's dark, it's tired and only it's bulk gives any confidence in its ability to hold back the waters behind it. Those waters were pretty low though, the boathouse on the lochside is high and dry.

We skipped past the cairned path up Coire Bàn, been there, it's rubbish. Instead we contoured above the boathouse and shadowed the edge of the loch. It's surprisingly rough, especially a bit higher up where we went, often scree or boulders covered by a thin layer of soil, but it was damn good fun and knowing what was around the corner was just like a little magnet tugging at me.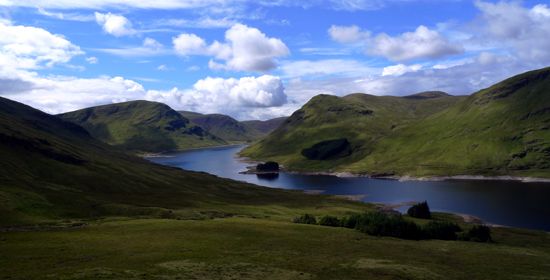 Onto the ridge of Creag an Fheadain and it's like letting a breeze into a stuffy room. The ridge-enclosed loch stetches its legs into the distance, a bumpy skyline where glens snake away to desinations unseen with the dark shapes of the Black Mount bobbing on the horizon. Alright.
Phil's feet needed some admin, he;s training for a race and his bike shoes hate him. We found some rocks as we traversed south and sat for a wee while. There was feet, chicken, cheese and sunblock.
It's not a big route this, a high starting point and a total distance of around 10km, but it all looks bigger, and further away. We kept on looking ahead and route finding and then correcting ourselves, every point we picked was reached sooner than we expected. Odd. But, joyful at every step, no tracks, no trails, no people but those up on the ridge. Every hill's got it's empty  backstreets to wander down.
We reached Lochan nan Cat grinning ear to ear. The guide books always bang on about how lovely it looks from the summit, dark waters etc etc But, it's a different story when you're on it's banks, it's just a magical wee spot. It looks deep and a crescent of bright green reeds grows at one side, brown trout jump from the water and deer shelter in its darkest corner below the grassy crags that tower above it and echo your words softly as you walk around it's little circlular perimeter.
The expanding circles left on the water by the trout were joined by lots of tiny friends and we stopped to eye the sky. The north was darkening and shower was scraping by us, waterproofs were pulled on over t-shirts and sun-warmed arms. Wasn't sad though, the tiny cool drops were rather nice.
We gained the ridge and trundled upwards, with new views appearing with every step. Familiar shapes from a funny angle, my favourite. The top is much flatter than it looks from below and on the map. Space to stretch out, walk around and camp. Bugger. It's a glorious spot, endless views, surrounded by deserted tops and silent glens.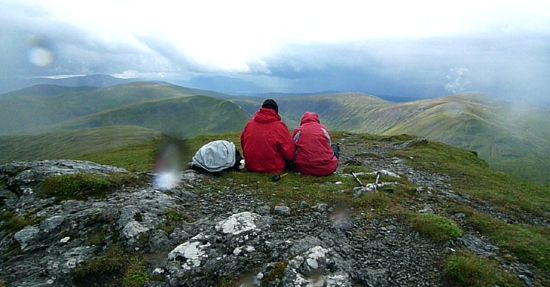 We met a couple having their tea, they were cheery and chatty but declined my mobile deli counter. We threw down our packs on the cairn and stood there hands-on-hips, with one tweed-covered knee raised upon a rock with pipes clenched in our teeth and hip flasks unscrewed… Where the hell am I going with this… History, that's it, that's why we were on Stuchd an Lochain. History, the first Munro ascent was here in the 1590's by Mad Colin Campbell of Glenlyon (I'm not buying the unconvincing 1580 Glen Affric ascent argument, this is the real one). Cambell got a blow to the head and his behaviour became increasingly erratic, to the point that his son turfed him out of Meggernie Castle and took over the position of laird rather than have the authorities take it all and throw them in gaol. So Campbell became a madman-at-large with his servant Findlay stuck with him, well, until the ascent of Stuchd an Lochain. Out hunting, they spied goats on the summit and rather than catch one, Cambell had an "episode" and chased them all over the crags to their doom in the coire, and indeed lochan. Campbell then tried to send Findlay after them, but wasn't as daft as his choice of companion suggests and got the upper hand, living to report the tale and seek new employment elsewhere. Campbell stayed in the mountains, pushing a shopping trolley full of empty gas canisters from summit to summit and shouting at traffic. So history, it's a Trail thing.
It is bloody steep, looking from the summit to the lochan is an Ooh moment. But, go down there and see it, guide books be damned.
The weather was coming, it was like the landscape was being drwn into an industrial dishwasher, each greasy mountain disappearing into the spary one after the other and it looked like we were next. There was no pissing about, we took our waterproof trousers out, got kitted up and waited for it.
Boof!
The weather closed in on us, passed us and slammed shut around us to the south. The sunny view of the Lawers range was a porthole of light and then nothing, the temperature dropped quickly and we chilled, it was suddenly dark and then the rain followed, rain the like of which I have rarely know. Totally horizontal and thrown so hard I though it was hail, but no, just badass water. It stung my skin through my waterproofs, my ears nipped and I pulled my hands inside my sleeves, within seconds we were soaked and the water ran of us like we werestanding in a shower cubicle. The rain scudded into the ground and burst into spray, I don't think I've even seen that. We ran down the track laughing out loud, it was just brilliant.
It cleared a little for a view down the length of Glen Lyon. A fine place worth some of our time, no, not the most glamourous of hill perhaps, it's joy lies in its completeness of what it has, hills, trees, water, people and road from which to see it all.
The regular ascent track is a horror, a deep groove full of wet scree and slippery shite, it's quick though, I'll give it that.
The rain still thundered down as we reached the motor, where we had out third viewing that day of Cameron McNiesh (probably), now in a rusty campervan. Wet stuff was thrown in the back, we trundled away, words of hot food were expressed freely.

Sad to see the Lawers Visitor Centre slowly coming apart, having built the thing they should find a use for it or erase it. We were damp, maybe a little cold and there was nowhere that called out to us on the way back, so we didn't take a left at Crianlarich and ended up at Tyndrum. Hey, it's just up the road.
Chicken curry and chips with a pint of coffee by a log fire at the RFC. It made up for all the times it was shut last winter.