Holly had a fine time sitting in the bluebells in the Duchess Wood in Helensburgh. She loves being outside, and everything she sees is just the best, most interesting thing ever.
I had the girl all on my own you see, Joycee had organised at a project in the wood. So we faffed about drawing pictures and the like, and when the rain stopped we nipped over to Helensburgh to see what Mum was up to.
There were folk there from BTCV and Buglife, with locals turning up to see what was happening and welly-wearing volunteers at every turn.
There's a whole series of initiatives at work here, all trying to get folk off the couch and into whatever green spaces they have access to. The woods are very nice, accessible and as it turns out full of life. Above we had all sorts of minibeasts on display for folk to see (right there, they're watching a Caddisfly edging out of its case), all the stuff you never get to see unless you're really looking for it.
While we were having a picnic Holly pointed repeatedly at a stone which turned out to have a snail on it and the Buglife fella told us it was a Garlic Snail, which isn't a recipe, it's its real name.
It was great to meet folk who know not only the names of things, but also the latin names and all the details. Cool.
In the trees was an old railway wagon, now devoid of its wooden sides and roof, leaving only the rusting metal ends to blend slowly into the scenery.
It reminded me of the one that sat very visibly next to the road a few miles South of Fort William. It took many years for it to disappear completely which it now has, just a pile of metal spars and a few jagged wooden shapes left from it now.
On the way home we visited Ardardan Farm where Holly got to see Heilan Coos, lambs and millions of chickens. Her favourite were the two huge pigs who fell asleep while we were all (Joycee met up with us there after she finshed) in the cafe. They were sitting snoring in the sunshine and Holly though that one of them should wear her sunglasses, and would not be persuaded otherwise.
The jam from the title? That would be the pot of jam that Holly found on the table in the cafe, with spoon and hand, the jam was hers. Oh yes.
Family, outdoors, happy.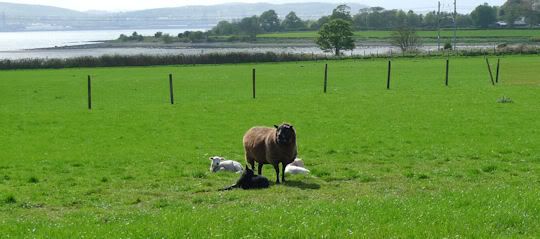 As you can see, the Ardardan sheep are tonally complimentary and not exactly suffering from overcrowding!