I did drag my feet a bit, Sunday morning was good, me, the girls, cuppas, laughter and fannying about. But I got all dressed up and Holly's comment that "Dad, you look like a mountain superhero"  which I immediately tweeted kinda got me moving. Bobinson's reply of "I'll meet you there" galvanised me and I was out of the door.
The forecast was wrong, a text of "cloudy" when I was fueling up at Lix Toll confirmed it, I should have been 50 miles to the north where it was all blue skies and majestic drama. What the hell, I had a pack full of kit, food and enthusiasm for sitting in a tent during the 16 hours of darkness.
Bobinson was waiting for me, like a cheshire cat, or is that caterpillar that sits on the toadstool? Whatever, he was sitting on his truck at the new Lawers car park as I came up the hill. The new multi-level scar on the hillside car park that's er, much better than the old one?
There was snacking, the donning of windproof layers and gloves and we were off up towards the Tarmachan ridge. It was cloudy and bloody cold, the ground hard frozen, the path was an ice floe and the folk descending looked chilled and relieved, which as darkness gathered and height was gained changed to chilled and terrified. The last couple eyed us with horror from within their frost crusted hoods.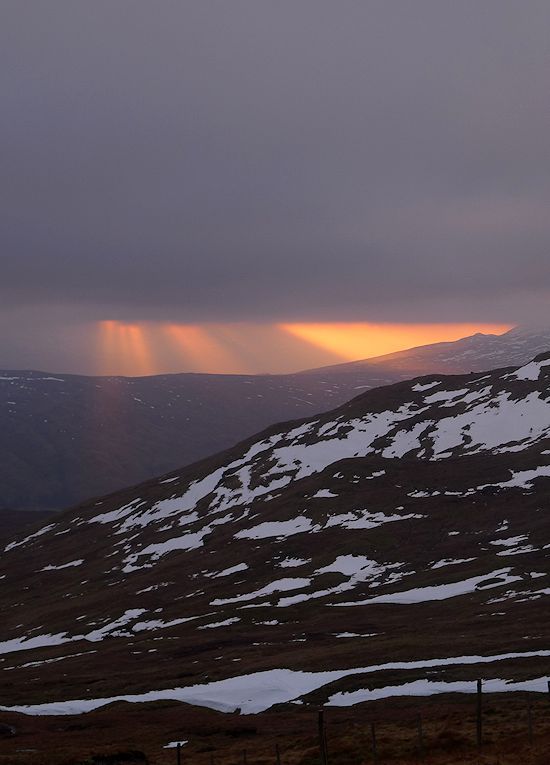 The sunset was limited to a few holes in the cloud, but the thick orange beams shooting through were a fine sight. They looked like a 3 bar electric fire you can see in someone else's house across the street, inviting, reassuring and with any warmth attached entirely imaginary.
The grass was thick and angry looking, every blade sharp and jagged with ice as the wind whipped over the ridge tempering each blade further.
I wanted to camp under the cloud, thoughts of the summit were dismissed by now and just under the wispy base of cold grey was a little flat ledge with a snow bank above the crags.
I grinned as I pitched an old red friend to the sounds of Phil chipping away at the rock hard snow to melt for cuppas. Too long man, too long.
We had cuppas and banter until it was dark. Phil had to go back down, bless him, he was just along for the those very cuppas and banter. As I saw his lights disappear rarely have I felt quite so alone. He stopped at the shoulder below and took some photies and  I knew what he was up to, so I shone my headtorch into the haze. Check it out, magic.
I had dinner, more cuppas, all of which were out of the base of my Jetboil as I'd forgot my mug, but it was fine as long as I remembered where the little notches were and didn'y pour coffee or hot chocolate down myself and my sleeping bag repeatedly.
I also had no iPod and no book, both were sitting on the bed when I got back. It was going to be a long night. Phone reception was okay, so did some of that stuff. I dozed a good bit which was rather nice as the temperature was dropping  and I snuggled ever deeper into my down cocoon.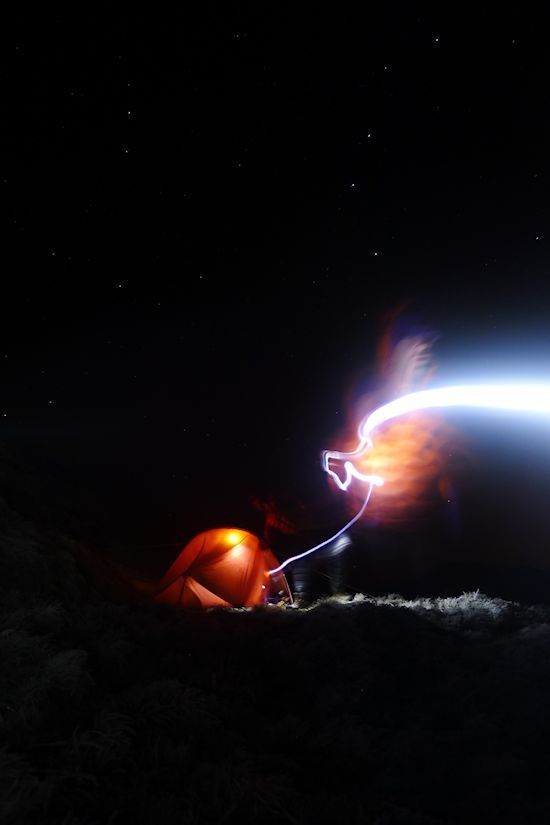 I kept on sitting up to look outside to see if the weather was changing, most times I would shuffle back inside with a humphing sound at the persistent cloud, and every time I would shower myself and my gear with frost as the entire inside of the tent, inner and flysheet was coated. Above my face were little growing icicles of breath moisture, not as nice as an Orange Fruitie, it was properly cold.
Eventually it was clear above and I was back in my boots and outside into the vicious wind. A sky full of stars, glowing snow patches on the ridges across the coire and bank of fog below me, lapping slowly onto the slopes that lazily climb from Loch Tay.
The most remarkable thing was that all the hamlets along the loch, and especially Killin, glowed orange through the fog like UFO's powering up to leave earth for somewhere better organised, or at least like a sneaky child reading a book by torchlight under the duvet.
Just amazing, captivating even, didn't feel that wind sucking the heat out of me for about half an hour, and even then it was my toes sending the loudest danger signals to get back indoors. Damn those down socks are a life saver.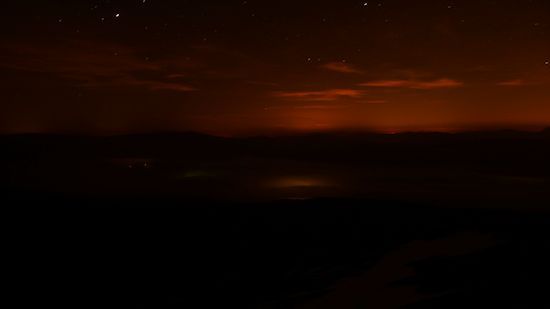 It was the early hours, the wind had woken me up and ice crystal were falling on my fcae from the shaking inner tent. It seemed brighter too so I stuck my head outside to see what was happening.
The moon had risen and was doing its best to light the land through various streaks and thin layers of cloud above. Below me a proper inversion had grown and Killin burned deep within it like the great red spot on Jupiter's surface.
It was worth the price of admission just for that moment.
I went back to bed, snacked some more and fell asleep at last, warm and surprised at hopw quick it had become so late. Where time went I don't know, I still can't find it a few days later.
The morning was white and cold. I really didn't want to leave the tent, but a pee was needed and like the night before once I was out I went for a wee wander. The ridge above was as viewless as the night before, but below looked more hopefull and as I enjoyed my hot porridge back at tent the layers of murk lifted just enough to show me a deeply frozen landscape where patches of sunlight played on the icy hillside and crossed the bubbling inversion like a U-Boat searchlight looking for a politically incorrect analogy.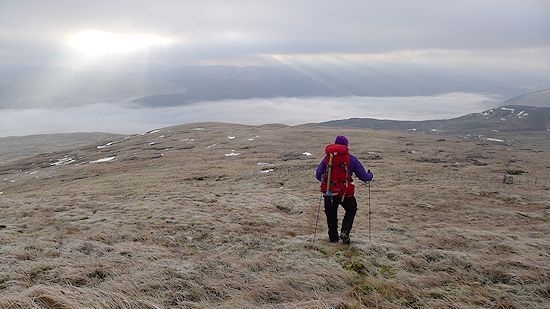 I packed and I left, dowhillwards (I'll now keep using that word until WordPress gets bore of telling me it's a typo) instead of further into the hills. I had to be in Ayr to pick up the new motor in the afternoon, it was late when I left the day before, couldn't be arsed anyway etc
I pulled on my tyre chains and crunched towards the loch and it's wispy comb-over.
The fine dam on Lochan na Lairige has pipes running to Killin that are well hidden, but here and there are the aging remains of construction. I like finding this stuff, after a while it takes on the look of the mountain with the same colours and the manufactured edges soften to match the natural ones around it. Nature wins.
Big patches of blue appeared, the people passing me in the other direction looked happy to see it. It looked like it was clouding over again as I reached the motor, Joycees borrowed motor, but it was going to be fun for them whatever, hard frozen terrain with no deep snow to tire you out is a good day.
The car park will no doubt grow into the hillside in time, it's on the other side of the road and downhill from where the old Lawers centre was. I hope the tidy that up properly too, looks like a cross between a building site and a motocross track. And the Somme.
The single track road down to the main road follows the same theme, so many trees are down after the storms and have just been cut up on the spot. The road is a carpet of branches walled by the pale circles of chainsawn timber. Strange.
Killin was a few minutes away and there I had steak and haggis pie breakfast. It was a joy to behold and I sat in the motor with it, a cuppa and some music.
The frost was thick and it didn't start to soften until I was well down Loch Lomond. I got home, unpacked the gear, showered put on cotton and was late for getting the motor.
Oh well. Still, it looks like I still know how to camp on mountains, so that's one less worry.