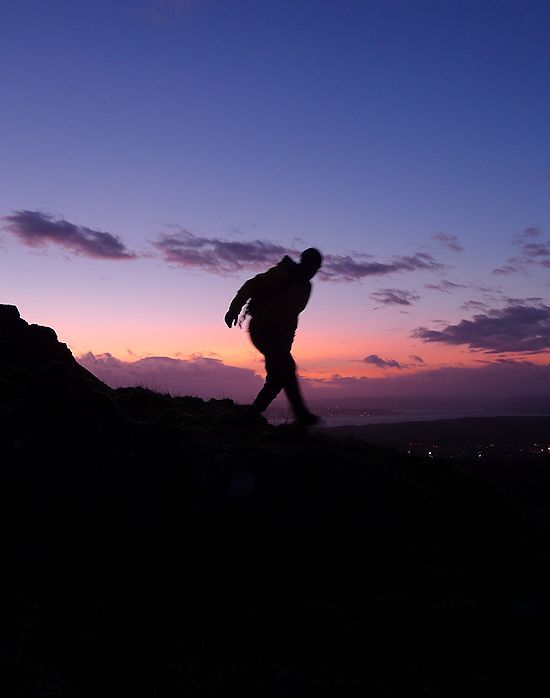 The best day for weeks, blue sky, sparkling snow on the hills and I enjoyed every moment of it as me and Jimmy put the roof back on the workshop, a gift of the storms which for once were as bad as the media said they were.
Weather = twisted bastard.
However, with an hour before the sun slipped away I had time to throw my shit together and make a dash for the Kilpatricks.
I panted up the steep lower slopes to get to the crags at 1000ft and enjoyed the undulating trail with my head in clear cold air. Damn it was good, I've been so low on energy and enthusiasm for so long, just so damned tired and I finally feel something like myself again. The last couple of weeks has seen so many broken things get the attention they deserved.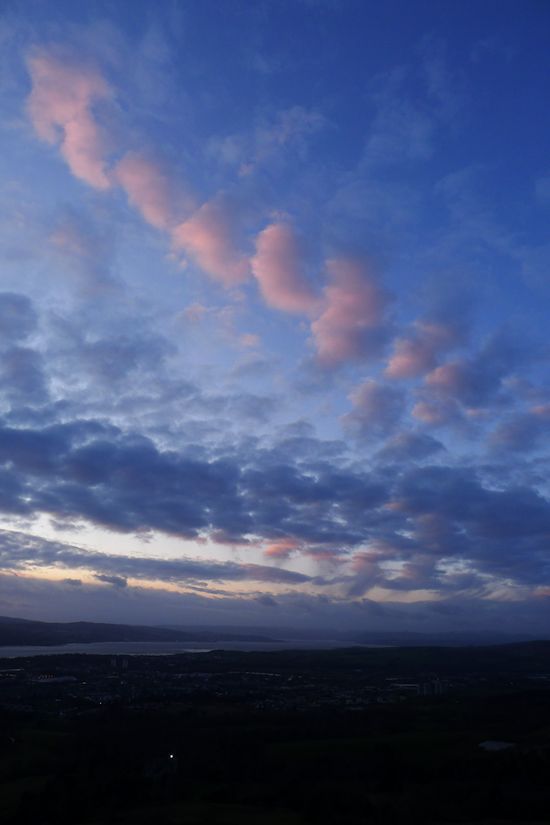 It was getting colder as it was getting darker and I was still walking away from the lights. I couried into a rock and had a cuppa as the wind howled over my head but just tickled a little at my cheeks in my wee corner.
I tried to take some cheesy cuppa drinking shots, but couldn't really be arsed setting in all up properly and after a call from Joycee with talk of dinner in it it was time to head down. With a  goddamn spring in my step too.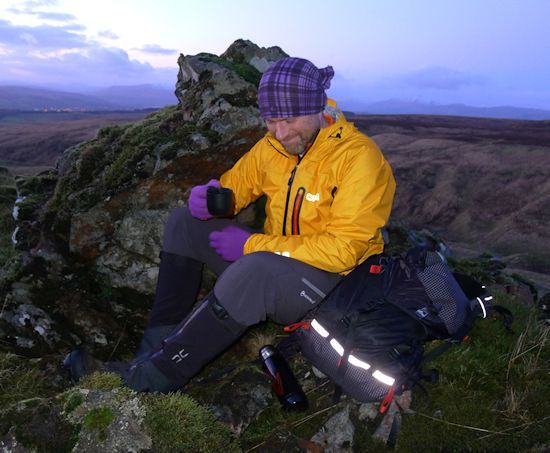 My hill fitness is gone, but I'll find it again. The weather might want to screw me over, but we 've played that game since the 70's and I reckon I'm still ahead. It's been a terrible few months for the hills for me, but it's given me a sense of newness about getting out again, for so many years it's been getting ever more familiar, easy, even safe despite a few hairy moments, but now I've got a little tingle thinking about the next big trip, the next high camp, that shovel full of snow I'll be melting for a cuppa. It's like I'm sitting on the edge of my seat in the theatre waiting for the lights to go down and my favourite band to come on. Excited and nervous and I absolutely love it.
PS That cuppa photie? The OMM smock, the Hillsound gaiters, the Terra Nova pack and the Montane pants in there, I'll come back to all that soon enough.
PPS Baby (Baby!) reference. The horror… the horror…