Phil and I went for a training ride in the KiIpatricks tonight. I say training, but it's really just a jolly. We say training just so we actually go rather than procrastinate. It's midweek joy as well, banter, hills and a lovely evening to ride through to boot. It's getting cooler up there, aye, and getting dark earlier all the time.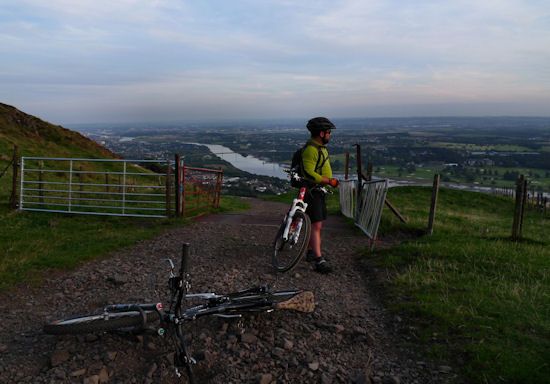 The climbing went well, I had a couple gears left to fall back on if my legs couldn't take it. In fact I even found myself speeding up on a couple of occasions. Previously unheard of, that kinda stuff. I suppose it's mostly the new bike, but I do think there's a bit of me fighting in there as well.
We didn't really hang about much, it was getting dark and with the downhill run to Overtoun at the end we had to push as we didn't fancy our chances on that bit of the trail with e+lites strapped to our helmets.
When we got there it was fast and total blast. It's the banana split after the steak and chips.
We had enough light though, and darkness only really fell when we got down to Milton. The BP garage on the A82 was the first port of call for coffees. The lassie at the till shouted over to her pal at the food counter "That's a large latte and a large black coffee for the boy with the mud on his face…" .
We had a blether outside with the cuppas. It had been great fun, grins all the way. We'd made good time too, very good in fact. Phil's racing the Wan Day in the Pentlands at the weekend and he's looking good for it.
It's funny, I didn't expect the WHW thing to take over so much. I'm usually pretty half arsed with my outdoors stuff (no, really), but with six of us going, kit and media shit to deal with as well as the logistics, it's become #1 by stealth I think, perhaps even by osmosis?
I need to get in a tent to stop me becoming obsessed though. That can happen you know.
Four weeks to go.