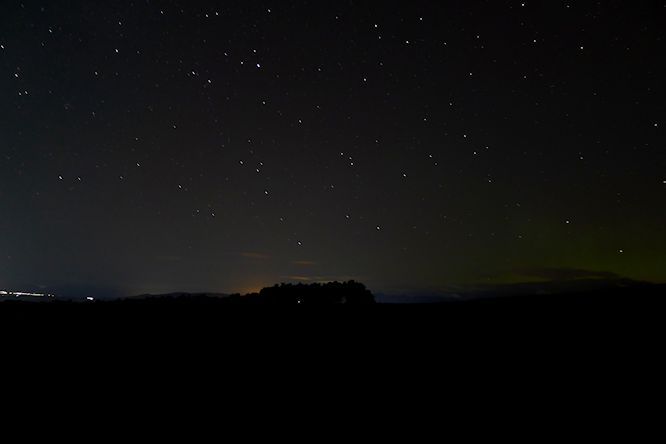 I've had red alerts from Aurora Watch before but they've either been during the day, during rain storms or when the cloud's thicker than a self cut slice of bread.
Not this time, I had a clear sky with spreading frost and no reason not to do something about it.
I ran outside, zipping up my down jacket and cramming cameras and batteries into my pockets as I went. I stopped dead in the road, it was happening right there in front of me. The scattered cloud above the Erskine Bridge was flickering with flashes of light in spots and curves of pale green. Oh my god.
I was mesmerized by it until I was gripped by the desire to get out from under the streetlights and see more.
I phoned my folks "Get into the garden…" and bolted for the crags, the height and lack of light pollution would give me a chance. I fumbled a battery into a now very old camera after a sweaty and precarious jog uphill in a pair of Converse (no idea why, everything else I'd pulled on was hill gear), but it's one with a handy 60 second preset exposure, my old LX5.
I saw it, I pointed and clicked at it and have the grainy memories here to marvel at. My folks enjoyed the flickering longer than I saw it, I got the green horizon, I think anyone who was out tonight got a win.
53 next month and that's the first time I've seen the Northern Lights on my own door step. Fantastic.