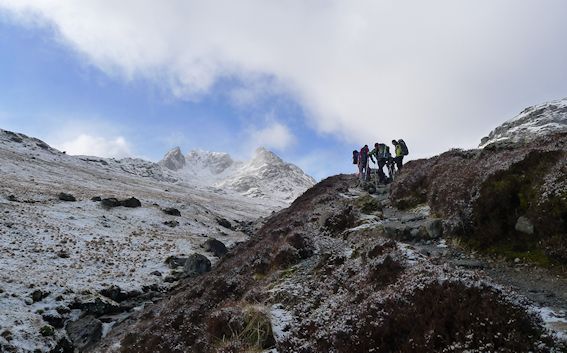 I've always wanted to do a meet. This place has put me in contact with so many folk over the past few years and I thought it would be nice to have banter in the mountains with some of the folks as a change from the keyboard. It has been tried, but like many of my schemes it always goes tits-up.
I'd been talking to Ollie at 9point9 distributors about doing a backpacking trip with some of his brand's kit and after getting together with Ollie and John from Ardblair a plan was decided on, we'd do a meet, get folk kitted out and get into the mountains for some proper real-world gear testing. Brilliant.
I was fine until I got home, then I got nervous. But, the meet was announced, the planned six places were filled right away and then we just went with the flow, there would be enough kit for more.
It was looking good until I went down with a virus, which I didn't say a word about, I just hoped it would clear in time. Kit was arranged, folks had booked days off, made travel plans and I felt bloody awful.
The day before the meet I met some of the more locally based folks in the Tiso cafe to give out some footwear and talk over the plan but I still hadn't eaten properly for two weeks and nursed a coffee, but the banter was good and I felt considerably cheered. It and I were on for the next day.
I struggled to get my kit together both the night before and the next morning and still had to drop into my folks on the way to pick up some spares, so I was late getting there. Aye, it was late when I left… Haven't said that for a while.
The good news when I got there was that folk had already met up and were kitted out, swapping over gear, repacking and it was going well. I added to the confusion with more kit, food, footwear, socks and more, mixed with the wonderful task of meeting folks that I've talked to so many times but never seen outside of a laptop screen, as well as some familiar faces too.
Left to Right, your left not theirs and mostly featuring their real names, Kelvin, Richard, Del, Davy, Michael, John, Tom, Arthur, Heather, Ollie, Katja, Tookie, Phil and Sandy. Me? I'm standing where you're sitting.
John sorted folk out with Leki poles and did a bit of technique coaching as most of us stood around in completely unfamiliar kit.
Most folk were in test clothing, there were a lot of test packs with test tents and test sleeping bags within. I grinned at it all, folk seemed quite happy after turning up to meet a bunch of strangers and then setting off into new hills in wintery conditions with kit you've never even seen, what a sterling bunch of people.
The original plan was to camp on the ridge between Beinn Narnain and a'Chrois, but in case of weather troubles I had other places in mind, partly why I was there recently, to make sure my memory was fully functional for the alternative Plan B site below Cruach nam Miseag. It was, but it didn't matter as the winds were forecast at silly speeds for exposed camping so Plan C was knitted quickly, and C as it happened stood for Cobbler.
My pack was heavy, stupid big tent, and my pace was slow on tired legs, but I wasn't tugging along at the back alone, there was banter all the way and frequent stops for photies and drinks. Really rather nice.
We got a little thinned out as we climbed the zigzag wheelchair track to the Cobbler, where the shortcuts have now been erased by the Forestry folk, too late to avoid the formation of a brand new watercourse though and the weather finally picked a team to play for. There had been blue sky, drizzle and it was chilly. As we climbed higher the snow started and then it kept falling making the forest silent and magical, it was only when we cleared the trees and caught up with the old track that the snow cleared and the blue started to burst through again leaving the alpine trident of the Cobbler scratching its nails on a thin veil of cloud as the chill wind picked up the beat to welcome us.
The weather had picked our team to play for and standing there watching its moves was utterly magnificent. 
The track is always a joy, but never more than on this day. The Cobbler rose far past its meager height to Olympic grandeur and pulled at me as we threaded our way towards it like a mulicolored caterpillar.
I was surrounded by happy faces, the setting and the conditions were perfect. I love these hills with a passion and they'd just paid me back for every kind word or happy thought I'd sent in their direction. I've often said that I wanted to share the joy and the Arrochar Alps had let me do just that. The air was full of waving cameras and spoken superlatives.
I could have passed out with relief.
The camp site was perfect, ish. The huge buttresses of Narnain's lower slopes shielded us from the worst of the really rather strong wind, though some tents had to be repositioned, but there was some boggy bits and some big deeps holes to fall down with a subterranean burn running at the bottom. No real mishaps though and when the snow set in again, spirits were high.
I think everyone got a Mountain House dinner to er, test, and I was overjoyed to sit down, get wrapped in down and get the stove on. Macaroni and cheese with oatcakes and a coffee, yes please.

After dinner we all congregated to banter by headtorch and two other headtorches were spotted coming up the glen towards us. Oh bugger, I thought, Arrochar MRT had expected us to be on the ridge, had someone phoned in our lights already and sparked a callout? I'd actually planned for this, MRT had phone numbers for us to check up if needs be and all the motors had secret messages in them so that that abandoned cars wouldn't trigger a callout either.
We watched the two figures get closer and their behaviour was actually a little odd, scanning the ground, disappearing down to the river, doing who-knows-what and then descending again without quite reaching us. MRT? I don't think so, someone looking for the car keys they dropped earlier? Maybe.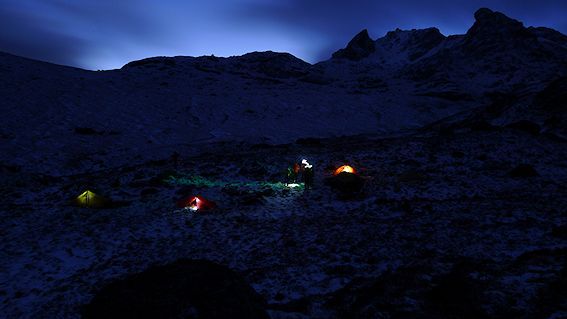 I filled my water bottle down at the river, had a little wander with my camera and tripod, chatted some more but soon everyone started drifting away to bed, me included. It wasn't late by any means, but I was dead tired, so a hot chocolate and a some music was in order. Except my earphones were still in the back of the motor.
Normally music is there to partly battle with the sounds of a rattling tent, but the tent I'd brought was a silent multi-poled fortress, I was out like a light.
It was a cold night, everyone commented on it the next morning, I found out about it when my knee snapped in the middle of the night and I shot bolt upright gritting my teeth going Fffffffffffffff!!!!!!! It did it again a couple of times and rolling around to find a comfy position was a pain and broke up my sleep. But I was cozy enough and when the glow of dawn came I enjoyed from an unzipped tent door.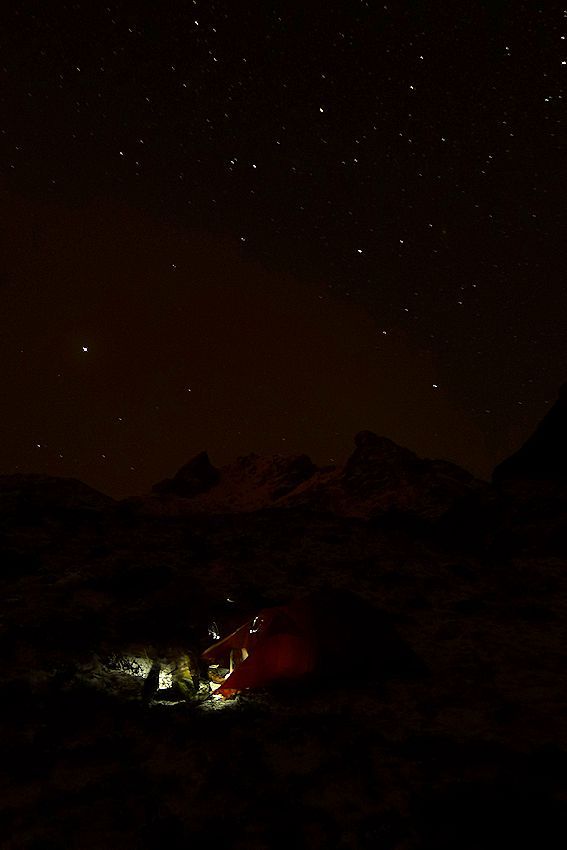 Lots of folk were plodding around at dawn, snapping away and soaking in the golden glow seeping past Ben Lomond. I pulled on my hat and lit the stove. I was having porridge and a cuppa before I was going anywhere.
It was beautiful but cold and the wind was down to a whisper. There were breakfast seeking descending figures on the slopes, the dawn had been seen from on high and camp was coming to life. I've spent a lot of time doing this stuff solo in recent years, but even with 15 of us here, it didn't feel to me like we were a crowd, it didn't impact on what I expect and enjoy on trips, the feelings, sensations, the experience. It was nice to talk to folk and see folk going about their business at camp, getting their packs ready, brewing up and doing what I do, gazing endlessly at the view with no trousers on.
There's seven tents in that shot above, I should do a spot-the-ball style competition. Pink snow all around too, what a morning. There was a discussion about camping north and south of the border, red tents are definitely Scotland-only.
I told you onesies were cool.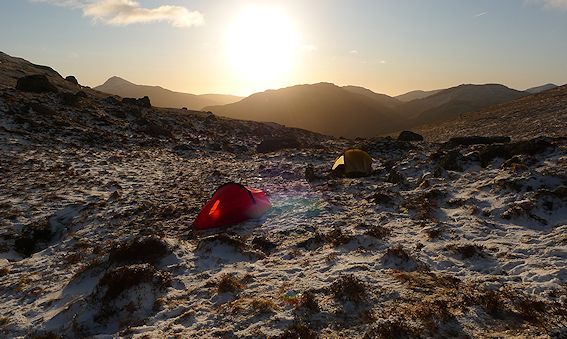 We had some visitors, gagfax in black and his pal in orange dropped by which was nice. They were heading to Narnain and that very topic was what we were at next.
The plan had always been Beinn Narnain, but the Cobbler had stolen the hearts and minds of all (but for one quickly persuaded banana) so that's where we were headed.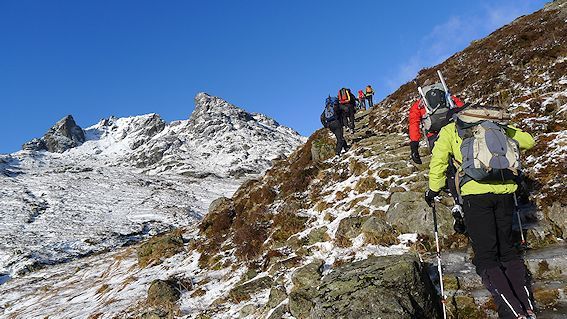 The sky was still blue, our packs were all much lighter and it was delight climbing towards those familiar rocks. The track was iced and once over the water we all put on crampons, or should I say traction devices, there was a good mix of spikes on feet. And, some scary light axes too. Ha.
There was a lot of ice and some nice snow higher up, snow make for spikes, it was fun. The constant banter took my mind off my still throbbing knee too, I really was quite happy with my lot.
We spread out on the climb, fitness, gaining confidence in underfoot traction and photo opportunities all made the gaps. I joined the rapidly cooling folks on point who were already at the bealach with my jolly band of tail end charlies. Time was getting on, some descended and the rest of us made for the north peak, a fine place with folk topping out from rock (if they say it was ice they're lying) routes as we got there.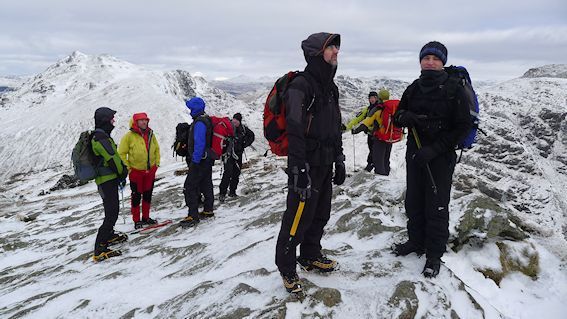 The Highlands were all there, a thin layer of high cloud had slid over but light punched through and picked out the peaks one by one. Damn I love this place.
We lingered, bantered and time slipped away, no one seemed keen to leave. I wish I'd taken my stove up.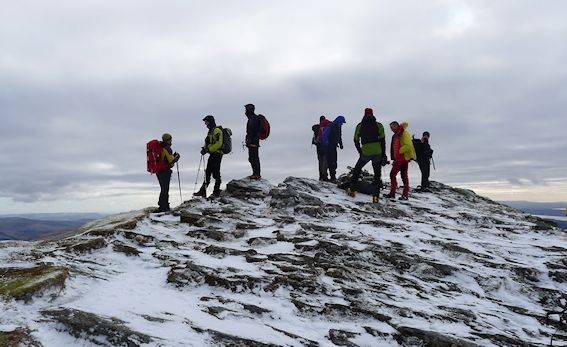 We caught the other lot up on the way down to camp as well as passing a large amount of unequipped an ill prepared folk sliding over the ice to try and get up the hill. My two favourites were a woman who clung to the ground like Spiderman clings to a ceiling and dad and son combo that I predict will never go to the hills, or possibly speak to each other, again as dad was a selfish arsehole who didn't care for his offspring's safety or enjoyment and junior had just found it out. 
Folk looked at us like we were aliens, but then we were standing upright and walking across the snow and ice rather than clutching at straws and disco dancing like they were, so that's fair enough.
Back at camp it was all cuppas and banter again before we packed and headed down. It was all over. Ach, and we were just getting started.
The gear thing went well I think, the reaction to the Montura clothing was incredibly positive, I never heard a bad word about it. Folk happily slept in "flimsy and not waterproof enough" Big Agnes tents pitched in thick melting snow while 60mph winds lashed camp, shows how much professional reviewers and store buyers know doesn't it? Some folk even wore boots straight out of the box without any problems. Imagine that. Convention doesn't know shit.
I'll get to the gear stuff in a wee bit, but for me the biggest thing about the meet was the people. I got to talk to everyone properly, hear their accents and place the real person into their avatar or screen name. Everyone was so friendly and positive about the whole thing, taking the time out to do it, travelling sometimes huge distances and taking a gamble on me not screwing it up.
It was a total joy to be in such company and I hope everybody took home something good from the experience. A sincere and relieved thanks to you all. Relieved? Aye, we came down with the same amount of folks we went up with. Always a Win. 
Equal thanks goes to the gear guys without whom… Ollie and John, you are true gentlemen. The brands who supplied, thank you all:
Big Agnes, PrincetonTec, Granite Gear, Honey Stinger, Montura, Leki, Hillsound, X-Bionic, Hi-Tec, Mountain House, Wigwam, Edelrid
Reviews incoming.
Other thanks go to the girls, my girls, who appeared with a box of muffins when we got back to the car park. I love you both.
And also thanks to Phil, without him him taking the shot below there would be no evidence I was ever there.
Last word has to go the star of the weekend. Bless him and his shoe making skills.