There's one name that's comes up a lot when I'm talking about top-end kit: does the quality compare; is the fit as good; are the fabrics the same spec; are the features as purely technical? I've never had a answer to that.
So, it's with real interest that I've casting an eye over the batch of test kit from Arc'teryx.
I've got a good cross-section of their clothing, so hopefully I'll be able to get something of a feeling for the brand. I can say already that it's very individual, from the styling, to the construction, to the fabrics and even the colours.
I took a size large in everything, and that looks to have been the right choice, the fit being slimmer for a given size compared to other kit from the brand's living across the Atlantic. The sizing seems to be graded too, each layer being slightly wider that than the one designed to go underneath it. Nice.
Above is the Delta LT Zip, a simple lightweight midlayer in a pullover style.
It's a basic as you can get, it's fabric, stitching and a zip. The zip is a good length for venting, the collar is a medium height, the arms and body are nicely long. It's very soft, being made from Polartec 100 MicroGrid and there's some nice subtle shape manipulation in the construction to give freedom of movement without lots of extra fabric causing bunching up.
It feels light, packs down small and should give good warmth for winter layering and better weather bimbling.
Above in fetching "Mahogany" is the Rho LT Zip. It's a baselayer, but I can see it as a midlayer as well, the fabric has just enough thickness that it'll do both, so I'll layer it over merino short-sleeves and vest as well as wearing it on its own.
The fit on me is great, long and slim, skin-tight in fact, but the Rentex Powerflex fabric is so soft and stretchy there's no feeling of pressure or restriction.
There's a good length zip, medium height collar, and unusually for a baselayer, a pocket. This is a small laminated affair, and would be handy for keeping lip balm and camera batteries unfrozen, this winter has brought such things to the fore.
The construction echoes that of the Delta LT Zip, free movement with neatness.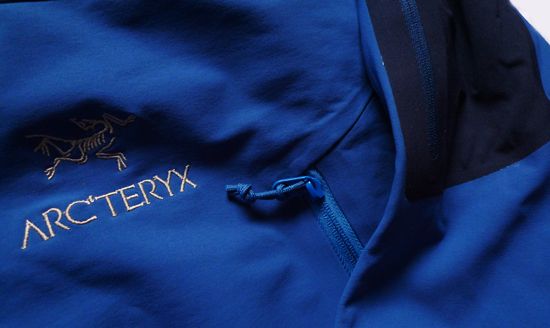 Arc'teryx have the Gamma LT Jacket billed as "…wind and moisture resistant softshell jacket for everyday use", and as mountain-appropriate as the the thing is, I can see what they mean. It's got a slightly more relaxed fit, less overtly technical styling compared to many softshells and of course, no hood.
The fabric is Burly Double Weave which has a good bit of stretch and feels pretty beefy (I resisted the temptation say burly there), the construction is an interesting mix of lamination and stitching, the zips are the chunky YKK's that I like (are big zips coming back?) and there's pockets that'll carry hat, gloves and Buff as well as my bacon rolls and a danish when I'm at my work. Aye, it does have that cross functionality, and most of the kit I get sent has too, as almost all of it goes to work with me at some point.
The Gamma LT Pants above are dead simple to look at, but as with all the Arc'teryx kit, the detail is where it's at.
The Fortius fabric a light and soft, sewn and laminated into subtle shapes to ease leg movement. There's two hip and one thigh zipped pockets (no rear pocket, hurrah! pointless bloody things most of the time), zipped fly, integral belt with a velour inner waistband, clever ankle adjustment and again some nice fabric work to keep the profile neat and the comfort good.
They feel nice on, and the understated looks are quite unusual for me, they're as technical as you need, but won't have folk looking at me like I've just got off the plane from Kathmandu.
The Alpha SL Pullover below is an interesting mix of throwback and cutting edge. A pouch pocket smock? That's as old school as it gets, but we've also got micro seam-taped Paclite, laminated construction, water resistant zips and a colour that would stun a donkey. I think it's one of the most individual looking shells out there, but the features are right on the money, so this is no novelty item.
It feels good on, smocks are like that, they don't piss about making the few seconds of getting it on and off the focus of design, they're all about the wearing. The pouch pocket is right there in front of you, it's huge and will be very handy indeed. The hood is a pulls in nicely round a bare head, velcro cuffs and there's pit-zips, one of which extends to the hem to split the jacket, so I will be able to take it off inside a Laser Photon Elite. The pit-zips also allow you to get your hands inside the jacket for warming and pocket rummaging.
It's a lightweight smock (322g they say), but it has more features that most, the pit-zips and adjustable cuffs being the the items usually missing, and I can get a loaf of bread into that pouch pocket. Smocks aren't known for their cargo carrying prowess.
It's an interesting collection of kit, and it's good to be testing something that does feel quite "different".
I'll report back as I go, so more soon.