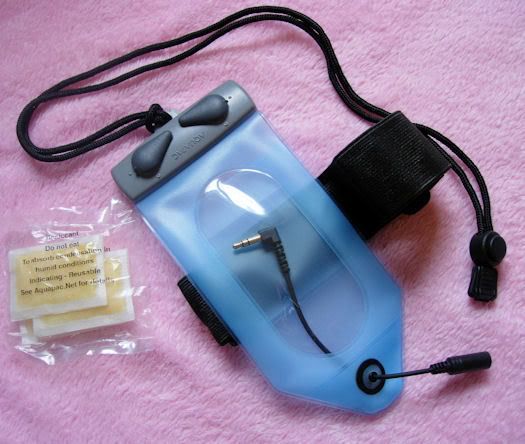 I only got an iPod last year and it's been a constant companion ever since. I thought it would spoil my outdoorsyness with it's electronic evilness. But, a marvellous thing it has been, solo camps with metal in my ears, the West Highland Way with something to keep me awake…
The danger of trashing it is ever present though. I've got it in a wee case but it's been wet and snow covered and barely survived. Well it didn't survive. This is my second blue Nano.
Come to save us with their Made in Britain wares are Aquapac. They got the Queens Award for Enterprise: Inovation last year, so I had high hopes when I saw their range at KORS last week. In the photies are the iPod pouch with sealed cable, removable armband & lanyard and some wee sachets of desiccant. This is how clever these guys are. They know that water droplets might get in the pouch attached to your kit and end up condensing in your iPod or on your camera lens etc.  So they give you the sachets to absorb it.
The closure is a lever lock affair, dead simple, the two levers pull together the two sides as you turn them and create a compression seal. There's no spring though so it won't flip open if you touch a lever.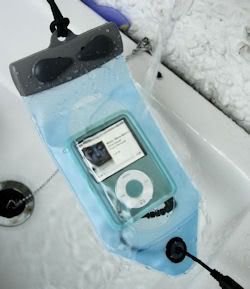 The cable works fine, both swing/big band and metal flow easily from the inside to the outside and into your earphones (they also have waterproof earphones available).
I tried to drown Alice Cooper in the sink to no avail.
I'll get it out and about and I'll get it submenged properly and see how it gets on. I'm sure it'll be fine, and at 30g I'm not going to be complaining about adding it to the kitlist.