500m over the river from the front door but across a local authority boundary. It only just occurred to us that we were allowed to go.
Picked a nice evening for it too.
I've often said on here that I can walk out my door into the hills and I know that sounds like exaggeration, but below is both my door and the hills behind it.
Bowling is right in the middle, if I go either way I'm in the Highlands or a Glasgow restaurant in the same amount of time.
The village may have spend many years abandoned by West Dunbartonshire council but Scottish Canals are building a linear garden on the old railway viaduct, the shops in the arches are still open and other brownfield sites on either side of us are showing the green shoots of new purpose.
We shall see.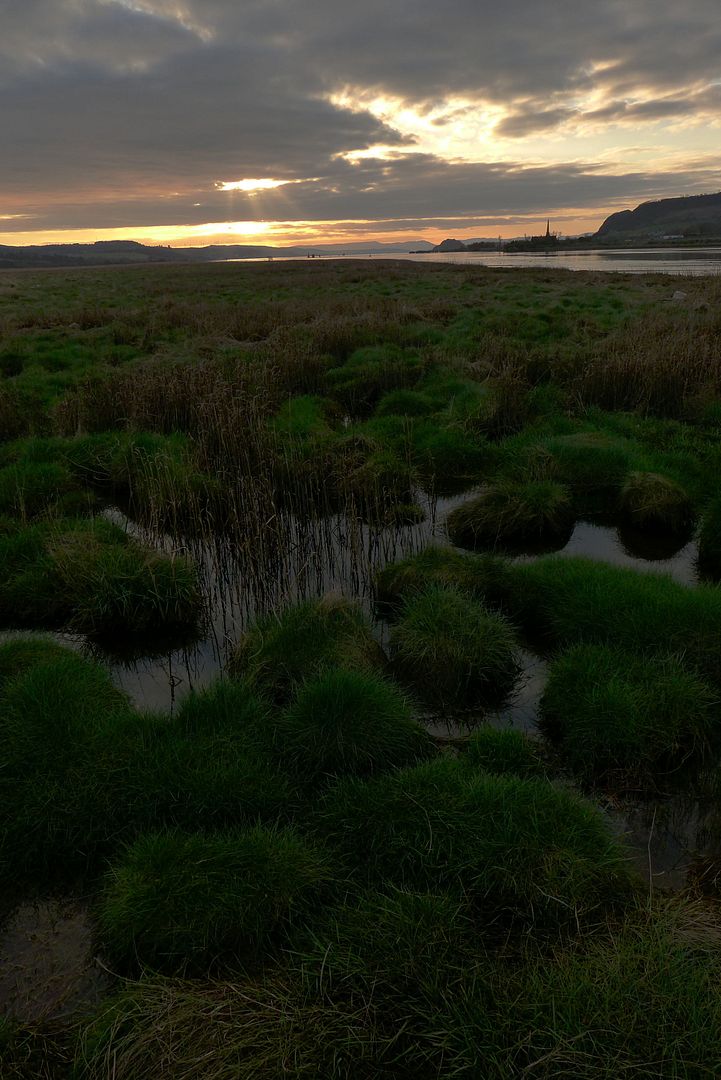 We took a different route, going down through woodland on trails I'd never even see. Around the trees is a jagged blanket of lush green getting ready burst with bluebells, we'll be back to see that.
It was cool, not too much of a breeze, but enough to keep the beach and trails quiet so we had the place to ourselves.
The tide was pulling the river away leaving waterlogged and reflective sand to mirror the golden sky. It's really quite beautiful, but you have to line it up right, I can see this same bit of sand in the photie below from the living room window and I can assure you it's kinda brown. You have to find the sun and walk towards it, always.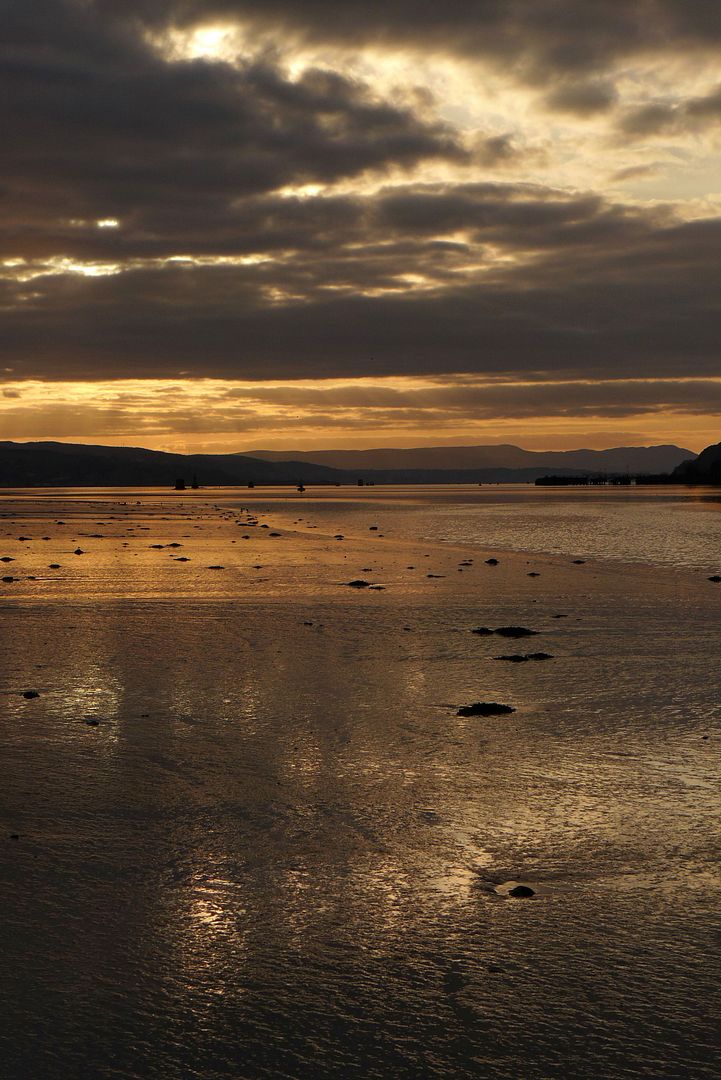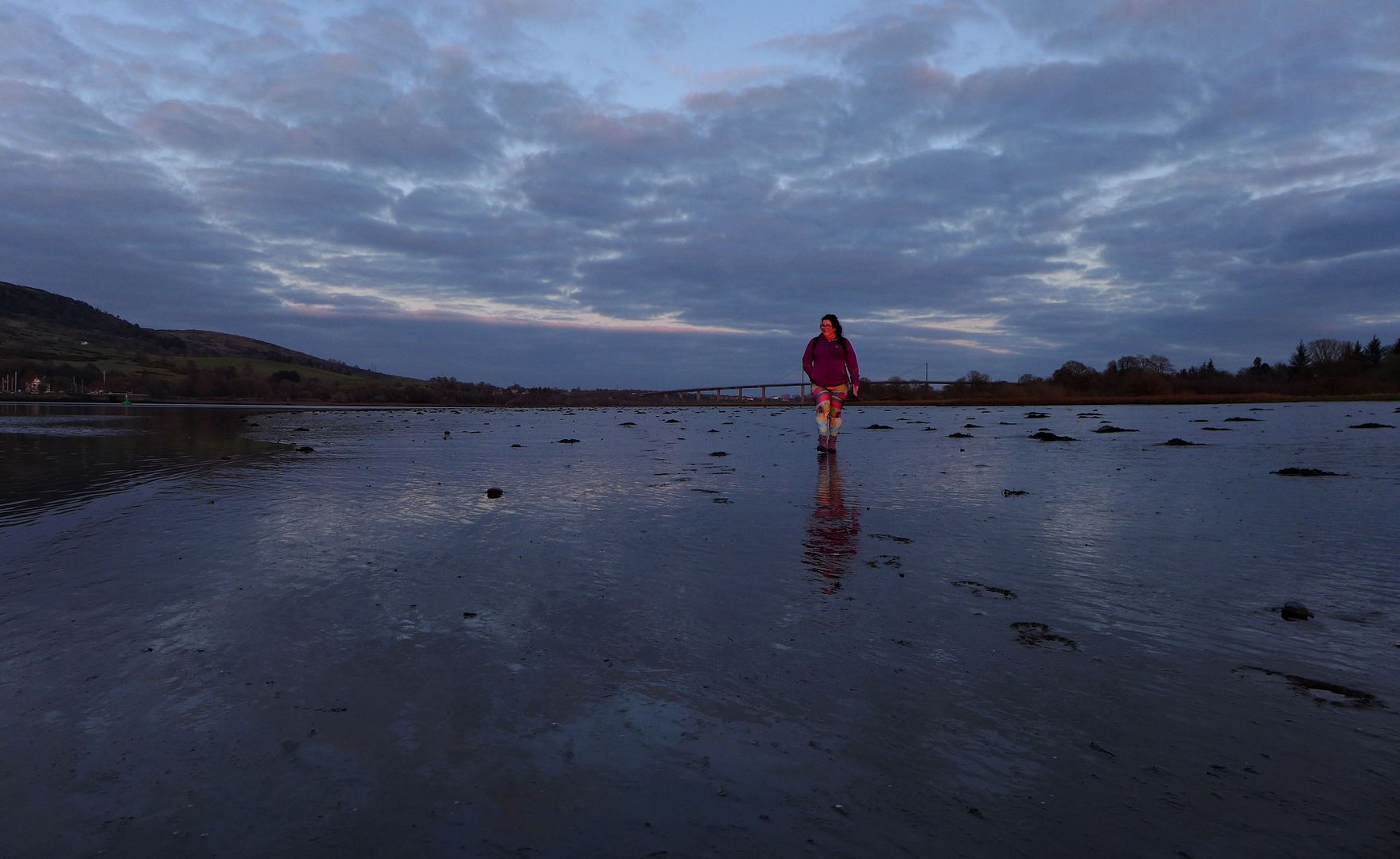 I have made a packed dinner, it's way too late for lunch mind. I slow cooked a sirloin steak in the griddle pan, cut it into strips and filled a baguette with it along with proper butter, fried red onion, sliced baby tomatoes, Seriously cheese and Hellman's chilli mayo. They were wrapped in foil, oven warmed to get the cheese melting and stuck in a cool bag, you know, to keep them warm.
Warm they were and emotionally tasty with a flask of coffee.
And then there were Patisserie Valerie cakes. It's date night, come on.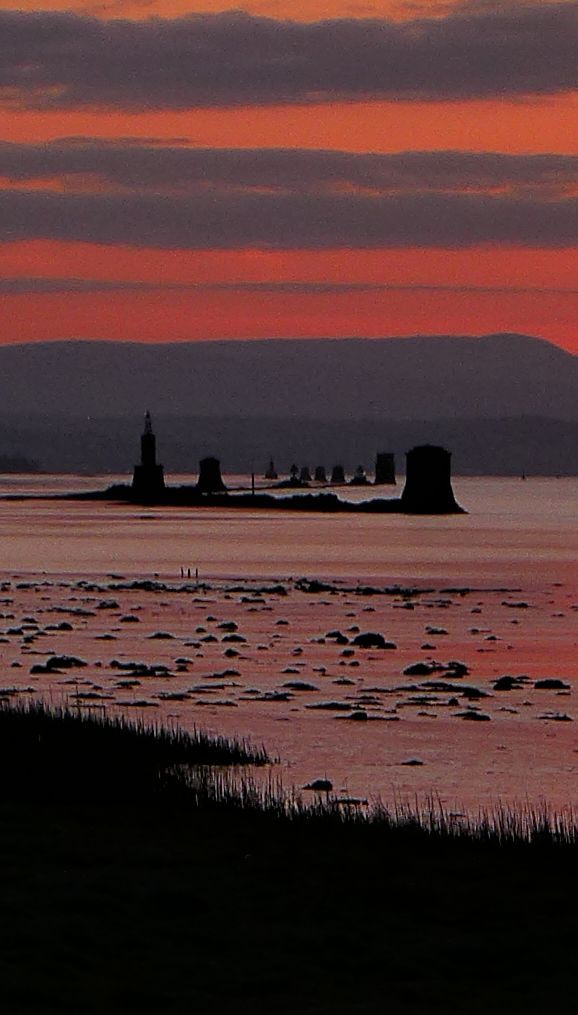 The riverside terrain is complicated to say the least and there was much falling over. It's a place to blow out a knee or twist an ankle, I've watched a helicopter rescue unfold here from home for just that.
There's weird stuff too, I think below it's a table set for a giant or something? Neolithic toilet? Troll crutch and fez Christmas set?
There were dope smoking neds lurking in the dark trees on the way back so we took a detour through the old Erskine Hospital grounds, sorry Mar Hall.
Last time I was in there they had a steam leak in the basement which had blown all the asbestos off the pipework and it was floating in chunks in the hissing bubbling water as it gained depth in the plant room.
The 80s were great, health and safety hadn't come in yet. We did get to chat to WW1 and WW2 veterans at the same time we were there too.
Never seen such scars, or men alive and talking with such substantial bits of their heads missing. I'm not making light of this one little bit. These poor bastards got blown to pieces there wasn't the knowledge to do any better than what these old boys got.
It's a testament to their own inner strength and the regenerative capabilities of the human body that they were still there.
We walked the deserted access road back to the car as a fox scurried from side to side ahead of us. The world was quiet, but the next morning it was going to wake up and go mental for easter.
I'm glad life is coming back but I will miss the quieter times and places, I'm going to have to look a little harder to find them now. Drive a little father too? Oh, I remember that stuff.
Less than three weeks.