You can see my roof in that photie above. It's a great view just at that spot, and a hundred meters up the track it disappears completely. I haven't seen it for weeks, since early June I think. That's the longest I've been away from the Kilpatricks since 1937.
It was nice to see the heather starting to bloom, pink white and purple. In a few weeks there'll be a multicoloured carpet of delight on the hills.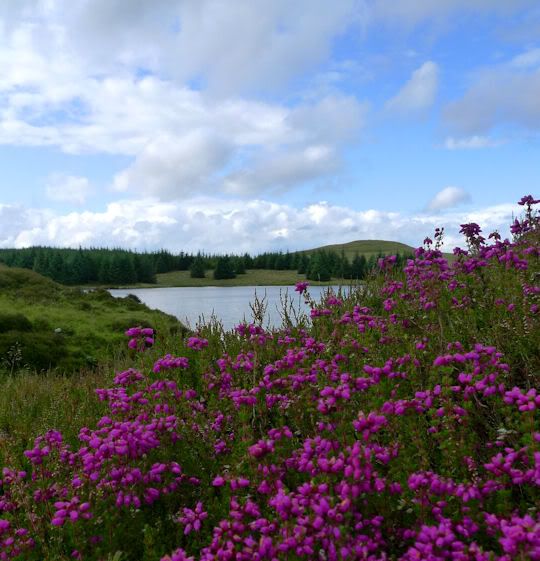 I was on the bike which was interesting. My legs are gone, just completely empty. And my arse has become soft, like a Chelsea Whopper left out in the sun. Frightening stuff this, a few weeks of doing very physical work seems to have diverted all my juice to different outlets and I'm now all out of adjustment. Ah well, I'll sort that out as I go. And go I shall, I've had books out, maps unfolded and I've been checking the weather again. Glen Affric looms large over the next couple of weeks, and then onto new and different. Marvellous.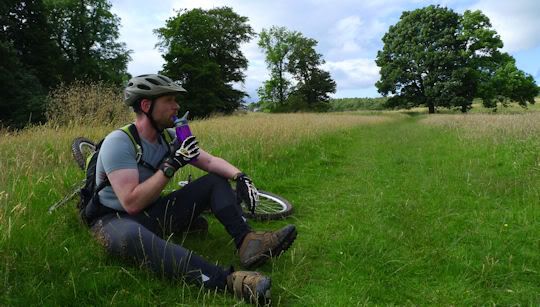 I'm sitting there trying to keep down some bananana Nuun while looking at the view below. It was quite windy and the clouds and patches of sunlight were skimming by, the long grass was hissing as the blades and bits with seeds attached, the actual name of which is totally unknown to me, it'll be a latin thing no doubt… vibrated and pulsed, occasionally sending a wave across its golden surface towards the trees.
It really was rather nice.
Ach, it's good to be back.