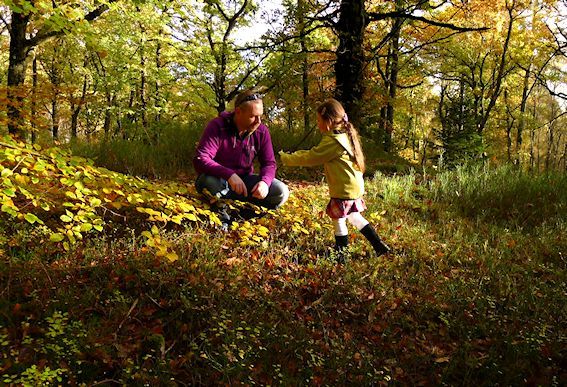 It's been a funny week. School holidays but no spare time, shite weather and the three of us have the cold. I was supposed to be up mountains in various places for various reasons and it was all postponed until next week because I'd just cough myself into a ditch. Aye, I'll fit it all in. Not.
So after a night where the three of us coughed in unison until 0300 it looked like Sunday was over before it began, but never underestimate the power of a beautiful autumnal day witnessed through double glazing. We washed and brushed up, dressed and phoned Granny to see it she wanted to come as Jimmy was heading out on the boat. It was after lunchtime when we picked Granny up, but we were on the road, the sun was shining and were going to find a car load of smiles whatever.
Glorious is the only word. The colours, the mood lighting, the warm air with a chill lurking in the shadows. We walked through the forest above Aberfoyle with take-away cuppas from the temporary visitor centre while the lodge gets revamped. The trees are loud and proud, burning with colour and we explored for more time that we'd paid for at the car park.
We found fairy dells, Mor'Du's hideout, wisps and more. I've never seen the forest look as beautiful as it did today, nature played a winning hand.
Back in Aberfoyle after a potter around the tartan emporia we soon realised we wanted chips from the Tasty Fry in nearby Callendar, so off we went on the twisty road through more blazes of colour as the sun lowered and mist started to creep across the fields.
The Tasty Fry delivered as did the riverside car park and picnic benches where we dined as the sun went to bed. The friendly ducks and swans were joined at dusk by bats which swooped with silent precision inches away from us. Every now and then the water was broken by salmon leaping clear of the water, the splash they made was the only thing louder than the hungry ducks around our feet.
We watched until it was dark and our hands were cold. Back on the road we drove though layers of mist under sky lit by a moon and the fading embers of the sun. We managed to get a whole day out into half a day and we were all burst.
Today's photies are special for me, it's a day I wouldn't swap for anything. If only Jimmy hadn't been out on that bloody boat.