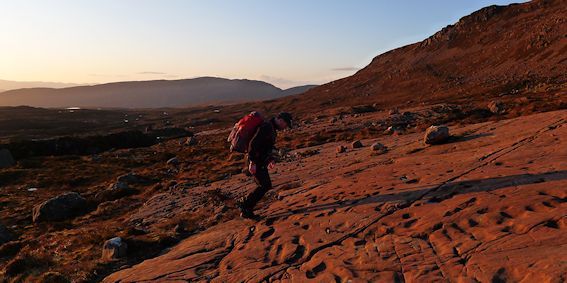 I'd been looking forward to this. I was packed and ready to go but I still managed to make it an epic journey to Applcross. The landslip at Stromeferry meant that the road was still closed and not due to open until the day after I came home, so the A9 was the route. This also meant a long visit to Pitlochry to see the boys in Escape Route and a stop for soup at the Ralia Cafe near Aviemore. Add the fact that the hearse kept stalling when I was flying along as I'd let it run dry and the fuel filter was full of air that refused to shift and it was really getting on by the time I was climbing out of Lochcarron.
It was a great drive though, the last time I was here was in the early hours of the morning in the dark and mist so this was nice, Achnasheen has many memories, some featuring a teenager with long hair and an embarrassingly wispy moustache. That's me by the way, not something that I shouldn't be making public.
The best is after Lochcarron when the hills beyond are suddenly close, huge and sheer with a road ahead that seems to disappear into their menacing clutches. Which it does, but the Bealach an Ba road climbs valiantly back up and out in alpine zigzags which must be one of the finest stretches of road on this island. I'd chosen my line onto Beinn Bhan partly so I could drive the road as I hadn't been there in years and when I was sweeping around a bend in the single track there was a car parked half way between two passing places. The girl behind the wheel looked totally confused as to what to do to the point of taking her hands off the wheel and opening her mouth in the manner of someone mastering "horror" at her first day in drama class. I beckoned "come here" with a finger and shot backwards to the previous passing place while looking over my shoulder at a drop to steep to be reversing with such enthusiasm. They passed me as I grimaced through the window at them and I was soon over the top and looking for somewhere to park near the start of the track, which took me a wee while to find.
A single weather bleached wooden pole about 18 inches high sticking out of the heather by the roadside marked the spot and I didn't even see it until I was walking downhill past it. The track is useful though, the terrain is pretty wet in the coire and it pulls you through it very well which gives you time to look about more.
I was happy as hell, it was warm and clear and my surroundings were just perfect. I'd left the Cuillin behind me at the hearse and the rolling grassy shapes around me were breaking into crags and cliffs where underfoot rock increasingly squeezed out the greenery. Big patches of sandstone swelled out of  the heather like a buried giants fat belly poking up (..slipping into bedtime story for Holly mode there I think) and they scars on them were fascinating, geometric shapes, linear patterns and what looks like footprints. Could be footprints, there was nobody there to say they weren't, so dinosaur footprints uncovered by glacial action is what we're going with.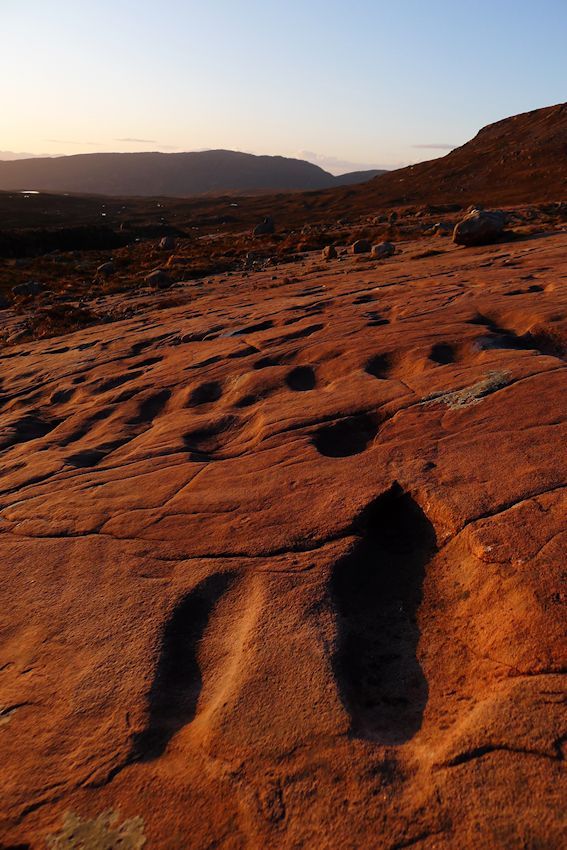 The cliffs to the south came into view and the atmosphere changed, there's a sudden feeling of height and along with a lowering sun and accompanying drop in temperature I got a little shiver up my neck. All alone, camping above cliffs that I'll arrive at in the dark and I was getting hungry. Holy shit, I'll never get bored of this stuff, never get used to it, never take it for granted. The joy remains the same.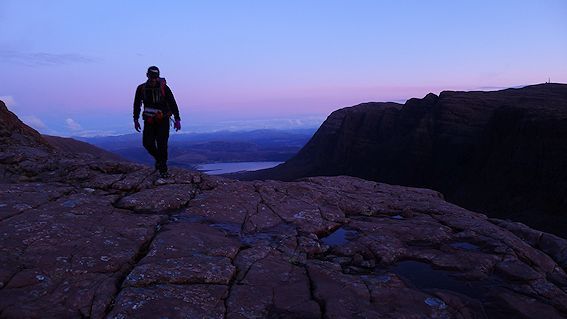 It's an odd mix, like the Cairngorms welded onto Torridon. Cross the crest of a broad ridge and you walk from one to the other, sandstone pavement to buttress cliffs. It's a wonder and a marvel. It's also huge and would take repeated visits to really see the whole hill, Beinn Bhan sprawls over the peninsula, twisting its form to hide its secrets making you work to see them. Every step is a joy with new views and a different perspective.
The bealach is something of a bridge with coires dropping sharply to either side, a rocky bridge at that. It was getting a bit dusky now and a bit colder with some light cloud drifting in, I felt very alone out there and the climb beyond the easy scrambling lower down became metronomic, footstep after footstep to get to the plateau, footsteps on grass, on rock and then onto fresh snow. I walked from Spring back into Winter as I saw the summit cairn ahead. I walked a few feet beyond it there was nothing but a thick white cornice and black abyss beyond, the impact of which was not diminished by its edges being softened by the light cloud passing by at a leisurely pace.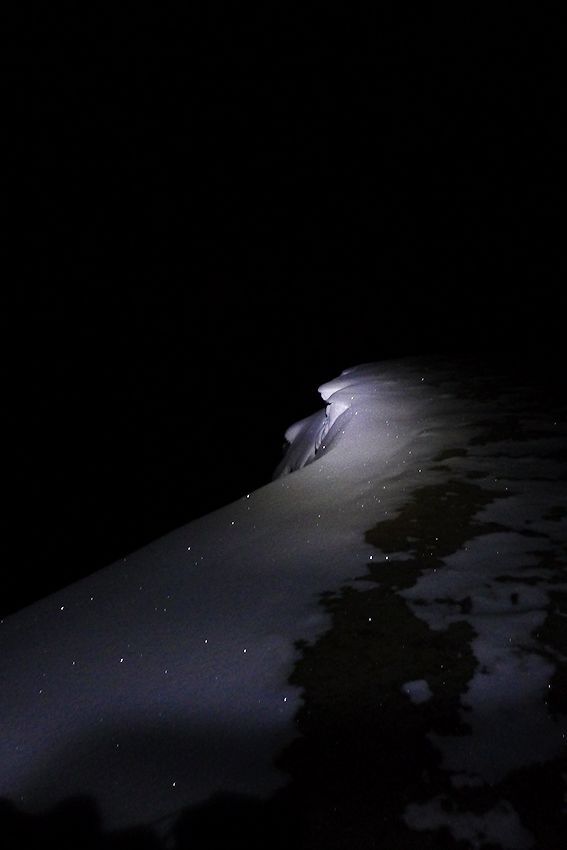 I retreated back to the cairn, it was a circular wall with a trig point inside, I could shelter in there if it all went wrong I thought. I threw off my pack and pitched right next to it.  Only one peg gave me trouble despite the rocky ground, the floor of the tent wasn't so happy with the pointy underfelt but my fat sleepmat stopped the suffering being passed on to me.
The stove was on as quick as ever and I was dining with class tonight, venison stew, and it was lovely. A cuppa and a pastry followed as I snuggled deep into my sleeping bag and the temperature dipped to minus 4 in the tent as darkness solidified over me. The occasional peek outside  gave views of lights, but with a stretched neck and sideways head I could make no sense of it, so pulled on my frosted shoes and went outside. Outside into a windless and clear night.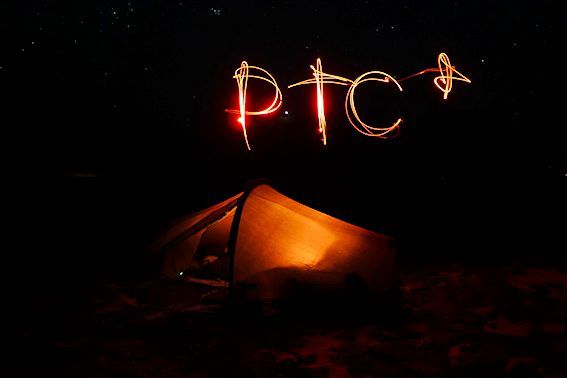 There was the inevitable fannying around with the camera, it was just perfect for it, making the PTC* logos had me in giggles. Here I was on the top of a mountain with my little iPod speakers blasting out metal while I danced around with a wee torch like a kid with a sparkler on bonfire night, jeez, I even had mitts on.
I wandered the edge of the cliffs to the north tops. The snow was deeper in places, virgin and crisp. I could see so many lights, this seemingly remote corner is actually so full of life, streets, houses, cars, people. Lighthouses pulsed below and the stars twinkled above, so many stars out tonight, all of the stars out tonight in fact.
I was tired, but the walk had warmed me up. I made a hot chocolate and phoned home, there were five bars of signal at camp, Holly was sleeping and Joycee had her feet up in front of the telly. I had such a strange mix of distance and closeness as I slipped back into my sleeping bag. I lay there in the dark listening to music, warm, fed, relaxed and calm, happy.
I didn't sleep for ages and I don't know why, there was no wind, comfort was maxed out across the board, I didn't even have the faintest need for a pee. "Maybe you were just enjoying the moment" was the reason I was handed when I got home, ah, why not.
It was bright when I woke and the cloud I was in amplified the brightness. I was sure there was blue just above me and I would wait it out, I had plenty of time.
But, waiting just burns through gas and uses water so when supplies dwindled I put my frozen-solid trainers on and ventured outside. It was a good idea, the cloud was patchy and I did get some quick views which made for wide grins but it felt like the day was set, every gap showed layers of cloud at the same height scraping the other tops. I shook the ice off the tent, packed my gear and slowly trundled away before it was lunchtime and immobilized by food and drink yet again.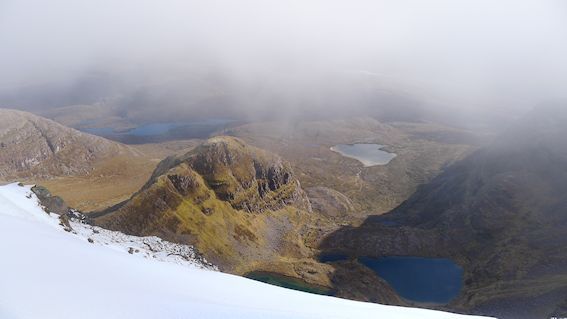 I got under the cloud soon enough and it was sharp and clear, every lochan and pool had a fresh skin of ice. On the climb back out of the bealach the wind picked up and a few bullets of hail bounced off my cheeks. I ignored it until both eyes were shut and both hands were clenched at which point I had to got my hood up and cinched in and get my gloves on. The hail whipped me as I clambered through the rocky southern slopes of Carn Dearg and then stopped as suddenly as it started to be repaced by lazy sunshine which dried my jacket and warmed my cheeks as I ungracefully descended into the coire.
I missed the track altogether and was a good bit away from the previous days route so I picked an angle that would pick up the track at some point and trudged on through the wet heather. Then a few flakes of snow floated down to my delight, winter's little kiss goodbye I thought. Then a few more flakes fell, a few more, then there no gaps and it was suddenly all about snow. Hood back up and cinched, I bent into the snowfall and waded onwards uttering the words of horror I never thought I'd utter: "Where the hell's the path…".
By the time I reached the track I was white from head to toe on my front side and the snow didn't ease until I was back on the road. Timing is everything.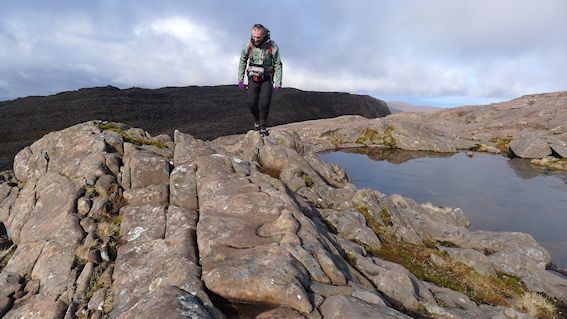 I'd left the hearse as the last zigzag where there's an off-road bit big enough for a couple of cars and just as I reached the bonnet and slipped off my pack two cyclists reached the same spot from the top of the Bealach na Ba. They were cold, having been caught in the same snow shower as me, but they were in lycra and fingerless gloves where I was warpped up. One boy was getting shaky so he quickly got a down jacket and mitts applied which helped and we all stood and bantered for a while while we variously thawed and dried off.
They were training for the race which goes round the peninsula and as usual I felt that old fat bloke with a rucksack full of snacks. But, the sun was out, the Cuillin were visible once again and the day was taking on a whole different complexion. Should I have waited on the top? Nah, I was happy enough and the two roadies seemed in better spirits too when they left on the downhill run to Applcross for a visit to the cafe.
I changed into dry clothes while the stove burned and had pasta and a cuppa as I sat in the sun. I talked to my new friend, Flash, who had come with me. He's an easter present and my new hill buddy, he's ex-military so has decent fitness and good trail skills, but I was pleased to see he's straight into trainers on out first trip. We'll get on just fine.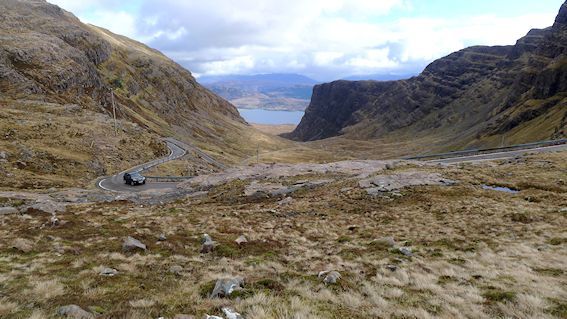 The road back after Lochcarron is a blur. I stopped on the Bealach na Ba for a couple of photies, but after that it's gone. I don't think I even stopped on the way home, I had Irn Bru, Kettle Chips and a Lion Bar on the passenger seat to keep me going, that I do remember as I bought them in Inverness when I stopped for fuel on the way up, but the journey? No.
Thoughts of the previous night on the top still circling around or the joy of getting home to the girls overwriting the dull bits maybe? Probably both.
Whatever, this trip was a good one but it was too short, if ever a hill demanded more of my time it was this one. There's just too much of this country I still want get to know better.
The new hat? Magic.