It's Easterish, it's sunny, so of course everyone in Glasgow has to sit outside my house on the A82 doing 1mph trying to get to Loch Lomond all day. Well done you. The joy of being trapped by the endless procession of stupids has me cast my mind back a couple of weeks to a day of some contrast to today. The lochside was quiet, the sky was greyer and me and Joyce were in the hills.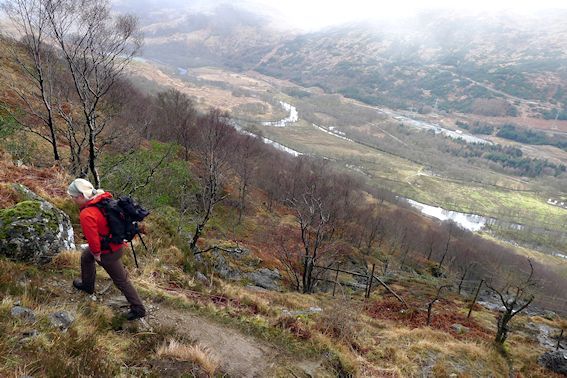 £3.60 for two cans of ginger (that's cabonated beverager to many) out of the Drovers Inn. You'd think with prices like that they could afford to paint the bloody place. Still more welcoming than Beinglas Farm with their rusty debris, scowls at passersby and signage discouraging visitors. We were above it all though, literally as well as figuratively as the waterfall tore over the rocks after the recent rain. Above the falls is maybe even better as the burn has dug deep into the rock and it charges through its channel to freedom above Loch Lomond. The path is a little hairy in places too with big drops to the right and as we were both panting a little after the speedy ascent we were happy to reach the flatness above.
It was cloudy, wee patches of blue, but it never looked better than rain is on the way.
The spitting from on high did increase as we tackled the open slopes and hoods went up. Bugger. It's brilliant up here though, the road curves round the head of Loch Lomond into Glen Falloch making it feel like it's just a wee corner with Beinn Chabhair jammed into it, but in reality it's a big wide expanse of coire ringed with fine ridges, especially to the north and east where we were headed. The higher you get the jaggier it becomes and around Loch an Chaisteil it's almost alpine with rows of pointed shapes all around disappearing into the mist. And rain.
With the stove on we weren't caring though, dinner, cuppas, some jerky and maybe even some sugary doodahs for afters we were happy enough.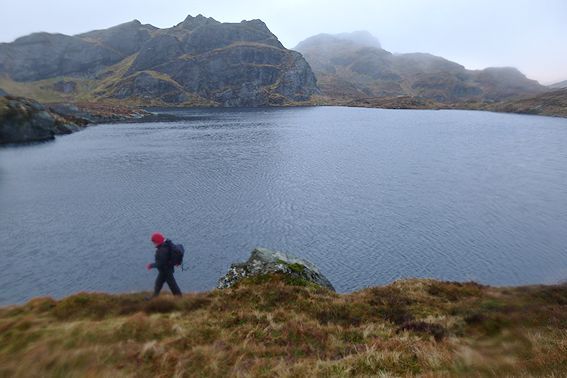 It had campsite written all over it for another day, but with darkness not so far away and chill finally chewing through our layers it was time to pack up the picnic basket and leave.
It was properly wet now, the camera was wringing which made me wince a little, but just like it's predecessor its more waterproof that Panansonic dare put on paper.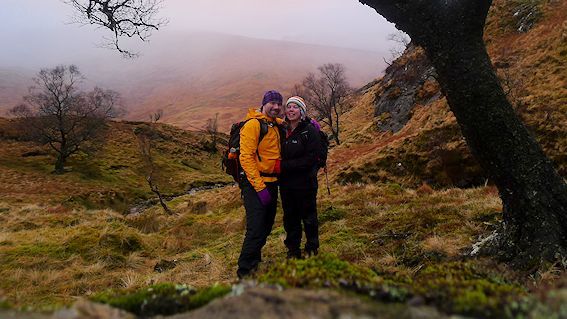 The tumble down to the Falls of Falloch brought two deer fence crossings, one was easy, the other was after my knee went funny again and had sent me into the heather sideways. Imagine helping your granny over a deer fence while she's got her hands full of shopping bags, wearing slippers and has got the "wrong glasses on", that was Joycee helping me. It's a cracking descent though, grassy slopes studded with trees and in the evening light as the cloud thinned and the rain stopped it just glowed. All the good stuff's off the path isn't it.
On the West Highland Way going back to Inverarnan my knee clicked back, I say clicked, it just suddenly stopped hurting which I wasn't going to argue with. I've been backpacking without major issue since and cycling too which has helped I think. I know what's wrong, I know it'll need sorted eventually, but if I can work around for the time being without being a whiny bitch or using it as an excuse then that's the plan, so no more knee stuff unless it explodes. Or talks to me in the night.
The new hat worked well, me and Joycee found ourselves back in the mountain groove quite quickly too. It's a fantastic corner we skipped through where all the regularly trodden tracks bypass the good bits, that lochan should be viewed and enthused over by all. Rain or shine.