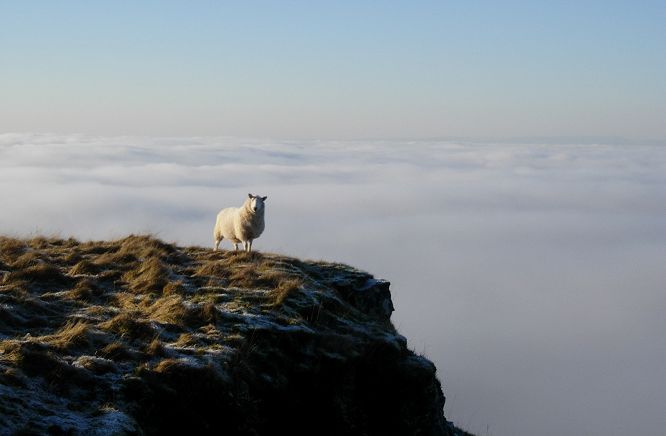 I gave a talk at Holly's school last year, the different classes were exploring different subjects of Scottish life, history and environment and when Ben Nevis was mentioned I knew I take them out of classroom theory a wee bit and give them some first hand stuff.
We soon expanded on the plan and we had a crammed classroom full of kids dressed in down gear and ripping the floor up in crampons as well as a virtual walk over Carn Mor Dearg and Nevis I put together from a trip a while back.
I also put a wee photie competition together: spot the wildlife.
At the time and again last night when I was putting the folder for the talk into an external drive I was surprised by just how few shots of wildlife I have.
Every trip I've had has in it somewhere a memory of some creature doing something or other that made me laugh or wince or stop and watch. But when it came to finding something to show the youngsters, I ended up having to scan some stuff from old prints.
The eagle and the crow dogfight above Glen Affric? Memories only. Dammit man. I did however snap the line of deer on the corniced ridgeline above a couple of hours later.
The mountain hare on Beinn a Chaorainn was a solo performer, the mass band on Ben Chonzie that skipped around us as we tramped the slopes? In my mind files only.
I actually think I was taking a photie of that stove in the observatory ruins on Nevis below and that wee snow bunting got in the way.
Caught on film on the summit of Ben Hope, a ptarmigan clearly not shocked and stunned by visitiors to its lonely perch.
I love ptarmigans, they should be our national bird, they represent the national psyche more than a golden eagle. But that complex explanation is for another day.
I do actually have a lot of ptarmigan photies, but this old one is my favourite. A happy day that was.
It wasn't so long back that the bird below was soaring above my camp on Sgurr an lubhair. Is it as buzzard, a raven, a golden eagle? The silhouette can be read as any of those on the full size shot.
I don't even know if I was snapping the view or the passerby.
No conclusions being made here, no planned changes to the approach, just mermorical (did I just make up a word? awesome) musings.
Anyway, sometimes I do zoom right into the wildlife. Maybe I should do it more often.