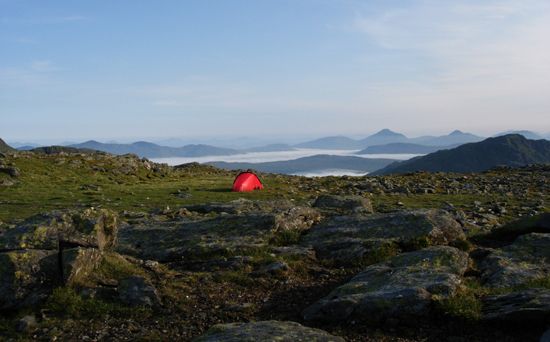 I'm wild camping in the Loch Lomond & Trossachs National Park in that photie above.
That's something that is very dear to me indeed, the freedom of the hills. But although access legislation gives us a legal right to be there, how we conduct ourselves and how we treat the ground on which we walk and camp is what gives us the moral right to return.
We all know the score, leave nothing but footprints and a slightly faded patch of grass, send nothing but tweets or pings and take nothing but photies and stories to last a lifetime. And nice wee stone for the fireplace.
The Loch Lomond camping ban is now in the machinery, what the label reads when the can drops onto the conveyor belt, we'll see in due course.
In the mean time, the wild camping project with the Park folk is happening next week. The BBC and the Daily Record are spending the night (somewhere in that shot below…) with Geoff and Grant from Park HQ, Stu who'll be filming it, and myself. We'll be looking at everything from where to pitch, cooking, safety and why everyone should be wearing trail shoes…
I've been kitting out the team with packs, tents and more, so there'll be no overladen DofE lookielikies, and I'm hopeful that we'll have a good time out/up there.
The message? It'll be something different for all the participants, and I'll cover that later next week.
But, I know already what I'll be saying.
I'll always be wild camping in the Loch Lomond & Trossachs National Park, just like in that photie above.