Ben Lomond is often said to be the start of the Highlands, but it's nothing of the sort. It's the start of the Munro's, the Southern Highlands are further south if you want to slow down and look for them.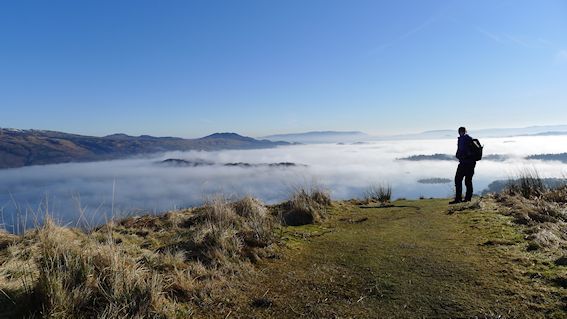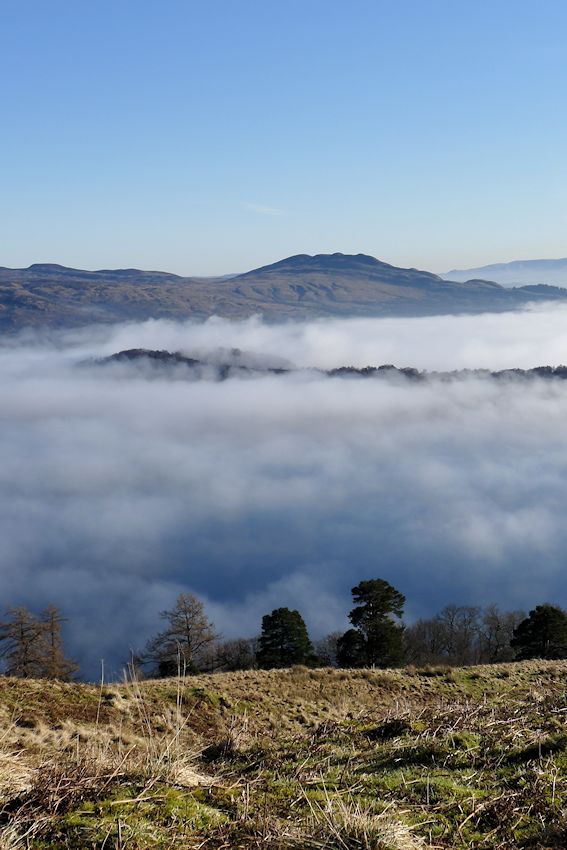 Dropping the wean off at school, breakfast with Joycee from Aulds, yes Greggs is dead to me now was all good stuff but also all done under a blanket of fog which I knew wasn't awfully thick and the sun was shining above it. A text from Craig "we're in the studio at 6" should have stopped me, but what the hell, there's mountains just around the corner, I've got all day.
I was in Luss before my Rogue Male CD was more than half way through, and considering it's a reissue of an 80's metal cult classic originally on vinyl means less than 20 minutes a side and that I should be in these hills more.

The footbridge over the A82 is driven under more than it's crossed which is a shame. The Luss Hills are a little island between Loch Lomond and Loch Long, shapely ridges and tops sliced by glens running from loch to loch and coires dark and quiet for us to explore. Just don't go too far west or you'll trip over a squaddie lying camouflaged in the undergrowth. I heard them shooting at each other later in the day. "Danger Area" it says on the map. Welcome to Scotland.

The inversion was breaking up, it wasn't a classic by any means. The best one was the '71 Inversion with the Chrysler V8, a true classic but as hard to find as to afford, so I was happy enough with this one for a Tuesday.
I started meeting people, all smiles, all chatty and the banter was as encouraging as it was enjoyable. I was just going to snap the inversion and head back down, but I found myself happily walking onwards into the unfamiliar surrounded by the familiar. I couldn't remember ever walking this path, but circled around me were white spattered peaks as far as the eye could see and as I walked I realised that I'd climbed every single one of them, often more than once.
If we're the sum of our experiences I wish I'd been better prepared to record it properly, I've always been rubbish at sums. When prompted it all comes back, in great detail too, looking at the chain of tops around Ben Lui took me back 20 years to a spring day with Jimi where a dawn start to tackle all the Munro's still saw us stuck in the forest late in the day. It was Poppets chocolate raisins that helped us keep our nerve.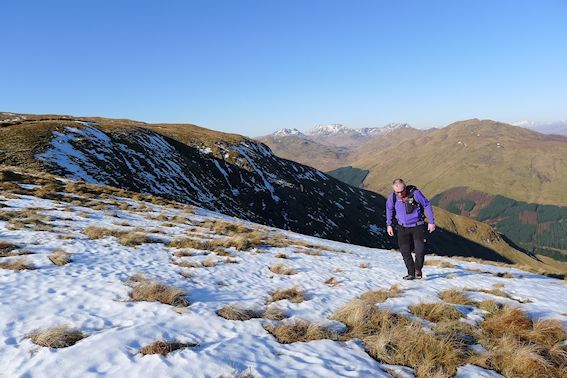 An older couple on the top of Beinn Dubh had walked the horseshoe and their enthusiasm for it set my course for the same port across the head of Glen Striddle.
Short grass, hard ground underneath, blue sky above, perfect for walking. But the wide wet bealach had to be negotiated and I had two choices there, skip around looking for little dry islands or just walk across it. There were some snow banks, some ice and still some frost in the shade. Any water had a thin film of clear ice protecting it and it was a little creaky snap of this crust that saw my mesh shoes sink ankle deep into freezing cold water.
Maybe it's a guilty pleasure, maybe it's bravado, but it just made me smile. Good shoes, good socks, and every puddle after that could do no worse that had already be done. I strode across the bealach with a grin on my face.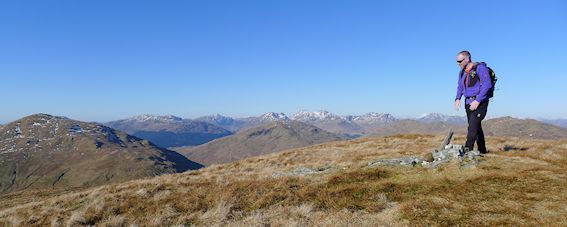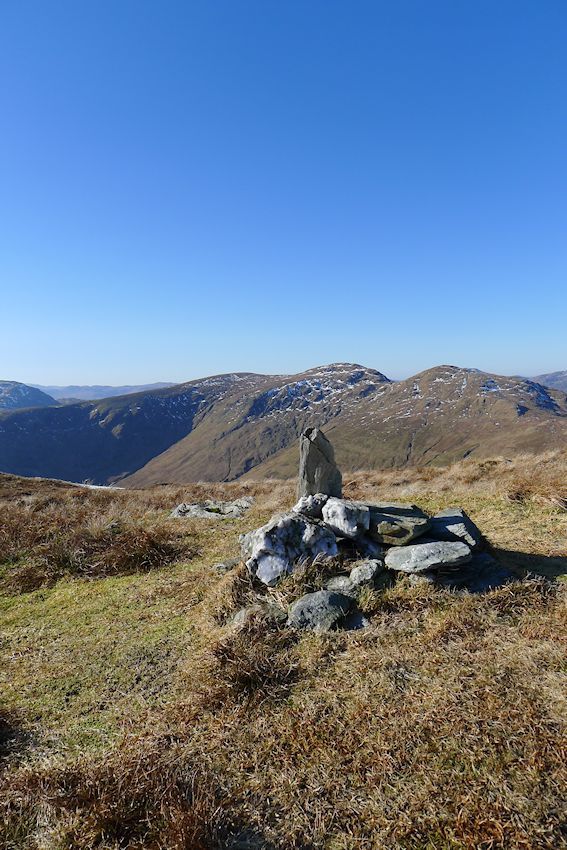 The Arrochar Alps felt close, so did the gunfire over the next ridge. I sat by the almost sarcastic little cairn on the second top and had a cuppa with some home made bananana loaf.
I had carried my secret weapon and it could have been an hour I ended up spending there, lying on the sun warmed grass scanning every peak and ridge with the binoculars. It's so much fun and brings a whole extra dimension to your day, scanning future routes, looking for wildlife or watching the 30 or so people on the summit cone of Ben Lomond. Bless them, I bet they were having a ball.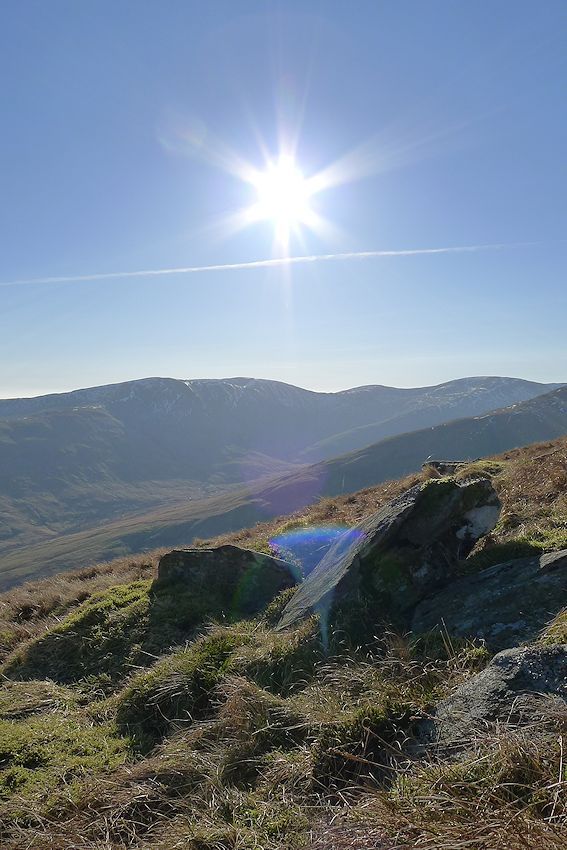 All downhill from here, but what views to descend to. These are fantastic hills, aye they might lack some of the drama of bigger peaks, but there's so much character here, and such great accessibility.
I passed a group of young folk for the second time, all giggles they were, I could hear them on and off the whole trip whether I could see them or not. That's how it should be, the hills are all about joy.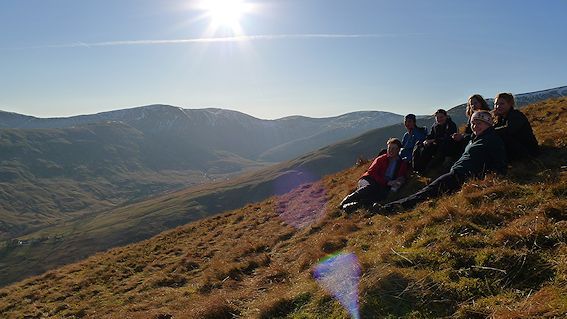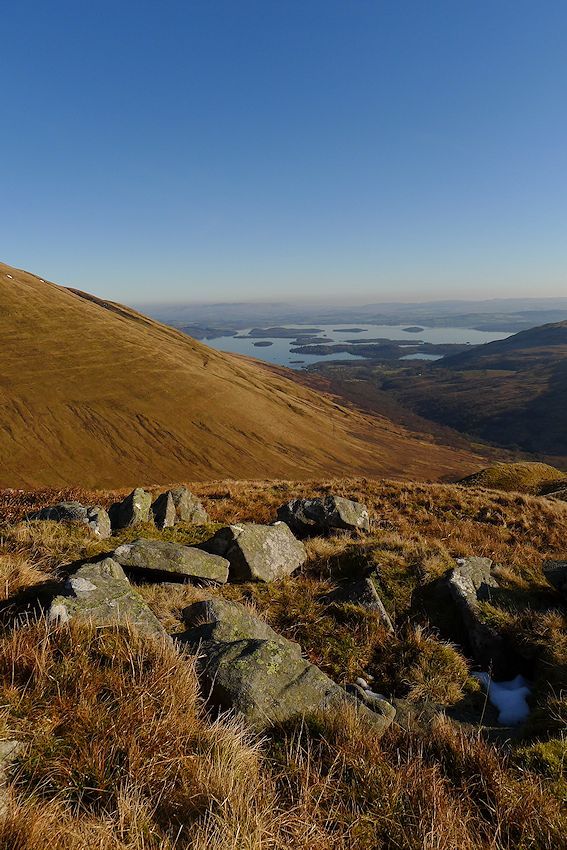 The bridge with the rams head was a conundrum for later research and the Luss Glen road is a picturesque and a pleasant way to spin away the last few k's of the day. The bridge back over the road threw up one last wee curio.
Right below me a Range Rover Vogue pulled onto the verge and slipped into the ditch. The driver then dug a trench in the verge as he wrenched and spun the motor back out, and given the noise of the vehicle on the tarmac and his hasty second stop it looked like he'd torn the arse out of a very expensive truck.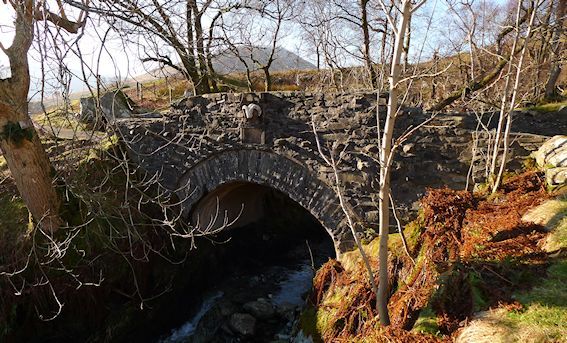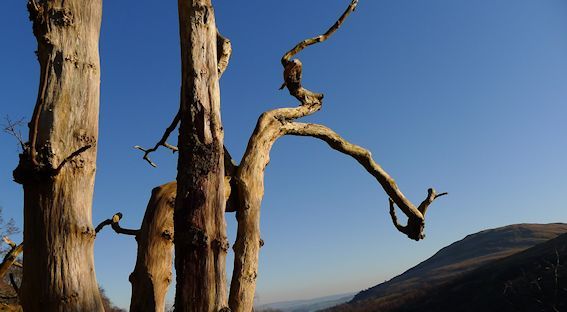 I changed the CD when I pulled back onto the road, Therapy?'s So Much For The Ten Year Plan went in because I hadn't heard it in ages and brought along for something different. Screamager's first lines brought a wry grin on a day of many grins with their timely observations: With a face like this I won't break any hearts, and the second line which in my head has always sounded like, but isn't: A figure like that won't make any friends. Looking at the photies, I'm getting old and maybe a bit out of shape right now, but all that's only on the outside. That makes a big difference to the inside.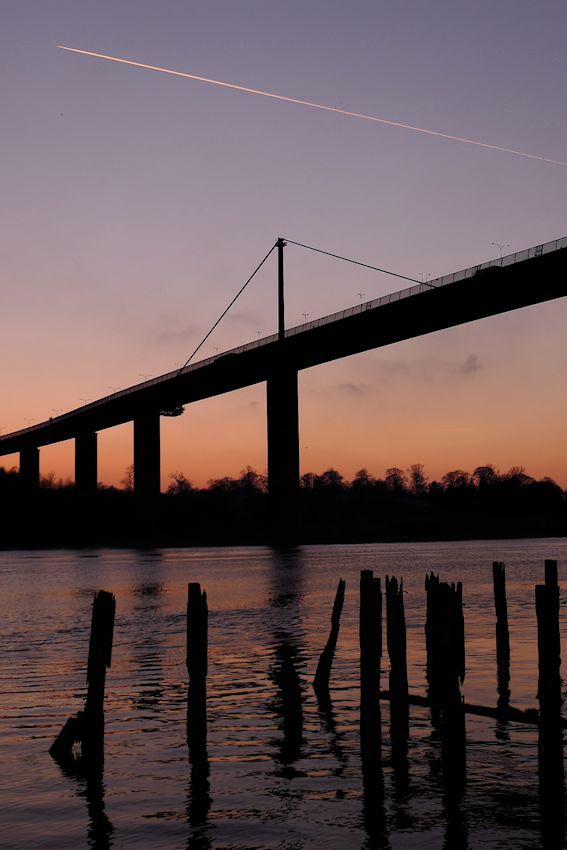 I did get back in time. On my way to the studio I swung down to the old Erskine Ferry site to take a couple of photies of the bridge as it was all picturesque and colourful. The chippy I picked up on the way was a delight and then the studio was a joy all on its own. Mind you, you'd think I could still make a racket with less stuff around my feet than this.