But that's getting ahead of myself. I had laid everything out the night before, before we headed into Glasgow to see 80's NWOBHM legends Demon play a fantastic and insanely loud set at Ivory Blacks.
We got back and I was out before my head hit the pillow, so much going on recently I think the blowout that was the gig reset my dials and I just shut down for some re-calibration.
This did mean that when I was woken up by a lovely surprise breakfast that I was at first confused and then really rather demotivated for heading out, despite the weather being eyewatering through the gap in the curtains.
Linda was having none of it, she pushes me when I need it (whether I like it or not) and this time the push i needed was to be abandoned while she went off the park with here maw (Hey Babs!).
I initially sat with a cuppa with the music loud, the pile of gear in my peripheral vision not being ignored as such, just a little overlooked. I put the kettle on for another cuppa, but this time I absent mindedly filled the flask.
Ah, I guess I am going then. I was ready fast but oh so appropriately, so very righteously, so completely joyfully, it was late when I left.
There were two places left at the Bridge of Orchy car park which I was glad of, and was happy to reduce that number by one. I stuck an old pair of winter Keens on and I was away. As I walked up to and crossed the road I could hear something, machinery, rumbling, maybe a generator? As I got near the station I could smell that sooty diesel perfume of vintage joy at the same time I spotted the freshly burgundy painted Class 37 sitting at the platform.
I speeded up in case I missed it and leaned over the level crossing gate with my camera to catch it leave.
"My camera" being a now almost vintage Panasonic Lumix LX5. It's the only functional camera I have now and as it turned out, I'm quite happy with that.
However, leaving was apparently not on its agenda given that there was no one in sight anywhere on the train or in the station.
"Is it possible to steal a vintage train" and "Would it be worth the hassle when they got me for the absolute joy of tearing up the track to Fort William with English Electric power roaring behind me…" were two things that absolutely did not come to mind as I walking along the platform to find another vintage joy, a Class 47 pushing from the back.
I really could have sat and waited all day, the sounds, the smells, those happy 1950s locomotive faces smiling at me, but no. Those streaks of snow high above me were calling. Loud and clear too. It was with lightness of foot and heart I skipped down the station stairs and onto the path into the coire.
It was bright and breezy but I was warm and didn't need gloves yet, there's a rare pleasure. I soon started to run into folk coming down (yes, it was that late in the day) and almost everyone was happy faced and wanted to chat in the passing, I didn't have to trap them or anything.
It became a welcome punctuation of my ascent for the next couple of hours, a chance of a wee rest, a good few laughs and many words of caution. Was I kitted for ice and snow was a common concern and did I know how to get down in the dark was one inquiry from an older gent wearing gaiters and a raised eyebrow.
I found this heartening. So much of life post lockdown (I use that with caveats obviously) has me seeing angry ignorant people everywhere, but in our hills I'm finding the best side of folks, especially today. It was a real highlight and it's making smile again writing this.
So aye, ask me if I know what I'm doing, I'm not offended at all. Looking out for each other is maybe the finest of human qualities and I wish it was all pervading in our lives.
I loved these guys. The wee dug had got sore paws on the ice and was hitching a ride back down. I hope you're good folks, thanks for the banter.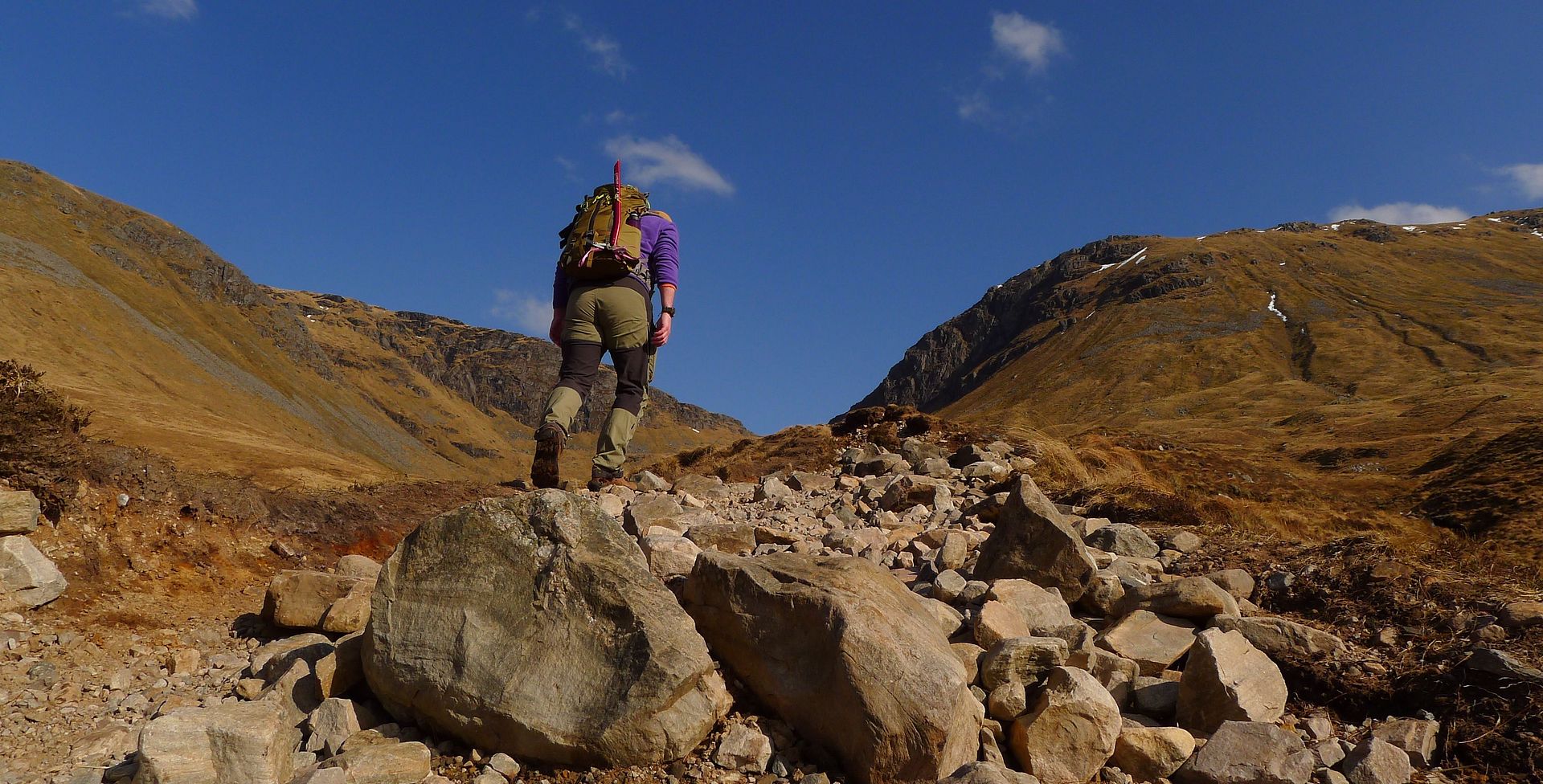 Using the old camera again was a lot of fun. It is more limited in it's scope, terrible zoom, no automatic lens cap, but I think it takes a nicer looking photie than its replacement.
The timer is a wee step back, I'm running around counting out the seconds for the single shot at the count of ten. I got it wrong so many times, never seen myself girning into the lens trying to figure out of the shutter's gone so much as I have tonight looking through them all. Loving it.
This boy wasn't hanging around.
I could see some coloured dots coming down towards me (they are in the shot, oh yes) and by the time we got close I knew what was wrong, I put my hands up to stops them "Guys, you're walking in the wrong order. It's red, amber, green…" They looked at each others jackets and when the penny dropped I got laughs rather than abuse. Okay, they said we'll walk in proper traffic light order until we're out of sight. Good, some things have to be done right you know.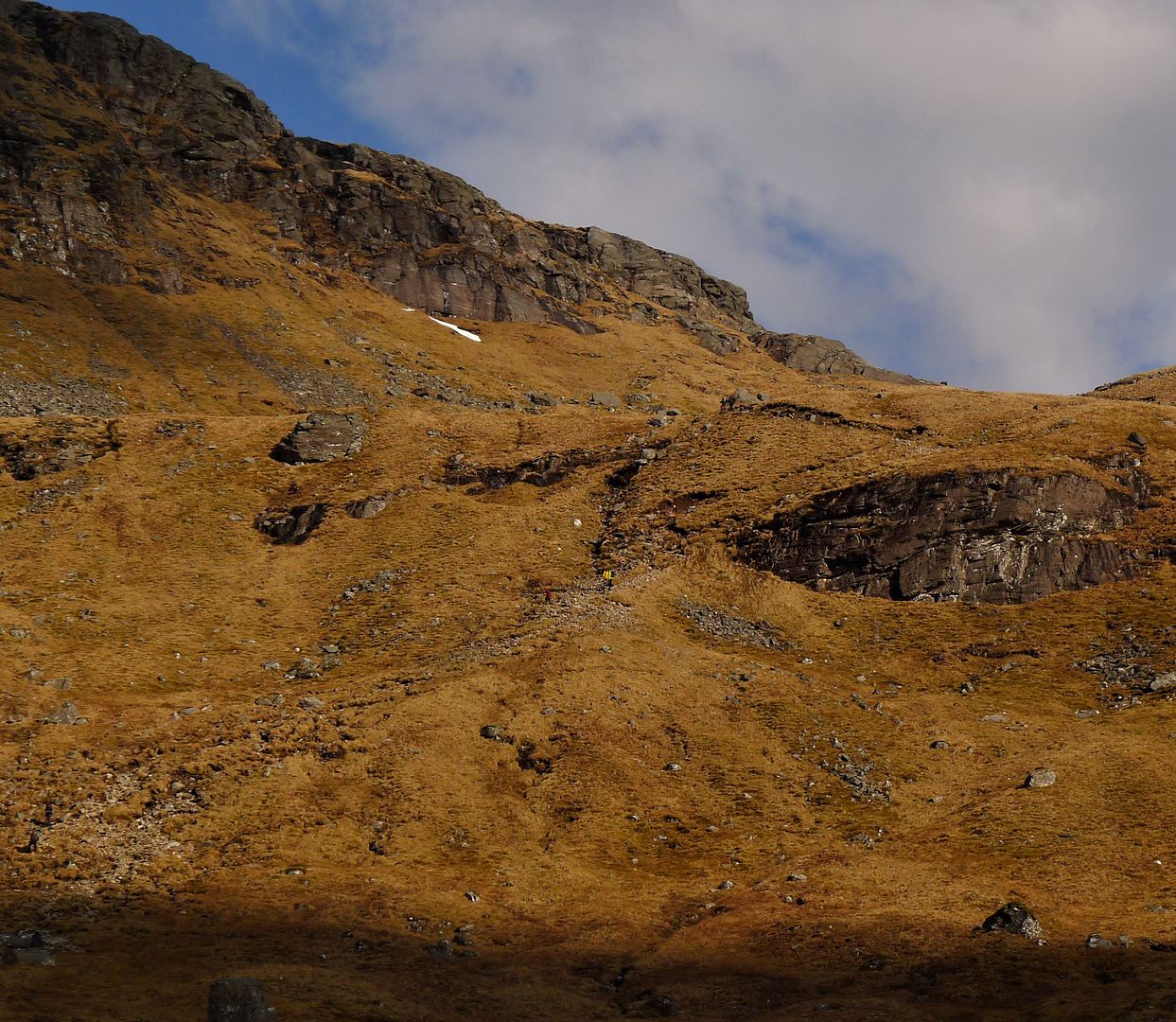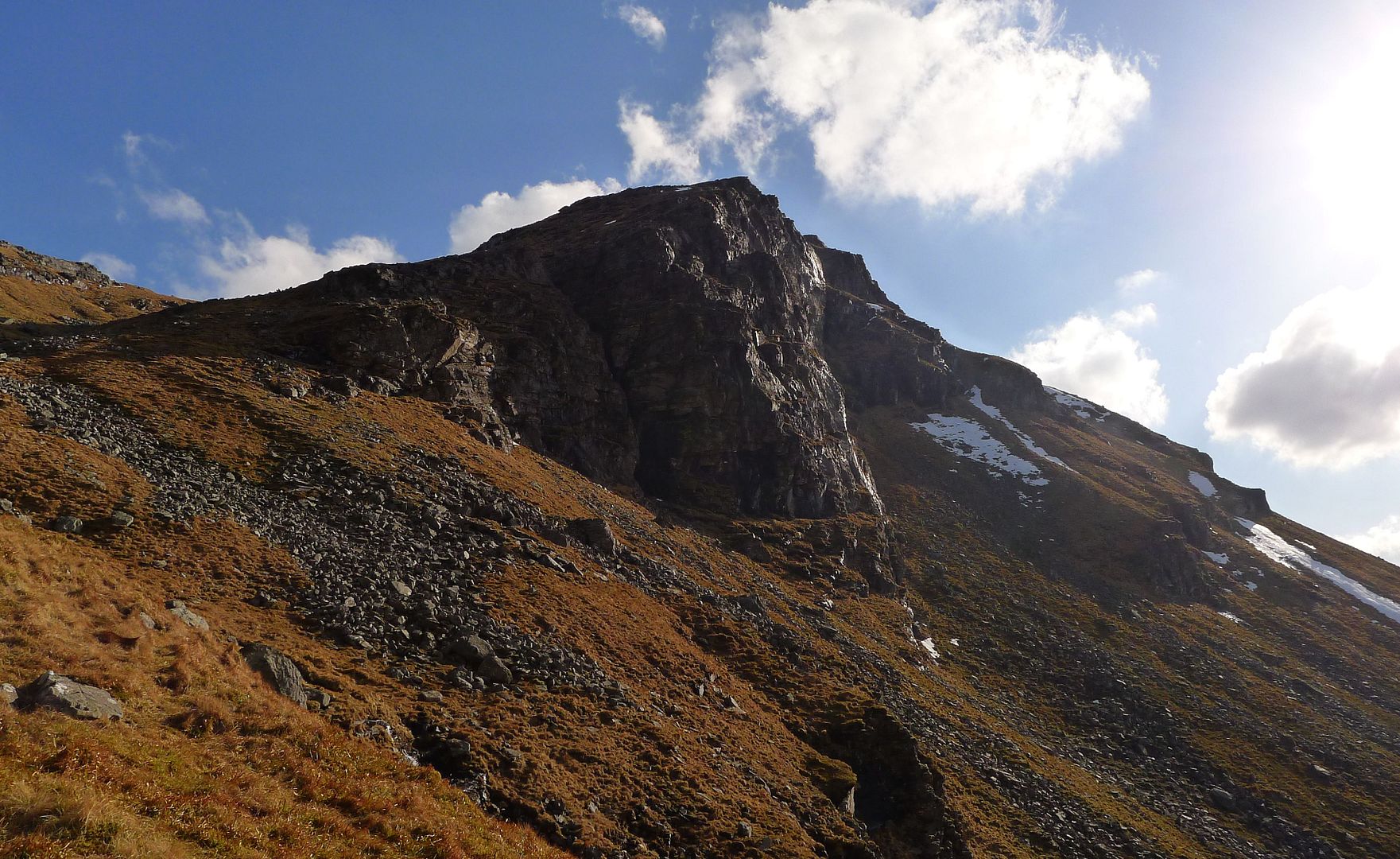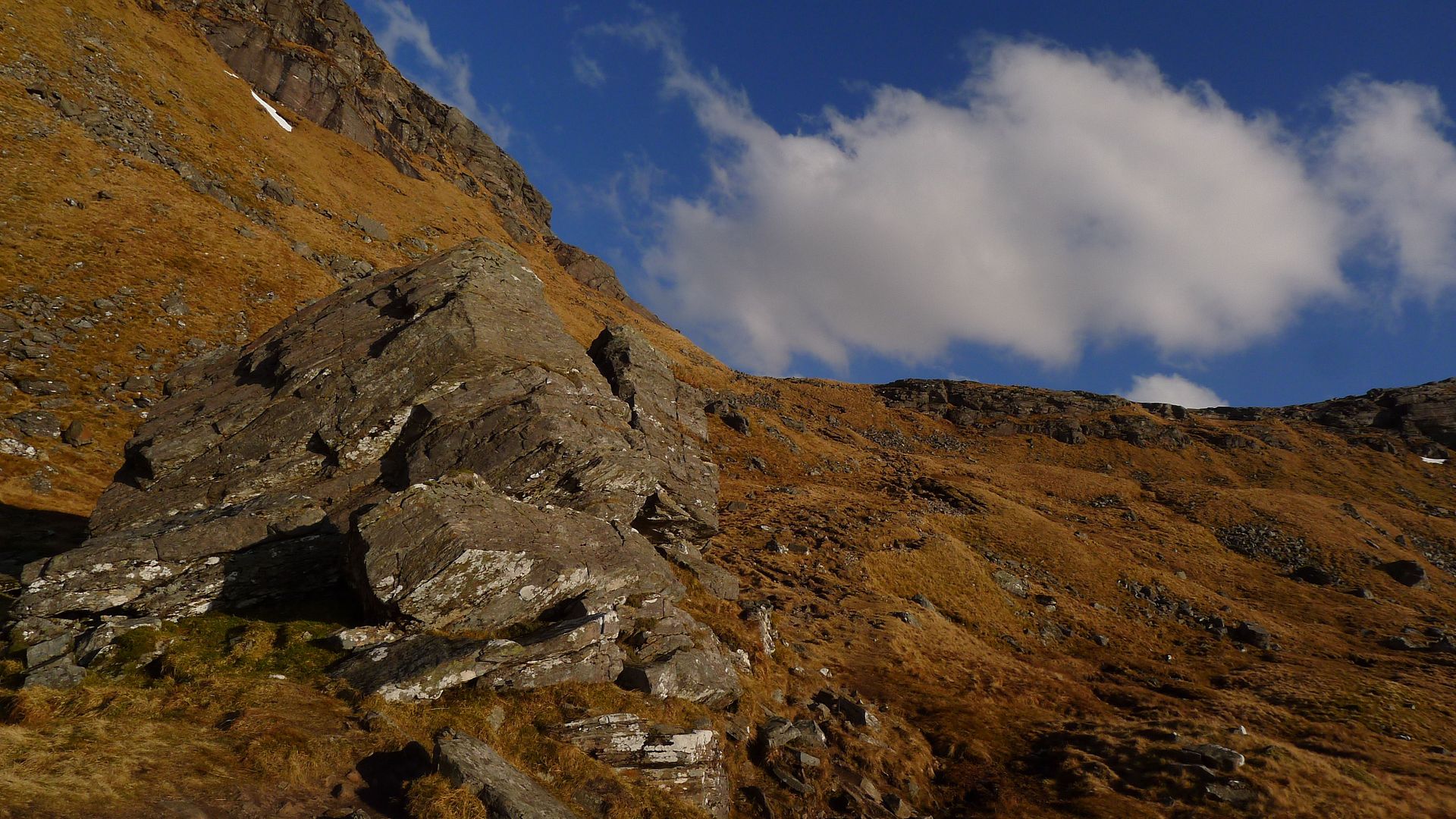 Coire an Dòthaidh is a fantastic place. Crags rise high on either side and a few boulders sit proud above the grass and bog to give you targets and leaning posts as you tackle either the slippery peat or mobile gravel paths. It has got more eroded around here since I was last this way.
At its head the coll gives nothing away at all until you stand on it with the little lochan and the sudden wonderful views.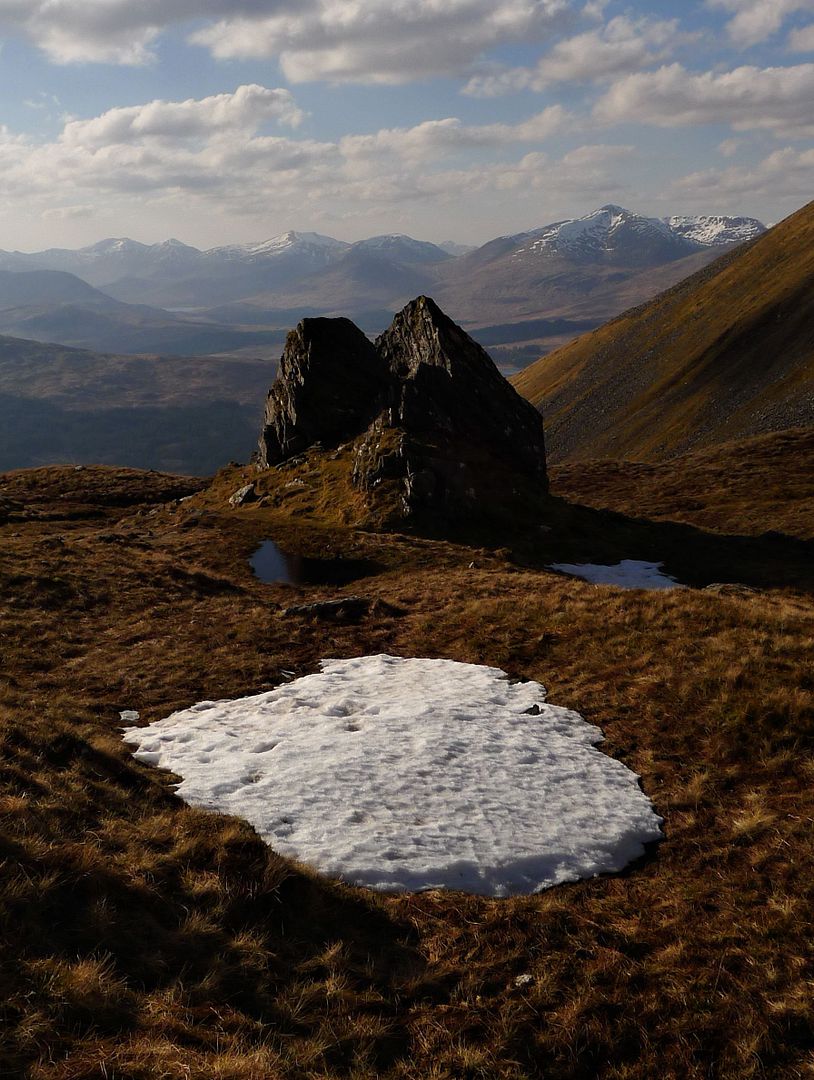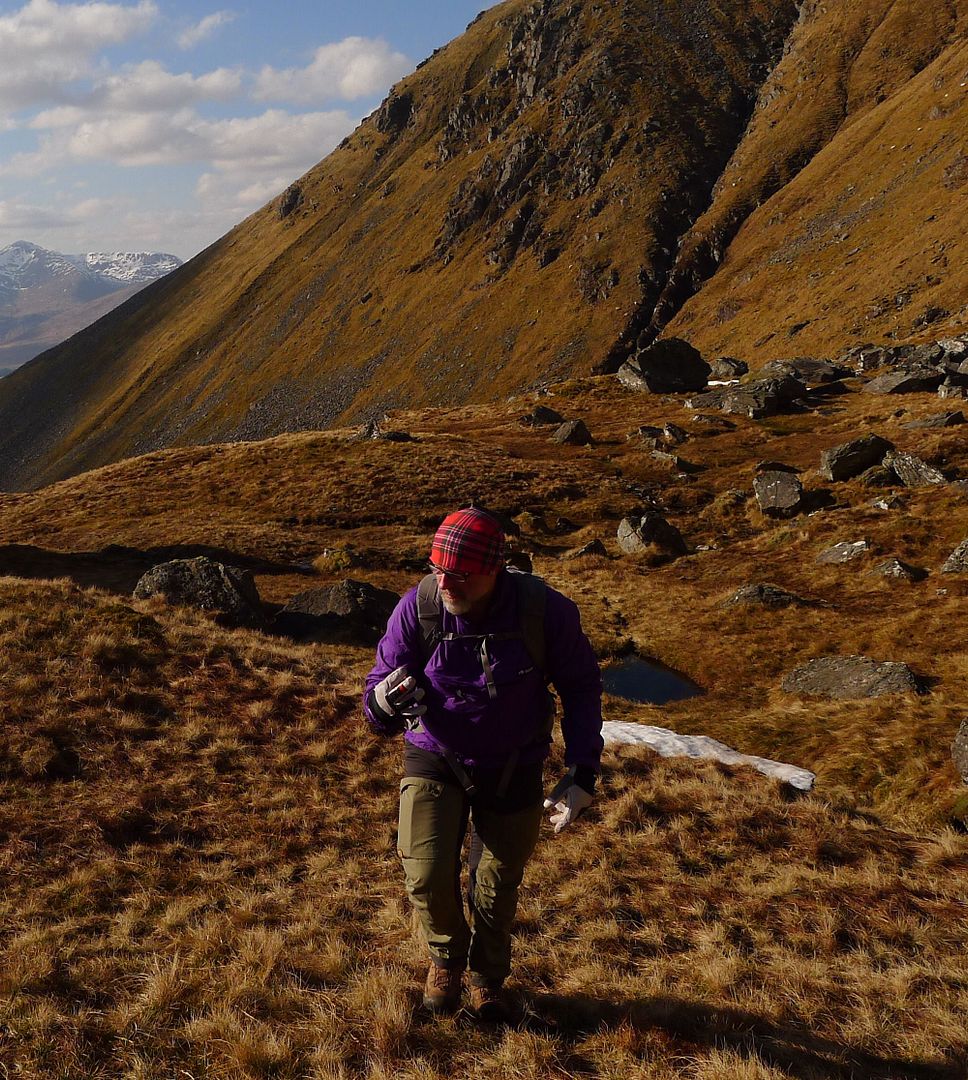 It was cold here though, the wind was coming straight for me now. I pulled on my windshirt and beefy gloves and I was just right again.
I looked to my right, beautiful Beinn Dorain, the iconic and shapely beacon that welcomes us as we climb the road to the central highlands. It's much photographed, much visited and in my early days it was high on my must do list. But now I think that the best looking hills aren't the ones you should climb, it's the ones next to them that deserve your attention. For one, you get to look at the calndar stars from an unusual angle, and also they ugly sisters are always quieter. I mean my best day with Buachaille Etive Mor was probably my winter camp on the summit of Beinn a Chrùlaiste about 100 year ago.
So, I turned left onto the rocky path to the wide shallow hollow that tries to be the southern coire of Beinn an Dòthaidh.
I chose wisely. The back end of Beinn Dorain looks mighty from here and I saw one other person from leaving the coll until I passed car on the way home hours later.
The wind was whipping across the whole time but I was still cosy enough in my light layers and I was moving at a moderate pace to keep my vitals on the right side of the line. It was unbroken snow for hundreds of metres ahead and it was soft after hours of sun, I wasn't fighting that. I've got plenty of time, I'll get to the ridge when I get there.
A friendly youngster caught me up on his way to grab the summit before shinning it back down to catch up with his girlfriend. I pointed it out, I suggested he take a line around the head of the burn as I could see the snow over the water there was many feet deep and he could catch the path easy enough on the other side. He followed my advice, took a safe line and he moved fast, but he missed the summit. I won't tell a soul, it's just between us.
I got to the edge and it reminded me why Beinn an Dòthaidh is actually a brilliant hill and in no way in the shadow of its fancy neighbour. For a start there's the views to Beinn Achaladair's fine flank and beyond, but right in front of you are fantastically steep and rugged cliffs and today they were wonderfully corniced.
I was quite happy where i was to be honest. I've been here since, but i haven't actually stood on the proper summit since the RAF had Jaguars in active service. This is because I looked down on a Hercules and two Jaguars up to something warlike in the glen below while I had my lunch.
Wait, going to check Wikipedia…
Okay, so they were retired in 2007. Nah, it was way before that, 90s probably.
Anyway.
I was quite prepared to hang out where I was but the summit looked really rather pretty, a snow crusted fin sticking up only a few hundred metres away. Off I went.
Now I forgot to mention that I'd already lost my sunglasses, my good clip–ons too. The last ever made in the Scottish Polaroid factory. That's okay though, I rarely lose or break stuff and it's bound to happen from time to time so I can't complain and I was having so much fun that it didn't damped my joy at all.
The camera and tripod spinning through the air as I tried to take some timer shots did upset me though. I saw it hit the rocks and when I got close I saw it hadn't landed on the lens which was still extended, I lifted it and turned it over, deep cuts in the screen like a tigers claws or something… oh dear god, that's it.
Off, on, off , on, press, click… Bloody hell, it still works. I need spare of this model. I was more careful from there and the summit visit was joyous. The light had faded and warmed, a haze had settled and broken clouds were skittering over me and trying and failing to block all of the sun.
This was perfect.
Back on the slightly lower top I found a painted rock that had placed there recently. Whatever your views on memorials and the like being left on the hills, if you have a soul you can't argue with the message on this one.
I headed round to a familiar spot, a small crag where Phil and I had camped a few years back. I put my down jacket on and cooried down out of the wind with a hot coffee and just watched the sky as the wind whistled over my head.
There's an odd mix of calm contentment and bubbling excitement at moments like this. I grin so hard my face hurts, I jump up, run around with the camera laughing and sit back down out the wind and clench my hands like a five year old who's just seen their birthday cake. Then I sit and stare at the dying sun as my cheeks chill, my breathing slows and I can't hear the wind anymore, I'm just there. Perfect peace and perfect joy.
I used to say we're all just dressing up to go out and play and I've never felt that to be truer, but it's so much more besides too.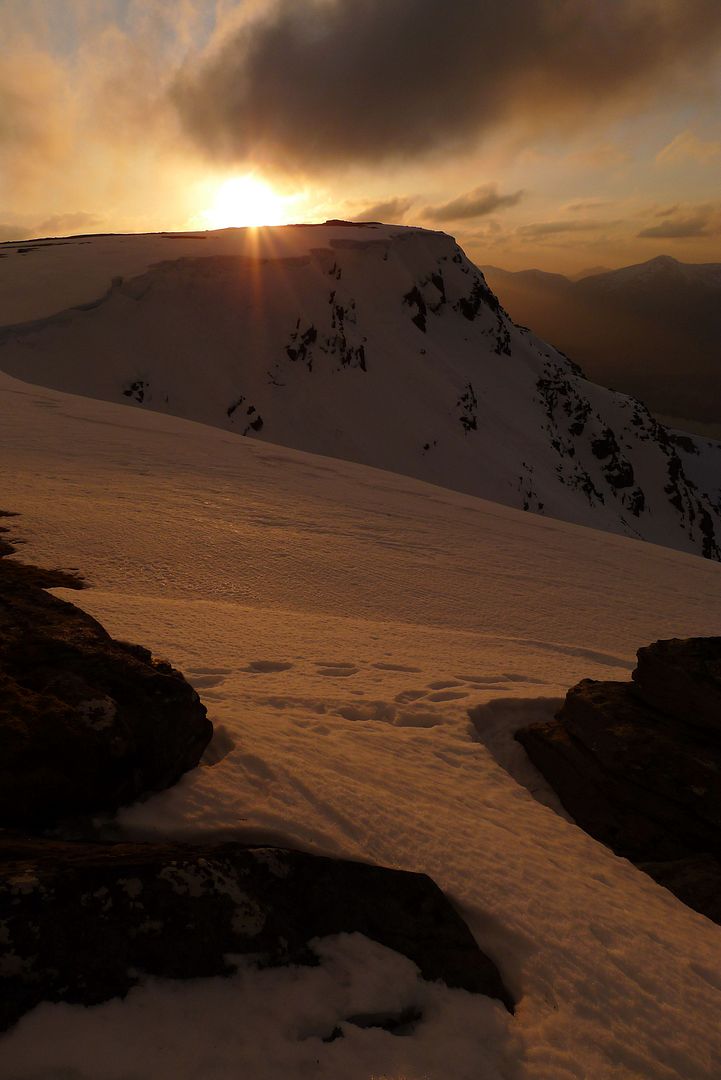 I stayed where I was, why would I want to leave? I wasn't cold, I was wrapped up and had plenty left in my flask and the sky was beautiful. There was thicker weather coming from the east but i wold just descend out of that, I had a plan for that. Me and Phil took a steep but very doable line straight down from where I was down to the station, I'd do that. I had plenty of time.
I sat back down and let it all go in front of me.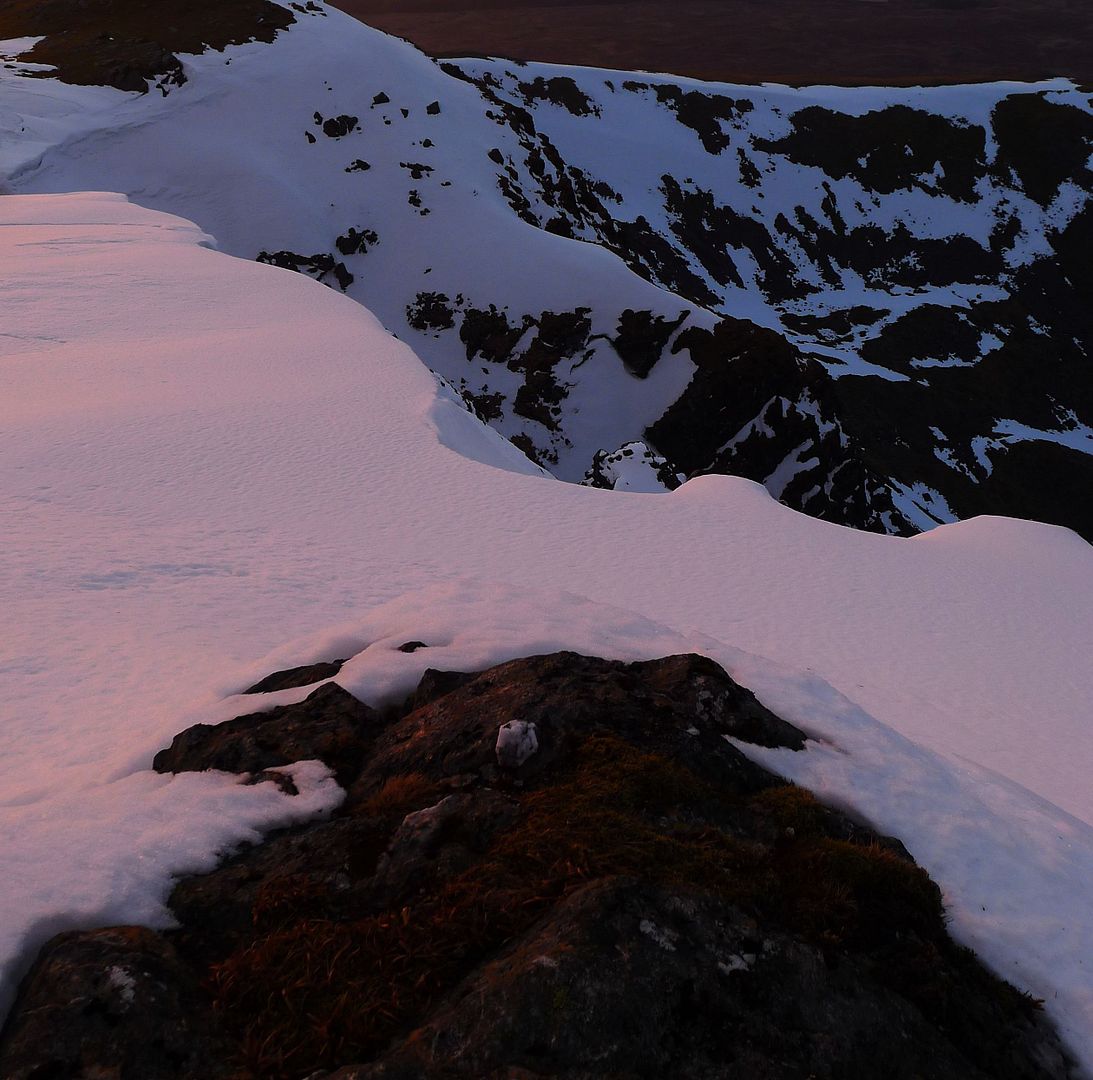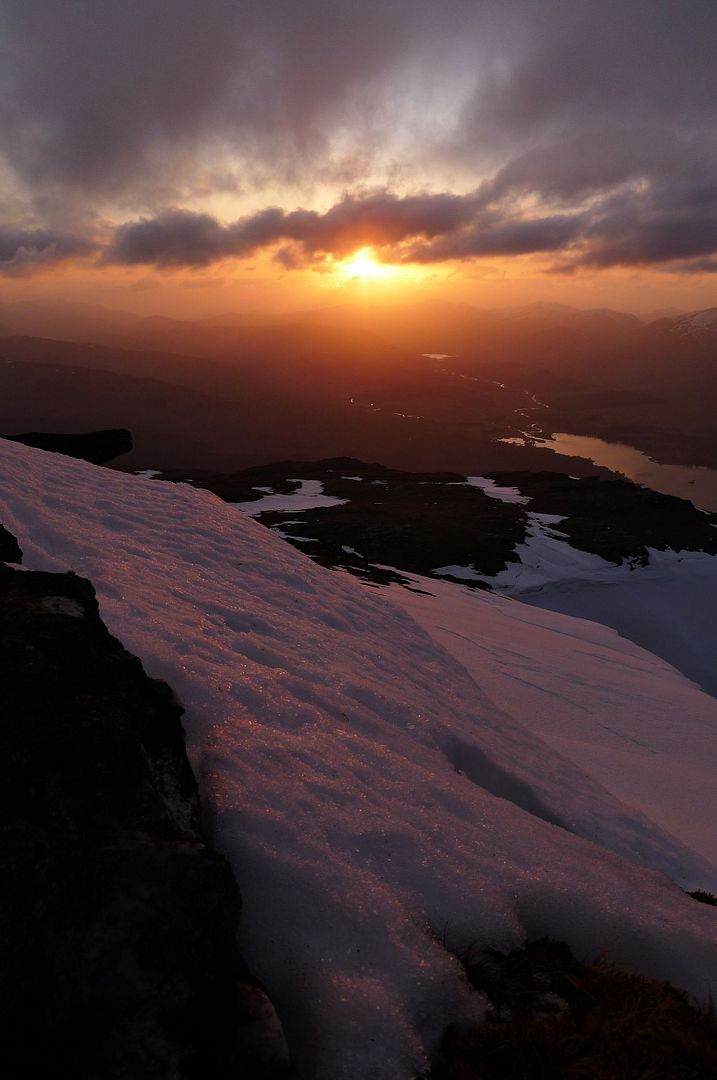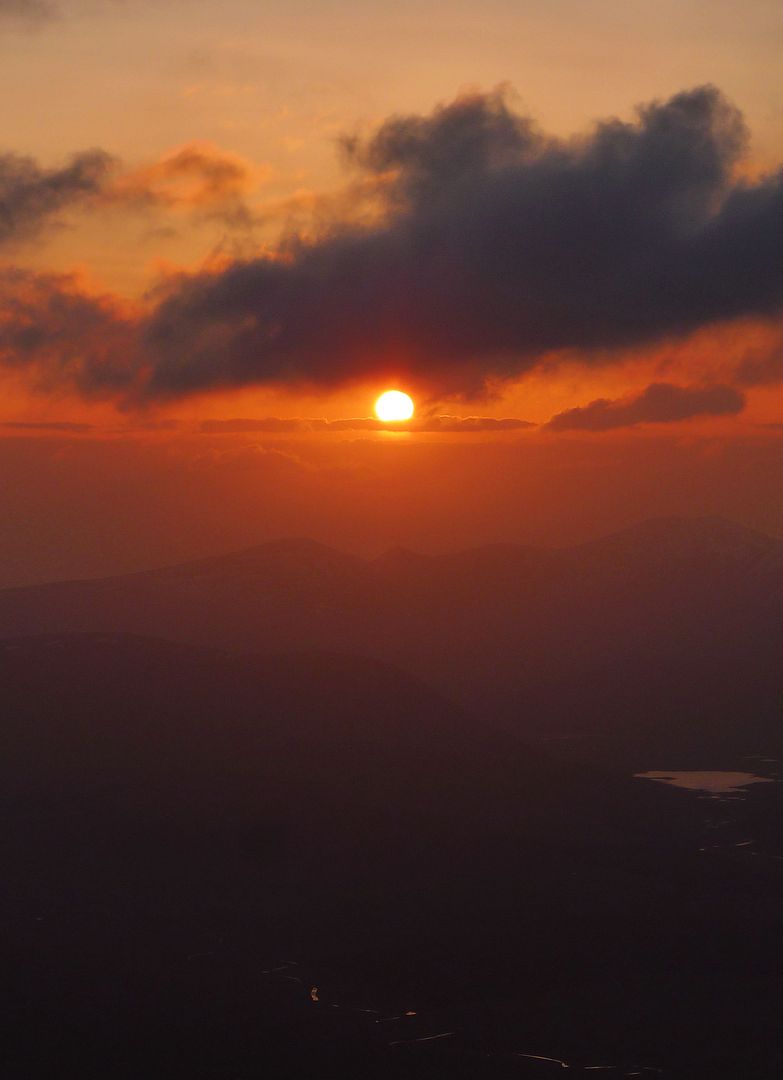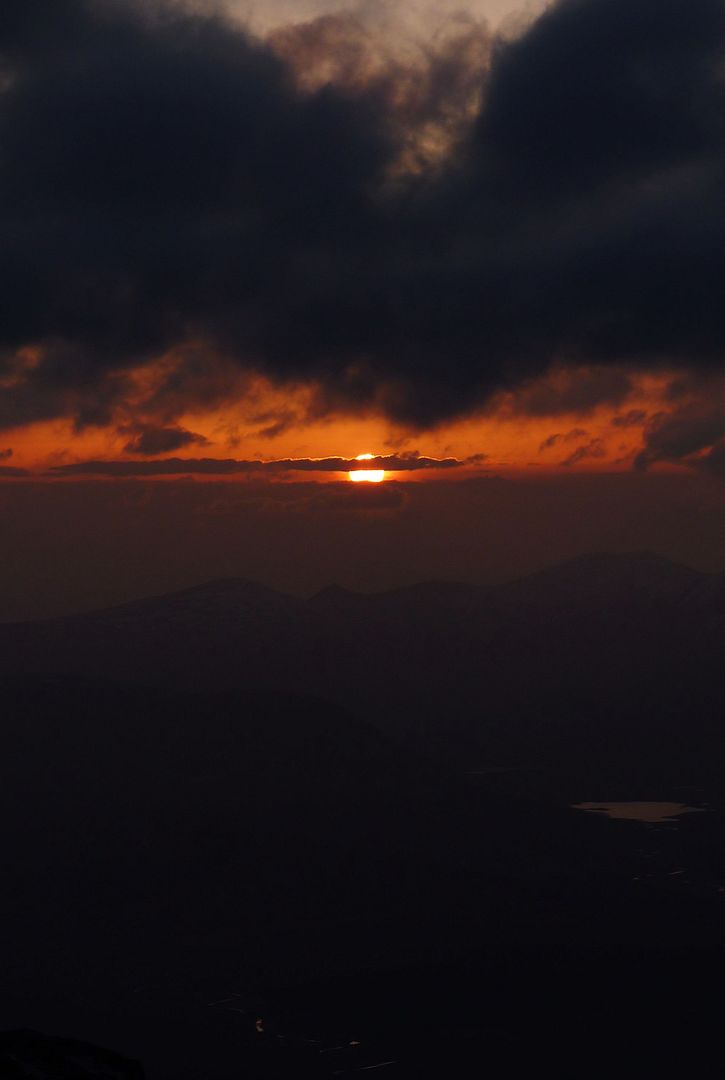 When the sun went so did I. I packed up and followed the edge of the crags down to the wide shelf below. With all the colour now gone with sun the rock and snow were stark monochrome opposites and the realities of their danger felt almost oppressive as it grew steadily darker. I took a safe line onto the grass and pointed towards home. The mountain world is indeed one of contrasts and you need to sample all the flavours to try and make sense of it, not just your favourites.
It was pleasant walking. The snow patches glowed against the deepening black of the hillsides and the horizon glowed wearily as low cloud rolled in and shut out the last of the days' light.
I got to where we descended the last time and I did not like the look of it in the dark one little bit. A damp band of black rocks with nothing visible beyond. I checked the GPS, I was exactly where I was supposed to be but was I about to take a leap, or possible slide and roll of faith? No, of course I wasn't.
Back uphill it was. The mist was fully in now and the light was completely gone, I walked through the haze of my headtorch beam in a lazy arc that would take me on an easy–ish line for my now tired legs over the lowest part of the ridge above and into the shallow bowl behind where I'd find my way back down to the coll.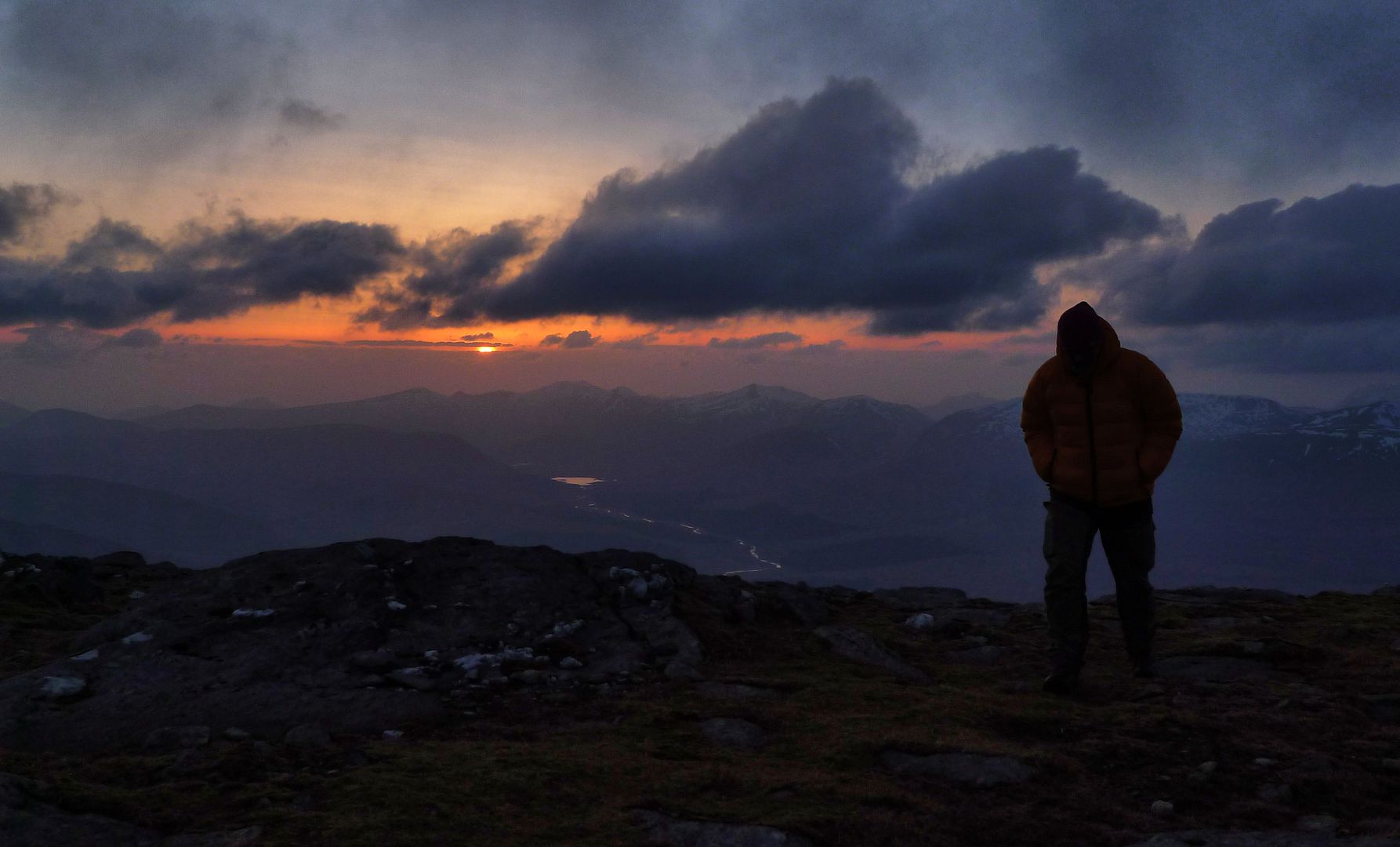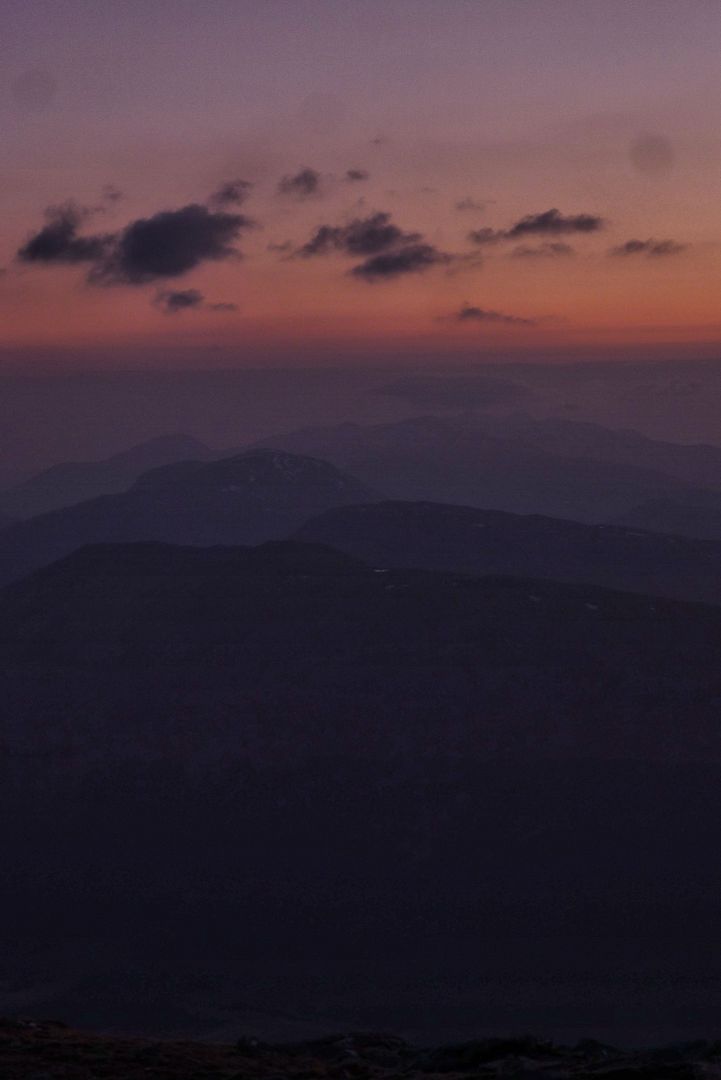 It was fine, I knew where I was, I knew where I was going and at no point did I waver. I think I needed this, a wee challenge for my mountain brain after possibly too long having it easy.
I swung round south once I got onto a big snow patch and I eventually caught up with some footprints and then the path as the snow started to break up. Within minutes of reaching the lochan and the coll the mist cleared and the stars came out to cheer me on as I slipped my way down the eroded path. Aye, thanks for that, half an hour earlier would have been better.
The stars twinkled as the lights of the station and the hotel floated in the black ahead of me but grew ever closer. I was hungry again, the diversion was done at a slow pace and I'd been out a lot longer than planned, but I wanted to get down before I ate, I was too close now.
I could smell it before I heard it and I could hear it before I could see it in the dark. the Class 37 was sitting where I'd left it, engine running. As I got to the station underpass the driver put the cab lights out and shut the door.
Wait, can train drivers read minds…?