We should have been many miles away in amongst hills I have climbed and written of many times but haven't seen in two years. We had a cabin booked, I had old stories to tell and we had so much to see.
But it wasn't to be, Linda's knee wanted to go to A&E more than it wanted to go to Kintail and so here we will stay for now. Am I upset? Not at all, we have all the time in the world for more adventures.
So when checking in on Linda (who is trapped at the top of many stairs for the time being) on yesterdays's unexpectedly bright morning, her boy and my mate Greg was in and at a loose end we decided to head to the crags and have a wee wander.
We'd get ourselves sorted, grab some gear and food and meet at lunchtime.
This was a good idea. Even the heart pounding quick ascent from the car park up the giant's staircase was worth it to find ourselves launched into the most glorious afternoon as we steeped onto the crag edge.
There was clear blue sky, billowing white clouds, dark masses hiding the landscape under heavy showers and all of it being dragged across from the west by a fresh and flighty wind.
Aye, glorious.
We had our shells on before too long as the first heavy short caught up with us. Cold and stinging on my cheeks but unnoticed everywhere else, the joy of being wrapped up and comfy.
The view morphed with the weather, so much darkness, so much light, none of it static. We watched a searchlight beam from an unseen holes in the clouds trace across the glen and disappear, half rainbows teased and faded and we grinned our way to a sheltered lunch spot to take it all in over pieces and flasks.
We took a swing east to find the reservoir and sneak up the side of Donut Hill. Here the wind was at its highest and the camera luckily stopped sliding under it's pressure while taking this selfie just in time at the rocky edge. I think if it had been on a tripod it would still be up in the air just now.
On the descent the last chilled rain cleared to late afternoon sun, low warm and golden. The landscape came alive in classic autumn tones and the sky to the north deepened to a deep azure. Spinning around it was like we were at the junction of different days. I'm saying glorious again. Yes.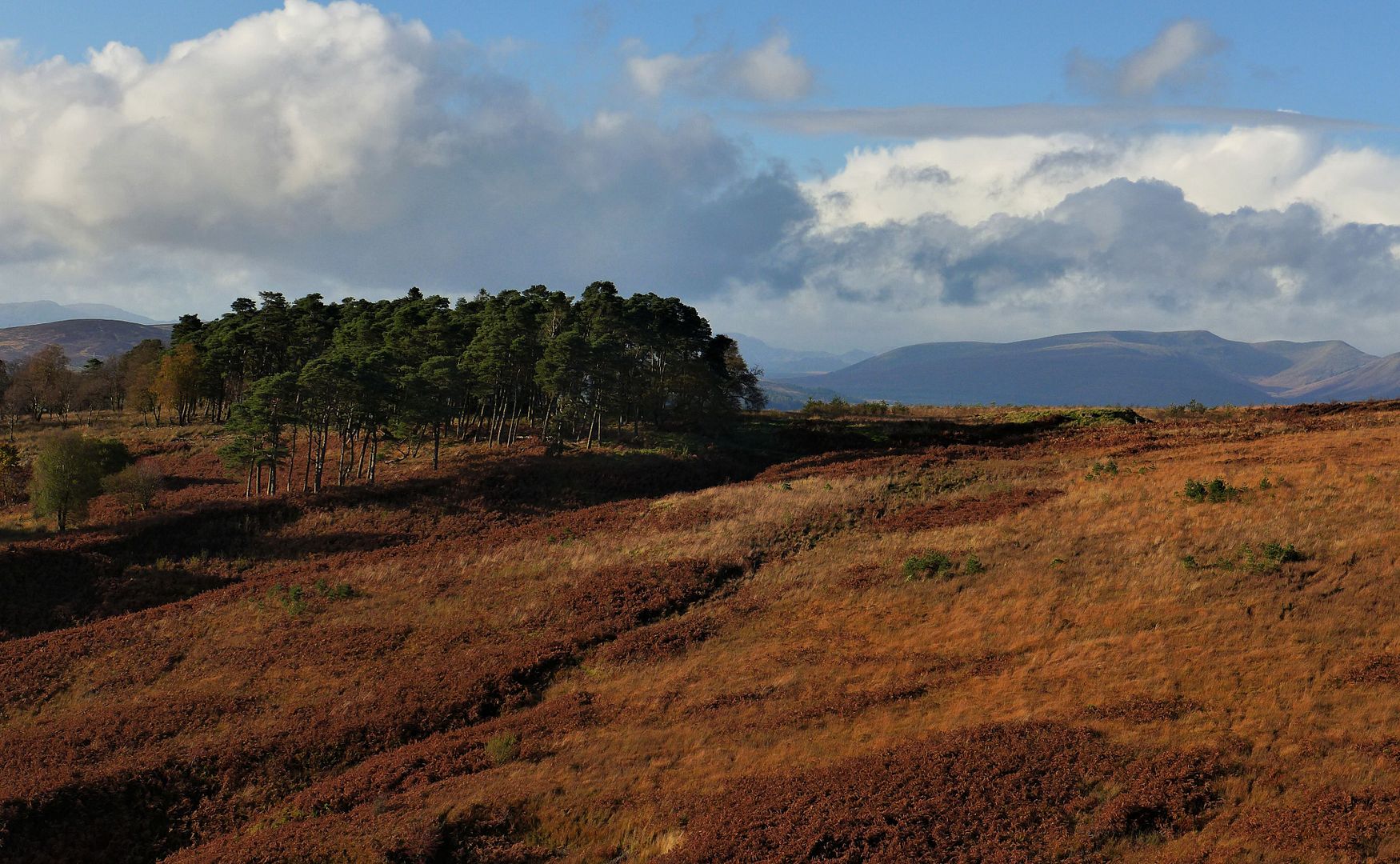 Black Wood's pines remain defiantly green in contrast to the dead bracken and pastel slopes of the Luss Hills beyond.
I love this view, always have and I don't know why it pulls at me so much. The pines, the hills, the loch and the Highlands beyonds, all in one frame. Maybe it's that the world really is on my doorstep, maybe it's the total lack of symmetry pleases my oddball mind, maybe it's just pretty and I should stop overthinking and just shut up.
I'll have another look later in week, see what I can come up with.
The walk out was warm, we could feel that low sun and the trees shone brightly. It is their last hurrah after all.
This wasn't a consolation prize, this was hours of awesomeness. I just can't be sad about Kintail, when this is at the back door.