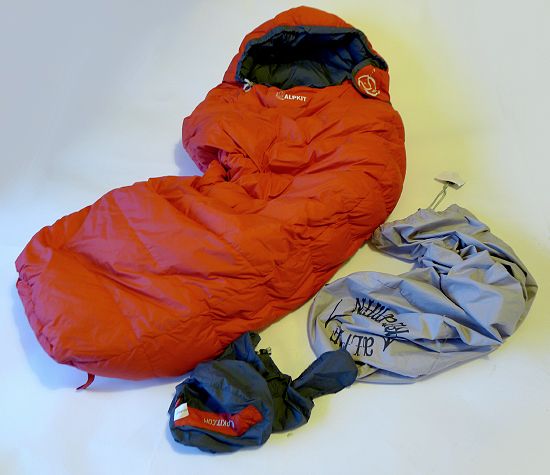 Gone are the days when Alpkit were the new kids on the block and the thorn in the side of the other manufacturers with their sarcastically low prices. Now they're a regular brand with a wide range of kit and they're also now going where other brands fear to tread, the world of proper tech kit for kids. In for Holly to test is the Skyehigh Alpkid 250 Down Sleeping Bag.
Sleeping bag, storage and stuffsack. No messing with the format, no corners cut, no patronising of the occupant in any way, it's a proper sleeping bag downsized for kids.
We've got an imminent camping trip with some new kids (and other) kit where this will be the star as Holly will spend her first night in a tent in it. I'm feeling pretty confident, although there's room for her to grow in it, it's still a slim-ish fit for good insulation and it lofts well enough with 250g of 600+ fill 95/5 down. The hood is well shaped, there's a fat draught collar and the inner and outer are nylon, a soft Tactel inner which does feel nice and a ripstop outer. The zip is full length, baffled and easy to work both by sleepy parents and panicky kids screaming "Where am I get me out of here Waahhhh!" in the middle of the night.
Proper update coming up, but as you can see the wee yin's made herself at home already.