I've had these on test for a few months now. The Bulb has been on every ovenighter since it arrived, and the Gamma has been a regular pack essential, getting just the occasional chance to shine. But isn't that a headtorch's function? Sitting there until you need it and then has to work like a charm.
The detail is well covered on the Alpkit website, as ever all I want to know is what it's like on the hill.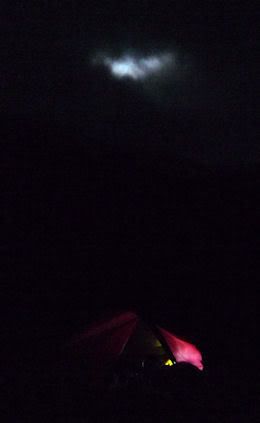 The bulb is a chunky wee thing, it looks a bit like an old miners lamp. It has a button on the side with a tiny dull green LED, which as advertised does indeed make it easier to find in the dark. The button is quite sensitive so pack it carefully or you'll think that your rucksack is like your fridge and the light comes on when you open the door. Except your battery will be getting flat.
It's nice and bright, it makes the tent cheery when it's dismal outside. It's good to have ordinary light, rather than a headtorch beam as well as you can use your peripheral vision and find stuff quicker. When going on night excursions it lights up the tent like a beacon and you can see it from a huge distance on a dark mountain.
It's a bit heavy, but I don't give a shit, it's a cracking wee thing.
The Gamma is another bargain wonder with some differences to the standard. The various high/low/flashing settings mean it cover all the usual bases, but the addition of the small colourd LED's make it something different. The red LED is great for maintaining night vision and is ideal for camp, nipping out for a pee and the like withouit bedazzling yourself. The green LED is more usuable on the tral as it's brighter and defines the terrain better, you can even see some of the detail on a map. Walking through pitch dark woodland with the green LED is brilliant fun. Yes, yes, it's a piece of functional safety equipment, but it's also fun to go out and play with it. It's nice and stable on the napper, so much so that I took the centre strap off as you don't need it unless you're running with it.
In these days of marketing placing the prospective purchaser in various extreme scenarios and then kitting them out for this imaginary world, it's nice to get some kit sent in that makes me smile as well doing its job.