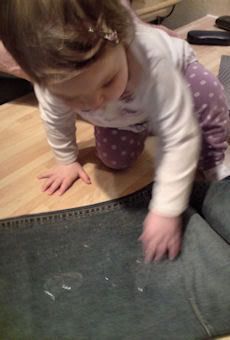 No matter how hard she tried, Holly couldn't get the water to soak into the fabric on Alpkit's Jeanius jeans…"Pah!" she said.
And she's not wrong. Cotton they may be, but the Epic treatment makes them something else, a new form of life, a xeno-pant, a mutant hybrid if you will.
Epic is very good, I've used it on bike trousers to good effect for years and there's going to be more of it about next year from the outdoor brands.
The jeans themselves look great and are just how I like them, baggy arsed and a wee bit too long. Yes, I look just like a 40 year old skater.
All we need now is some stupid bastard to wear them up a hill to check their mountain credentials…
I've got some other bits and pieces in for test from Alpkit as well. They're a clever bunch, and cheery with it. They're looking ahead and it's going to be interesting to see what happens.
Now, will I have to wear gaiters with baggy denim…