I've had it too easy these past few years with all these one person tents that fit in you pocket, what I needed was a man's tent, a big tent, a proper tent, a tent that I could stand up in and that the girls could fit in as well without us sitting cheek to cheek all night. Alpkit stepped in and said "Family tent? What about an expedition tent that doesn't care whether it's a bunch of hairy faced mountaineers on a summit or a crazy four year old at a camp site that's sleeping in it?"
Aye says I, so in for test is the Alpkit Heksa.
The rather moody shots above and below give a good idea of the shape of Heksa, it's basically a geodesic core with a shell that adds space and functionality. There's three doors, numerous guy points, infinite zipped venting options, snow valances, more storage popints inside than we've got and home and plenty living space for for or more people. For a regular solo camper it's like sleeping in an empty aircraft hanger.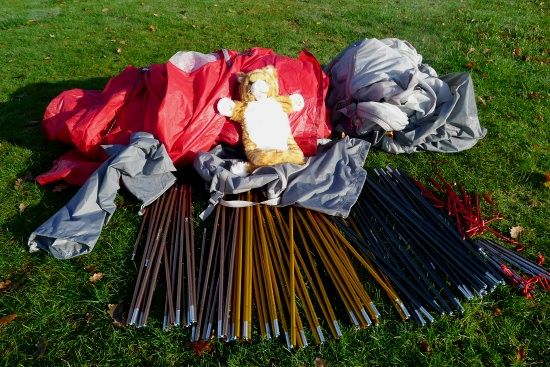 Hamish above was a great help unpacking the Heksa, more help than the girls anyway who were by this time playing croquet across the empty camp site. It's a big pack, not much under 10kg with all the packaging and pegs but the stuff sack is tapered so you can get it all back in then compress it no problem.
Pitching was easier than I'd feared, the colour coded DAC poles are chunky and the channels on the inner smoothly stitched so it came together pretty quickly. Once the inner is fully poled you can walk around with it and get the best pitch, it's big but managaeable and with more than one it'll be easier and quicker which is important given the inner-first pitching, you don't want it getting wet.
The flysheet throws over the top and buckles onto the inner at the webbing tabs where the poles terminate. There's a single red buckle so you get the fly on the right way, important as you'll see further down.
It attaches, secures and tensions very easily, I was very surprised how quickly I got it looking pretty neat on my own. It was nice calm day for me, but with multiple pairs of hands on a stormy day I'd be confident of getting the Heksa ready quickstyle, it's all very straightforward and logical.
There's many guypoints around the base along with a snow valance if you want to dig the tent in for extra security. Higher up there's as many guylines dotted around the fly including some clever arrangements of multiple guypoints fed into one guyling for pegging out, the effect is a little flexibility in the tent which I like, that which bends rattles slightly less through the night after all.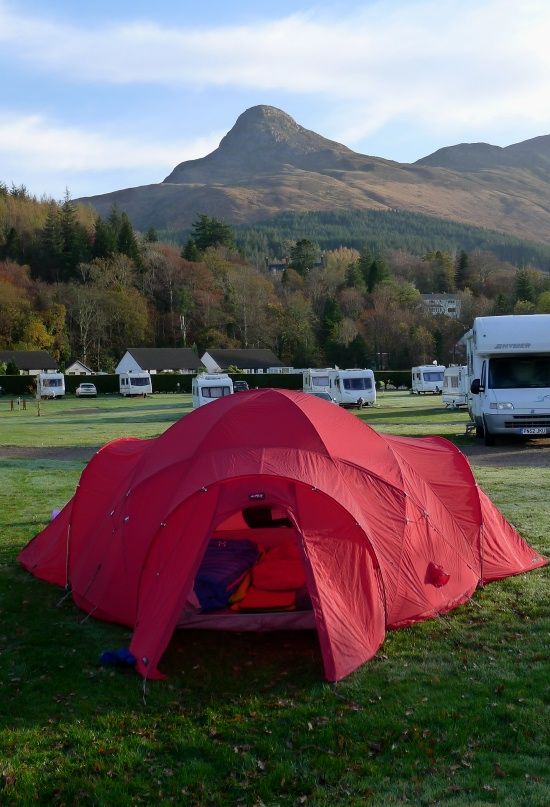 The doors are nice with multiple adjustment options including rolling the whole thing up and stowing in a door-top pocket. You can have top, bottom or either side as your entry point which is great when the weather changes or you've got an extra foot of snow outside in the morning. Of course, you can just use a whole other door if you want.
The multiple door thing adds weight but so much flexibility, with multiple occupants there's split gear storage, a dedicated kitched area and you've always got a door that's facing away from the weather. As a base camp tent it's definitely looking at quality of life and maintaining a bonne homme between its occupants, but for family camping it ticks the same boxes for making life easier.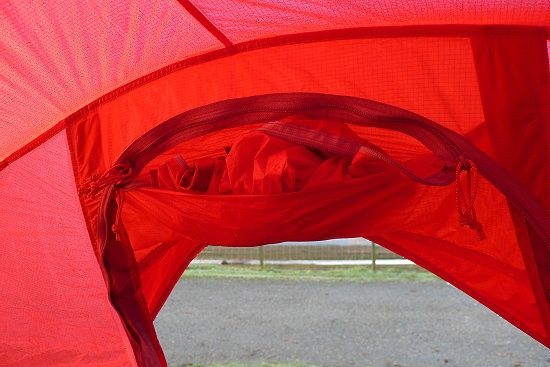 Below is the Snow Port. It's a cool wee feature which I've only seen on a couple of one-person tents, it lets you scoop snow in for cooking and also lets you empty a pee bottle outside, just remember to set up a left/right plan for that to avoid unintentional recycling. It also lets Barbie be ejected from the tent to much hilarity from the shortest occupant.
There's storage everywhere, mesh pockets on every wall and plenty loops sewn into the roof to install a gear loft or just hang lights, bunches of grapes etc from. Each tab has 3kg max on it, so you have been warned, no sleeping on a makeshift mezzanine bed.
The height is something very unusual for me, I can stand up and walk around it, a necessary for a long trip with a few other folk in there, crawling around each other would get very old very quickly I'd imagine. 
The features mentioned above make the Heksa very user friendly, cooking breakfast in the porch was a breeze with a chimney right above my frying pan, plenty of room for me to run two stoves at the same time too. In the shots above you can see how much room we had with three sleeping bags side by side, four would be fine too, any more than that and my lonerism would kick in I think.
Condensation is always going to be a factor with multiple occupancy and while the fly was wet on its inside face in the morning and few droplets had fallen onto the inner, nothing got onto us as far as I could tell, the breathable nylon inner fabric seems to be doing its job and all three down bags had dry shells.
There's a whole bunch of tech spec on the Alpkit website, they've used strong waterproof fabrics, top quality zippers and poles to make a very complex design come together. But none of that comes to mind when you're using it, simply, it's very approachable and an instantly comfortable tent to use.
It pitches very well and feels like it's been designed by folk who sleep in tents, something that's not always the case.
The weight is largely irrelevant, if you need this level of comfort and performance up a mountain, you'll be expecting this kind of penalty and just split the tent between the party and get on with it.
As a family tent it's a belter. I've looked at and tried a lot of tents this year with a view to getting the girls out and it's been worth the wait as the Heksa just worked perfectly.