It landed in for test just in time, the Alpkit Filo Down Jacket. Normally I'll use something for ages before I review it, but given Alpkit's seasonal stock flow thing and that fact that winter's looking at the clock thinking it's nearly time to go home, it looks like a good time to get my thoughts on paper.
I've worn it most days, but its first mountain starring role was on the Arrochar trip earlier in the week. I love that Lego Blue colour, looks cracking, and I was pleased with the general fit. I took a size large which is pretty normal for me and in the shot below I'm wearing it over a baselayer and a hooded softshell (that's the orange thumbloop cuffs sticking out) where the fit was good, there wasn't lots of extra air between me and the jacket to heat up but there was enough room for another layer, I can sling the Filo on over a shell no problem.
The shaping is right, you can see the drop-tail below which is the way it should be. Straight cut jackets might weigh less, but crawling about at camp give's you builder's bum and exposes your kidneys to the cold. Arm articulation is good too, it is a belay jacket at its core so it's expecting its wearer to be active, again what you want at camp so you're not pulling the hem up every time you reach for something in the porch. The arms are only just long enough on me though, the soft elasticated cuffs stopping bang on my wrist at my watch strap.
It's stitch-through construction and the down chambers feel well filled, it certainly lofts well enough with its 700+ 90/10 white goose down fill. The hem is drawcorded, and the main zip is double ended which I like. The main zip has a down filled baffle behind it too with an anti-snag webbing strip, it's got a neat outer closure too while pretty much seals the opening from wind and hopefully heat loss.
The hood is removable via poppers, I'd rather have a fixed hood, less faff, less weight, why would I ever take the hood off? But folk like this stuff so everybody makes it that way and here the fit is good with captured drawcord adjustment at the face and flap to seal up your chin. The peak is wired so keeps its shape well and the hood is well filled with down and warm. The collar itself is quite tall giving good coverage at the front especially and the zip baffle keeps the zip away from your skin at your chin.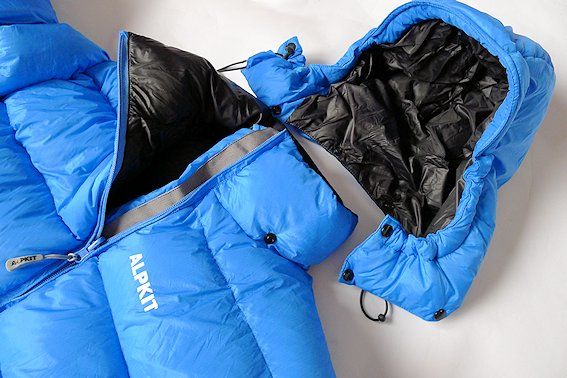 There's a big internal zipped pocket on your left and outside there's two two big zipped hand warmers as well. The pockets bags here are behind the down you get your core warmth on the palms of your hands and you get a nice microfleece on the back of your hand at the same time (the grey bit inside below). A good set of pockets these.
The zips are are chunky YKK's with sleeping bag style zip pulls for some reason, that is you can slide the (rather nice, easy to grip) pull tag to either side of the zip in case you want to unzip the jacket or pocket from the inside. Not a major issue, but it has meant that I've had to fish out hidden zip pullers a few times as they've slipped over the other side "by themselves".
It comes in a 652g for the large which is the middle ground for similar jackets which not bad at all. It has a chunky feel to it, but it packs down well enough, you can compress it to hell if needs be and it's bouncing back well so far. The fabrics are silky smooth and flexible, nylon too for good durability. The DWR coating has only been mildly tested so far with drizzle and coffee, but I'll update on that and the rest of its performance in post-trip gear round-ups.
It's warm that's for sure, the close fit, that extra coverage at your arse, the good loft, it all adds up and the two hours I spend standing about Cruach nam Miseag in sub zero temperatures on Monday were chill-free.
I'll be packing the Filo for the rest of the winter at least, hopefully it'll keep up the good work.