I met Craig for lunch and banter. He ran the Edinburgh marathon on Sunday, in 4'23". His first marathon, and with only 30km of training he never broke sweat and was "bored". It'd make you sick. Crossfit has a lot to answer for.
However, pavements are where you leave the bins out on a monday morning, not have a happy running experience. So we decided to hit the trails in the Kilpatricks last night.
We took a few detours including a scramble up the Lang Craigs which ended in a foliage grasping shimmy to the top of a gully. Once up though, it was a beautiful night. The summits of Ben Lomond, the Arrochar Alps, Beinn Loaigh, Stob Binnien and more, all as clear as a bell. Too warm for me, sweat was running into my eyes on the scramble and I decided I didn't have enough limbs available to stop gravity reversing my direction with extreme prejudice and to wipe the sweat away to my satisfaction at the same time. So I was blinking and complaining for a good couple of minutes as we traversed along the top of the cliffs.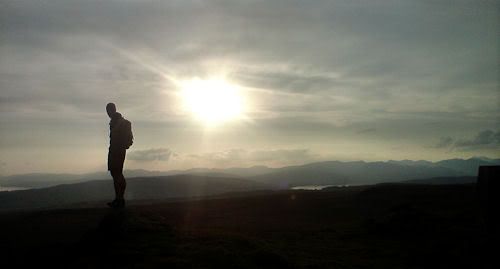 We took in some trails and joined them up with others, it was pretty much all walking pace and we never saw a soul. Ravens and a buzzard took turns at circling us, the nice wee birds sang in the trees, sheep addressed us in voices sounding strangely like aggressive drunks hailing a taxi and I was still sweating. But as we eventually made our way round to Donought Hill it was getting cooler and I was much happier.
We ran a wee bit, walked a big bit and worked our way over the moor and to fine stand of pines. The sun was getting low and we hung around to watch it, and an e+lite between two would be enough to get us down.
Well no, we had miles to go and an e+lite between two wouldn't be enough to get us down. We picked up a trail by the river which has lots of fascinating exposed flat shelves of rock from the volcanic actions that formed the area, but time was of the essence so the pace was getting up a bit. By the time we reached the woodland above Overtoun House we had broken into a proper run. Through the darkening trees on a twisty, grippy trail, the sky burning orange and pink through the gaps in the leaves. Ah, this is where it's at. We hit the tarmac and slowed to a walk, soft compound rubber+tarmac+running=shopping for new shoes.
It was a quick bimble that turned into four hour gambol. I never even took a camera, the photies above are from my phone. It's nice that even on such familiar territory some days it can still feel so fresh.