I didn't know quite how to react to the question, but the responsibility is such a huge one that when you're asked it's a huge compliment and you have to say yes, it's fate, destiny or it's just that you're the only one the suit will fit. I'm going to be Santa.
I won't lie, I'm nervous. What do I say, what voice do I say it in? My own: "Hey, wee yin, have you been good? Or Santa's "Ho Ho Ho, I like pies, Ho Ho Ho!" I'll rehearse with both.
It's not at Holly's school, so she's in on it, she knows that Santa's my pal and because I'm helping out she's nominated herself as Santa's Elf for the night as Santa's real helper will be with the real Santa who is very busy in the run up to Christmas.
We'll just have to see how it all comes together.
What a beautiful day to be out and about. Sunshine, snow, hard frost and roaming banks of fog. I wandered both sides of the river today, doing such diverse delights as cutting willow whips in a coppiced plantation for one of Joycee's projects and trying to root out replacements for obsolete valves for my own stuff. Got it all done too and had time to stop and take a few photies on the way.
The timber ponds at Port Glasgow aren't just old poles sticking out of the water, they're history. Canadian timbers were floated into the enclosures to wait their turn to be machined into ships until steel took over around World War 1. Inverclyde has been largely scoured of its shipbuilding history, these ancient timbers are a very visible and important pointer to an early part that heritage.

I missed the fog flowing under the Erskine Bridge, I'd been over the bridge four times and by the time I got a chance to park up and run up the hill, the sun had dipped and the fog evaporated with it. Still looked glorious though with a few little curls still floating around the river.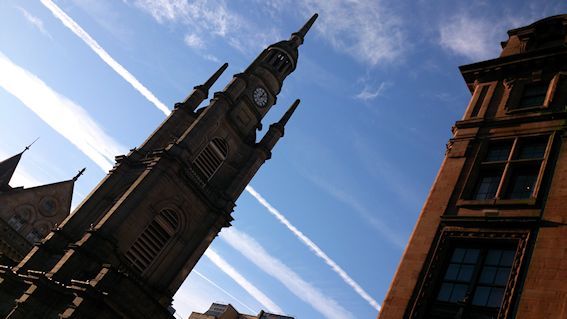 Still, the new phone is mixing well with the camera, I can't tell which took which.