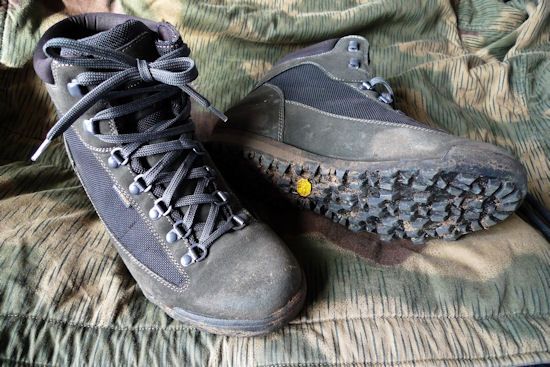 The Slopes came back out recently after it started wetting wet again, and it's high time we had a wee update.
The fit was a little strange at first, I though the toe was narrow, but it's tapered which is different. It's still wide enough, but lower volume, which reminded me a bit of an old pair of Meindl Super Cracks I had a lifetime ago. This means that you feel accurate when you're ascending steep ground on your forefoot and picking through boulders.
The upper is flexible enough, and the ankle collar soft enough that I didn't struggle with the added height. The lacing and tongue were secure and I'm happy to sat didn't shred the unsuspecting skin underneath. That's often the first issue when I go to boots, abrasion under the laces.
The uppers are a retro looking mix of fabric and leather which has stood up to the scrapes very well so far. The toes have gotten a little shiny, but there's no scores or divots yet despite playing in the rocks. I remember when rands suddenly appeared on everything, as if they were a solution desperately looking for a problem. That's probably a discussion for another day though.
The Gore-Tex liner does it's thing, is still waterproof and with the large fabric panels they do keep my feet dry from attacks both internal and external.
The sole defines how the boot feels on the trail, both by grip and shape. It's very aggressive, and bites into most surfaces and after a while you tune into it and it feels predictable and reliable. The heel has an upward angle at the back edge, this gives a great rolling walking motion as there's no sensation of heel striking. What you have to watch for is that on steep descents it curtails your ability do dig your heels in, and along with the lack of a heel breast it converts the sole into something that feels like a fell shoe on descent.
Once you know this it's fine, as placed flat the sole is like velcro on the down hills.
I think it's a fine walking boot for hillwalking and tracks and trails when the weathers minging (or not), but for days on open trackless mountainsides that sole unit needs a bit of concentration to get the best out of it. It's a tough bugger too.