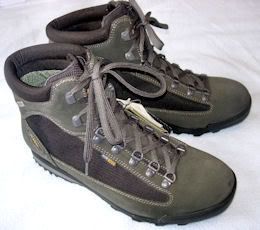 I'm no footwear facist. I accept that boots have a window of opportunity in which to excell, and I'm here to rub some Windolene on the double glazing of shoe confusion.
There are boots that are light, light enough for me to offer no reasonable resistance to wearing them in the right circumstances except "because". 
I've been using Keens, Inov8s, Icebugs and most recently the Hi-Tec sci-fi's, all of which have a definite booty flavour. The AKU Slopes are even more booty again, with quite a high ankle cuff and styling not unlike the original Karrimor KSB's.
They're properly light, as was much of the AKU range, but I liked the aggressive sole on these. Looks like it might bite into snow?
The fit's good, they've got a nice rolling action under the foot, we've got a Gore-Tex liner and a sturdy toe box.
As the weather continues it's downward spiral into damp despair I'll get these out and about. They fit the aluminium Kahtoola crampons as well, and that's something I'm looking forward to seeing; How all these "three season" boots cope with my four season feet.
More later.