Had a meet up with John from Ardblair who had some 2012 bits and pieces to show from their brands. The first good news is that Ardblair are now distrubuting Hillsound Crampons on the UK and they'll be in the shops for this winter.
First up though are some new models coming from AKU. Above we have the Mates trail/approach shoe which comes in girls and Gore-Tex flavours also. I liked the feel of this, it's light, flexible and has a very thin midsole, your foot is properly close to the ground for good feel and control. The outsole, the photie of which didn't turn out, is nicely patterned with a deep-ish tread on it. The upper is a suede and mesh mix and is thin, no superfluous padding to make them feel comfy in the shop, so if they fit you in the shop the fit will stay much the same over time.
It's a good call that, minimal uppers and a thin sock on a well fitted shoe is always the way to go.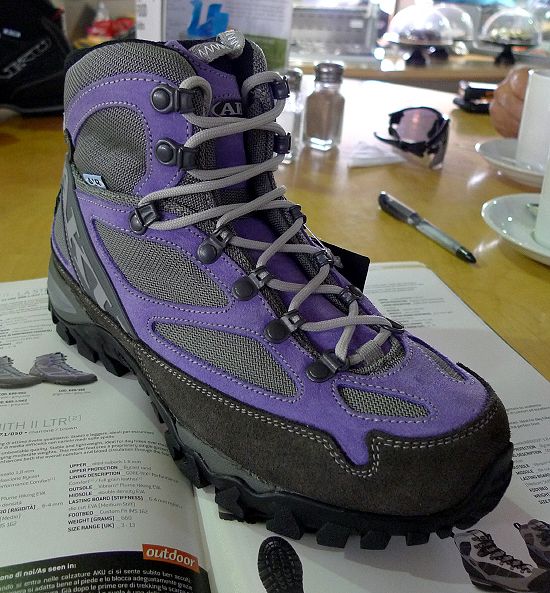 These are the La Stria GTX Lite women's boots. They feel light in the hand, the book says 455g, and that high ankle isn't a barrier to movement, the whole ankle pivots easily at the right place.
Nice chunky outsole, nice flex at the toe and a nice soft upper. Looks like a decent all-rounder.
And they come in purple. What joy I say.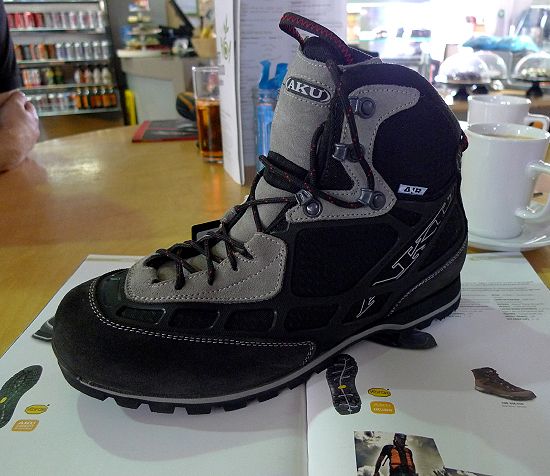 These are the SL Trek GTX, and as you can see below Phil has sample sized feet. Bugger. These are down as 535g and do feet light in the hand, the flex is a little tougher and with that extra height they look like a nice lightweight winter boot as I'd get various lightweight crampons strapped to these.  The Vibram outsole has that climbing zone spot at the toe for sticking you onto rock, so they are meant for mountain rather than trail, that external plastic exo-skeleton flags it up that these boots are expecting trouble too.
Phil seemed happy enough as he padded around the Tiso cafe with just one on, me I'll just hope to see the bright orange variation when they come out early next year.
I get on well with the AKU stuff, they do go their own way with lasting, construction and styling which is what we need out there, variety is king. They're also listening and watching which means a lot of lighter and sexier stuff is increasingly creeping through those pages of regular Euro-styled boots.