Recently had a shufty at next years AKU range, and there's some changes in there. They are trying to go lighter, the kit's made in Europe and there's models in there that we would liove to see if the store buyers weren't so, well, rubbish. As time goes on my dismay at the differences between what I get to see and what ends up in the shops is if anything increasing in volume.
Anyway…
That's the new La Stria AIR GTX above, there's a version where the green is bright red too, it's  a suede/fabric Gore lined affair with a Vibram sole and a weight of 540g per shoe.
The fabric is very porous, indeed punched full of holes, for extra breathability, and there's memory foam in the upper to give you a bespoke fit after some hours in the saddle. There's a nice flex to them and those good looks to match of course. They'll take a Kahtoola or a Hillsound crampon nae bother.
That's the bigger brother, the La`Stria Suede GTX below, same projected weight, same sole etc, just a different upper. I wonder which appeals more to the UK folks? The pure suede might be percieved as tougher, and the suede/fabric as being ligher and more breathable?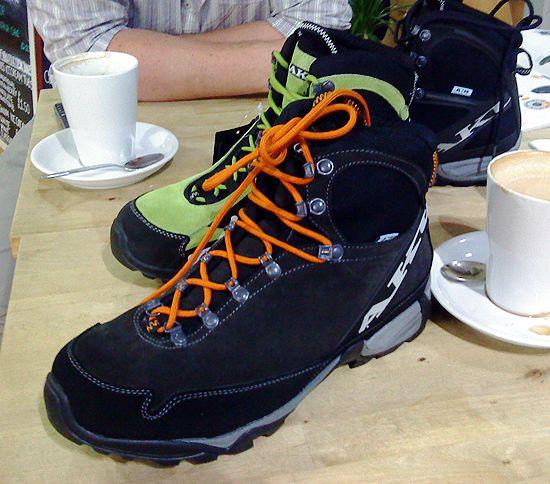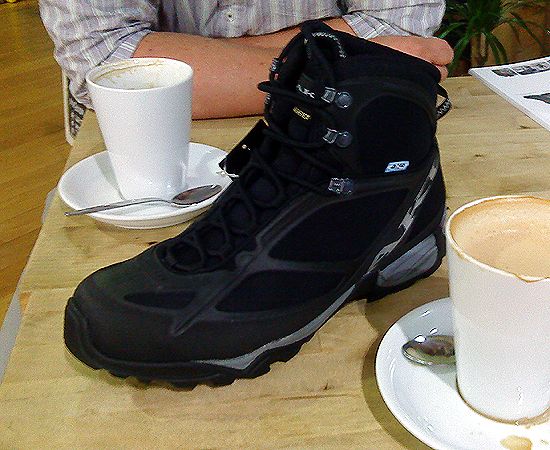 Again the same 540g, the La Stria GTX, this time with a fabric and plastic overlay upper. Other features are the same, memory foam, sole unit, but the feel will be different through the different Stria models.
I have learned that boots aren't evil, I have been enjoying dry feet on occasion in recent times due to a higher ankle cuf, but still the wee buggers below were the models that caught my eye the most.
These are the Rock Lite (there's a GTX version too). Slightly old-school "approach shoe" looks, you know, when the notion that you would walk into a mountain in comfy footwear and then put on something really uncomfortable to climb it. Aye, that's a great plan. These days of course, we just keep the comfy footwear on, and luckily these have an aggressive outsole with a proper tread pattern on it, no scrambling only slicks stuck on here. Weight is 390g, the lacing goes nicely down to the toes and they come in that nice budgie green. Yes, I like the look of these.